Estimated read time: 6-7 minutes
This archived news story is available only for your personal, non-commercial use. Information in the story may be outdated or superseded by additional information. Reading or replaying the story in its archived form does not constitute a republication of the story.
HYRUM, Cache County – For two nights a week over four months out of the year, the Stang Aquatic Center in Hyrum, Utah, is home to one of the best high school water polo teams in the state: The Cache Valley Kraken.
Their offense is straight-up fire, and they've got a defense maybe even better.
One of the key pieces to that defense is their senior goalie, Benjamin Lehnig. He's 6-foot-3, with a wingspan nearly as long.
Benjamin is good, treading water almost half his life.
But here's the thing about life: Whether it's in the pool or out of the pool, in the middle of it all, there are simply some things you never see coming.
"So, I see a young man walking out with a cane. Was he just in my pool? Was he a part of this practice?"
That's how Coach Eric Richards described his reaction after the first practice he had with Benjamin.
The cane Benjamin was using was white, stretched forward to feel for objects in front of him.
"Somebody said, 'Yeah, that's your goalie.' I just blurted out, 'I have a blind goalie!'" said Richards.
The beginning
Let's go back about 10 years to a moment now seared in the memory of Benjamin and his mother.
"When he was 8, we were walking home one night," said Heather Lehnig. "I was pointing out constellations to him and he couldn't see the stars."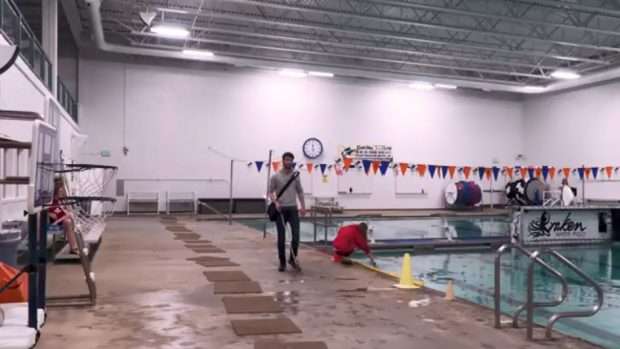 "Sometimes I would say, 'I can't see the stars mom. I've never seen the stars,'" Benjamin recalled.
They initially believed Benjamin was losing his night vision, but when he met with the eye doctor a few years later, the diagnosis dramatically changed.
"The doctor at that point sat us down and said, 'Um, we're not going to do contacts today. In fact, your son's going blind,'" Heather said.
"That's a difficult conversation to have," said Dr. Kirk Winward with Retina Associates of Utah.
Winward, who's Benjamin's eye doctor, diagnosed him with retinitis pigmentosa.
Benjamin remembers his first thoughts were three words, "What is this?"
In short, retinitis pigmentosa causes cells in the eye to die and degenerate. The initial effect is tunnel vision. The long-term effect – that tunnel gradually closes in.
"You and I have probably close to 180 degrees of visual field. Ben is down to about 27," said Winward.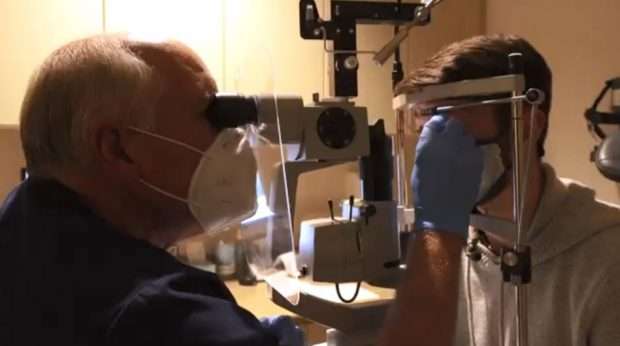 If you're curious what that looks like in the everyday world, Benjamin said it's like looking through a couple of cardboard paper towel cylinders.
Tunnel vision while walking the street.
Tunnel vision while climbing the stairs.
Tunnel vision while driving a car. Wait, what?
"He got out of the car and whipped out his blind cane," remembered Heather. "And everybody's mouth just dropped."
Somehow, Benjamin passed the test for his learner's permit. And no, he doesn't drive anymore.
How does he do it?
But here's the thing so difficult to understand: With his peripheral vision almost gone, and balls flying at 40 miles per hour, how in the world does this kid stop something, that all too often, he cannot even see?
"When they bring the ball up, that's a very distinct noise," explained Benjamin. "Because the ball has a very sandy feel to it. It just rubs against your hand and you can just hear it. I can hear it slide off their hand, and the momentum they're getting into the ball."
"I asked him one day, I said, 'How are you blocking those shots? I know some of them you can't see,' Brooks Lehnig, Benjamin's dad said. "And he said, 'Well, sometimes I just listen to where the ball is.'"
"He describes that he can hear the ball leave the player's hand, and then he's able to just kind of track it, almost like an echolocation," added his coach.
The block
"Frankly, I don't know how he does it," said Benjamin's oldest brother, Bryan Lehnig.
If you ask Jared Lehnig, big brother No. 2, to compare Benjamin to other goalies in the state? "Without a doubt I would say he's one of the best."
Both Bryan and Jared are former all-state goalies. They've been coaching Benjamin since he was young, and the fact he's just about legally blind, has never kept them from pushing his limits.
Benjamin tested those limits just a few weeks ago when a tied-up game was forced into a one-on-one shoot-out. Bryan wasn't able to attend the game in person, so he watched and listened to a live video feed.
"The announcer was talking about how, during the shootout, he (the announcer) was listening to the other coach from the other team saying, 'Hey, you need to shoot snake eyes on him,' like, look one direction and shoot the other," said Bryan. "And I'm like, that's not going to work on Benjamin because he doesn't know where you're looking! He can't see your eyes!"
An entire game came down to just five shots. Benjamin blocked two of the five, and the final block was the game-winner.
"And Benjamin was just like, (mimics the block) nope, not going to happen!" said Bryan.
Limits
Tests have shown Benjamin is losing more than one degree of peripheral vision each year. He's now at 27 degrees, and while there is no cure, there are also no limits he has allowed to define him.
"You're always waiting for that next shoe to drop," said Brooks. "What's the limits of his abilities? How fast is it progressing?"
Physically, Benjamin is still very active.
He runs track and cross country.
He works around the house.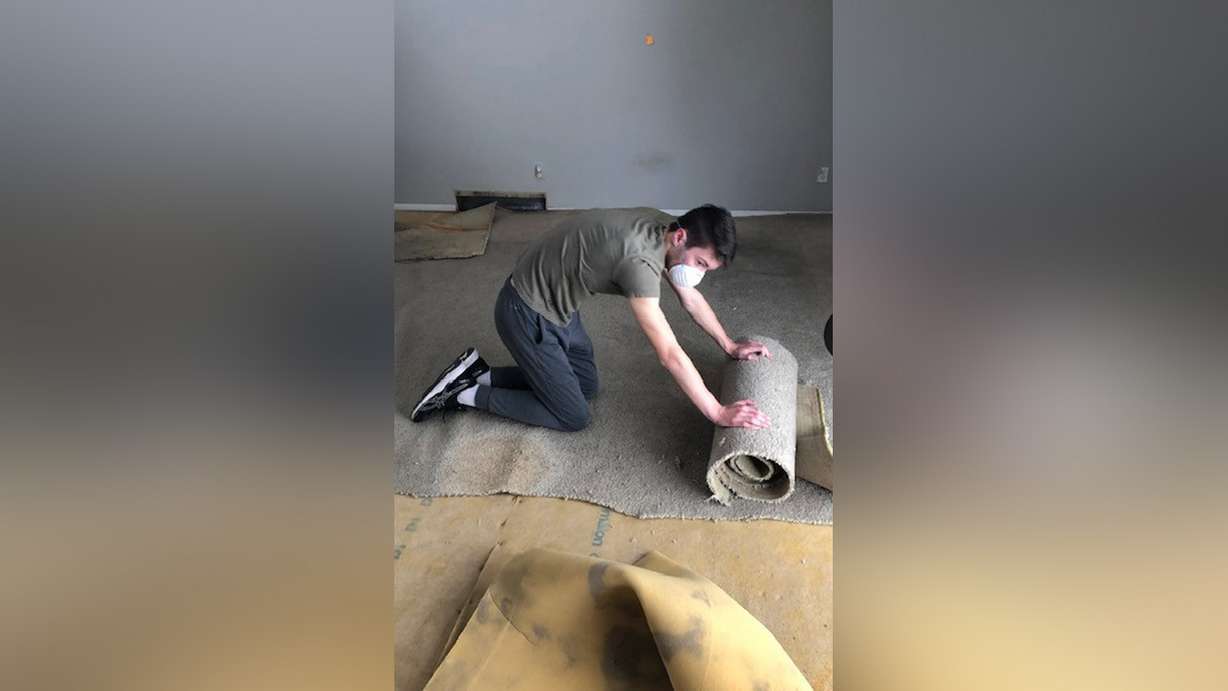 He can build a boat.
He can row a boat.
He can climb mountains.
He's the kind of kid who smiles, even after doctors slide a needle in his eye, and he's the kind of kid who sees the world in a way many of us probably should.
"I think in some ways, his growing blindness has made him more independent," said Brooks. "It makes me really proud, really proud of him."
The real deal
A proud father, who on senior night at Stang Aquatic Center in Hyrum, sat watching with the rest of the hometown crowd, as Benjamin protected the goal one last time.
A packed house, not watching a charity case or a novelty act.
With nearly 400 blocks in Benjamin's high school career, the crowd watched a kid who is arguably the best in the state.
"He pushes us to the next level," said teammate Cole Dustin.
"I have full sight. I can't even block them," added teammate Von Sorenson.
"He's probably the best goalie I've seen in all my years playing water polo," said teammate Grant Simon.
And the beauty of it all isn't necessarily the reaction when opposing teams see that cane.
"They're like, 'Wait, what?'" said Jared Lehnig.
"And the other team is like, 'Wait, he's blind, and we just got wrecked by him?'" said Dustin.
No, the beauty is the fact this 18-year-old, forced to deal with something nobody ever saw coming, can somehow see far beyond what's in front of him.
"You know, I've seen the things I want to see. I've seen my family. I've seen my friends. It can go at any time. It can go tomorrow, next year, 50 years from now. I feel like I'm prepared for it to just go," said Benjamin.
×
Photos
Most recent Utah stories