AROUND THE SHIELD — Harvey Langi is getting another chance in Foxborough.
The 28-year-old linebacker from BYU re-signed with New England, with the Patriots announcing the move late Monday afternoon after his agent had previously shared the one-year deal on social media. Langi has spent the past two seasons with the New York Jets, where he spent the 2019 season on the practice squad before being elevated to the active roster and amassing 34 total tackles, one pass defended and one fumble recovery in 14 games, including six starts.
The 6-foot-2, 250-pound Bingham High product's return to New England is more than a reunion with fellow BYU alum Kyle Van Noy, though. The undrafted free agent is also returning to a place that played a significant role in his life and that of his young family.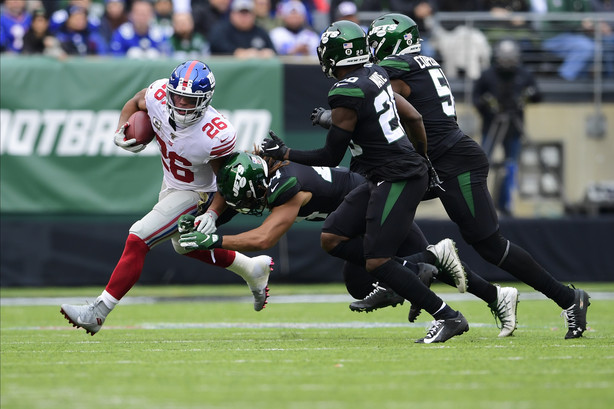 Off the field
Langi's most recent stay in New England didn't end well — but not for football reasons.
We'll get to the sport in a moment. But Langi's life changed on the streets of the greater Boston area on Oct. 13, 2017 — a Friday the 13th he will likely never forget.
That night, Langi and his wife Cassidy had been out with several friends near Boston. After getting in the car to return home during his rookie NFL season, the couple was stopped at a red light when Langi took his eyes off the road to change the song on the playlist to which the couple was lip syncing.
In an instant, everything changed. The couple's vehicle was rear-ended by a car traveling 50 miles per hour, whose driver was later charged with drug possession, negligent operation of a motor vehicle, and possession of an open container of alcohol.
Langi made out easier than his wife, though both of his knees were blown out, among other injuries. Cassidy Langi had to be extricated from the vehicle, where she lay bleeding internally near her liver and spleen.
"It was three hours that I didn't know how she was doing or if she was even alive," Harvey later told WBZ Sports in Boston. "Those were the longest three hours of my life."
The couple eventually recovered, including a tearful reunion in the hospital after several rounds of tests and operations. And Langi was even able to resume his football career, though with a long rehabilitation ahead of him.
On the field
Prior to the accident, Langi was an undrafted free-agent linebacker who made the Patriots' 53-man roster as a rookie and played in one game. But then-New England defensive coordinator Matt Patricia took a liking to Langi, and his knack for special teams appeared to have him on track for a significant role with the franchise.
The accident stunted his career growth, but didn't end it.
Langi was released from the Patriots after training camp in 2018, and he eventually made it to the Jets' via practice squad a year later. He made it to the 53-man roster in 2019, and had one of his most productive seasons at linebacker in 2020, where he had 34 tackles, a pass breakup and one fumble recovery.
The Bingham High product tied for his second-best game of the season in a Week 9 loss to the Patriots, when Langi compiled eight tackles, including seven solo stops, in a 30-27 loss. Prior to that game, Langi played in just three of the Jets' previous eight games. He never missed a contest for the rest of the season, but was surprisingly left untendered in the offseason as New York began a rebuild under new coach Robert Saleh that included drafting former BYU quarterback Zach Wilson with the No. 2 overall pick, among other moves.
Overall, Langi has played in 31 regular-season games, including nine starts, with 39 tackles, two pass breakups and one fumble recovery.
×
Related Stories