FOXBOROUGH, Mass. — Harvey Langi remembers exactly what happened on the night of Oct. 13, 2017 — a Friday the 13th he will likely never forget.
The former BYU linebacker and his wife, Cassidy Langi, were heading home after dinner with several friends near Boston, and he had just reached down to select a song from his playlist while stopped at a red light.
Laughing, lip syncing and trying to get Cassidy to crack a smile were among the first things on Langi's mind. The near-fatal car accident that happened next was one of the last.
"Then, boom — I just remember waking up and we had been in a car accident," Harvey said in an interview with WBZ Sports in Boston. "I'm looking around, I look over, and Cass is laying there with blood everywhere."
The Langis survived the accident, but it left a major impression on them that night. Harvey's rookie season with the New England Patriots was cut short after signing an undrafted free-agent contract that included a six-figure signing bonus, and the Patriots moved on to the Super Bowl without him.
Harvey Langi returned to official team activities with the Patriots this week, finally putting behind him one of the more harrowing chapters of the former Bingham High standout's life.
"Being on the field is crazy," he said in his first TV interview with his wife since the accident. "It's great. I love it. It almost feels like the car accident never happened."
"We're just really blessed that we're both here, we're both healthy and together." @LANGI21 & @CLangi10 reflect on a life-changing moment and his return to the football field.

More #Patriots All Access tonight at 7 on @wbzsports. pic.twitter.com/YkOoTDh9xM

— New England Patriots (@Patriots) June 8, 2018
He wasn't sure if he would make it back to play professional football.
For a while, he didn't even know if he would see his wife again.
Foxborough police cited Kevin Conroy of Millis, Massachusetts, for drug possession, negligent operation of a motor vehicle and possession of an open alcohol container. The 25-year-old rear-ended the Langis' vehicle at 50 mph while it was stopped at a red light, police said.
The force of the impact pinned the Langis' vehicle between two vehicles in a crash that injured five people. Harvey was stuck, and he cried and screamed for his wife as emergency crews extricated her from the wreckage and transported her to Boston for medical treatment.
"I just wanted to talk to her, and tell her I love her if anything happened and we never saw each other again," Harvey said.
Cassidy took the bulk of the damage from the accident, according to Harvey, though the Pats rookie blew out both knees. She suffered broken ribs, fractures in both hips, and was treated at the hospital for internal bleeding near her liver and spleen. The two were transported to separate facilities — Cassidy in Boston and Harvey in Rhode Island — and for three hours, neither had any idea what was going on with the other.
"It was three hours that I didn't know how she was doing or if she was even alive," Harvey said. "Those were the longest three hours of my life."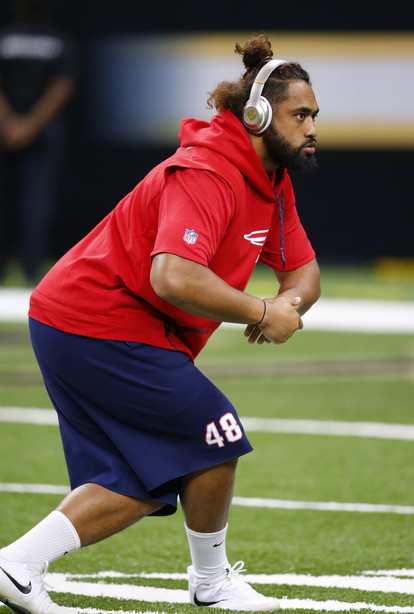 An emotional reunion ensued a few days later, and after nine days of treatment, both were released from the hospital after serious but non-life threatening injuries.
Five months later, Harvey Langi is back on the field and ready to make an impact with New England, as he was an emerging force on special teams at the time of his accident. His wife said the couple wasn't always positive through the ordeal — but they made it through.
"We had our own pity party; it was really tough," Cassidy said. "But all we could do is move past it and be grateful that we are both here.
"I couldn't imagine life without him. We're really blessed that we are both here, both healthy and together."
×
Related Stories