Estimated read time: 12-13 minutes
This archived news story is available only for your personal, non-commercial use. Information in the story may be outdated or superseded by additional information. Reading or replaying the story in its archived form does not constitute a republication of the story.
SALT LAKE CITY — As the number of new COVID-19 cases continues to remain stable in Utah and the U.S. while the number of vaccinations increases, many minds have started to wander toward what life will look like once the pandemic does finally end.
Natalie Gochnour, director of University of Utah's Kem C. Gardner Policy Institute, said she's heard of essentially three possibilities for what post-pandemic life will look like: Life could return to pre-COVID-19 times, socioeconomic trends that were already emerging pre-pandemic are accelerated, or the world is completely changed after it's all over.
"I'd like to suggest to all of you that it's a little bit of all three," she said, during an online event hosted by Envision Utah on Thursday.
The nonprofit organization gathered a panel of economic, development and local political experts to review major themes that emerged in Utah over the past year — from housing to teleworking — and how they believe those themes will shape life in the state after the pandemic.
In explaining why she believes there will be a blend of those three possible post-pandemic scenarios, Gochnour pointed to examples already in the data.
For example, she believes the state's declining fertility rates pre-pandemic will likely continue post-pandemic, while online education and remote learning technology that had already started to emerge — especially in higher education — has new possibilities after what was learned during the pandemic.
As for the biggest change, Gochnour points to teleworking as an example of a pandemic-related change "that will be with us for a long, long time."
Here's a look at what key Utah trends may look like after the pandemic.
Housing
The rising cost of housing was one of the major themes from Thursday's event, especially because it's one of the biggest economic questions in Utah before and during the pandemic. It's also an issue that experts don't necessarily foresee easing up after the pandemic.
A key reason for that, according to RCLCO Fund Advisors CEO Taylor Mammen, is that Utah is tapped into the fast-rising tech economy and a rise of tech jobs along the Wasatch Front has led to its growth. In addition, he likened it to a coastal market in that it has space constraints.
From the second half of 2016, Salt Lake City's market value on the NPI index, an index of real estate investment value, grew three times the rate as the U.S. as a whole, Mammen explained.
"That's truly dramatic growth, an indicator of how interested global capital is in investing in Utah. And that capital has been very well rewarded," he said, pointing to another graph that showed Salt Lake City's investment returns were far greater than the U.S. average, particularly in recent years.
Those numbers lead to even more interest, more investment and more demand on the market. Utah House Speaker Brad Wilson, R-Kaysville, said the state's growth "has passed the point of no return."
Just last month, the Census Bureau confirmed Utah was the fastest-growing state in the U.S. over the 2010s in terms of percentage increase. More data expected later this year will likely show that a lot of the state's growth came along the Wasatch Front.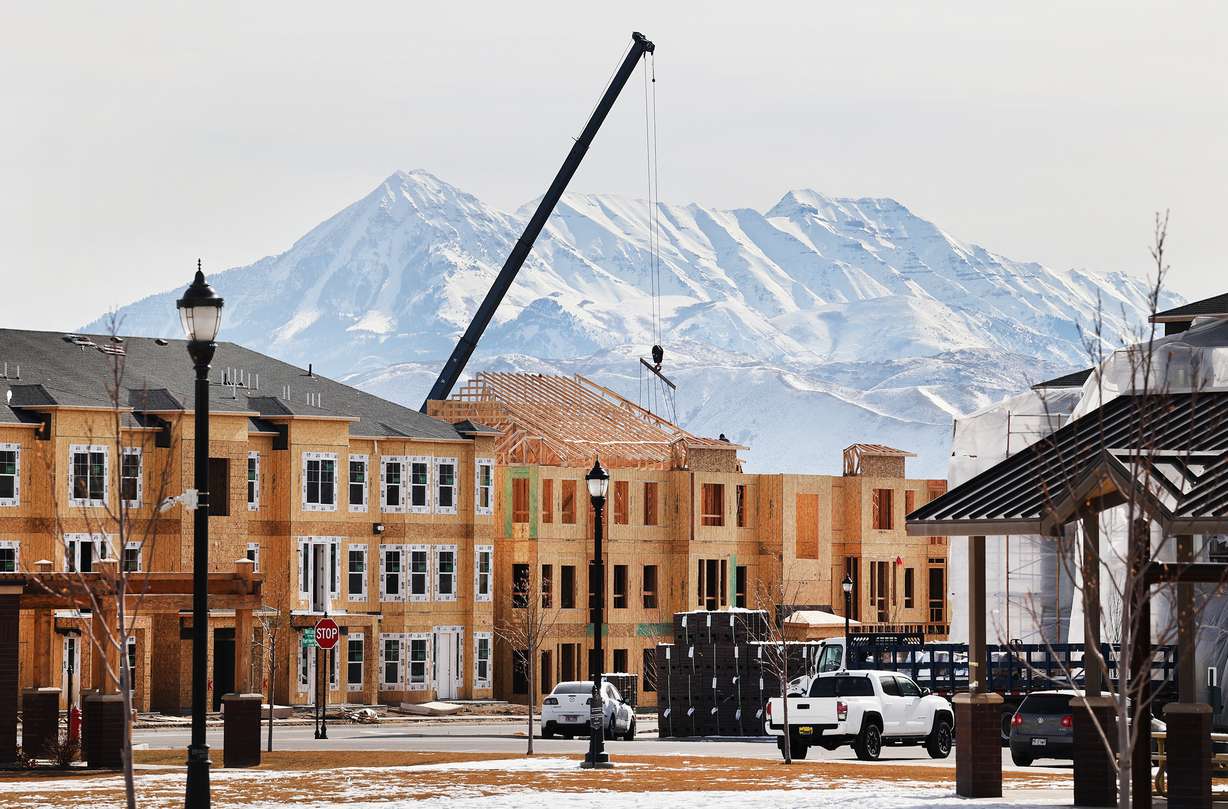 "The secret is out," Wilson said. "We are going to continue to be a rapidly growing state and our state will forever look and feel different than it has in the past."
Mammen said that, per his firm's projections, there will be 20,000 new housing units on average every year along the Wasatch Front over the next three or four decades. Many new units will be townhomes, small-lot single-family units, condominiums and apartments, which means the region will likely become much more densely populated.
"That consumes potentially 140 square miles of land between now and 2050. That's about the same size, a little smaller, than the land areas of Salt Lake City and Provo today," Mammen added. "That's a significant amount of land that the market will likely want to consume and the state has a choice in how it consumes it."
Nico Larco, professor of architecture and urban design at the University of Oregon, said the pandemic didn't kill cities like some people thought it might. Rather, it led to a dropoff in people living in the most expensive cities, like New York City or San Francisco.
Even as the Wasatch Front market has become more expensive, it's still not in the running for most expensive in the nation. Larco added that he expects that some of the other lags in city growth that were reported will change once there are more activities available in cities again.
The expectation for more growth also likely means major shifts in what owning a home will look like, especially for first-time homeowners.
Mammen said that it is "unlikely" that many entry-level homeowners will be able to begin with a single-family home with a yard quite like people could in Utah in the previous decades unless they chose to commute farther to work.
"Of course, the housing market — as all markets — fluctuates based on a lot of different factors, including interest rates and things like that. So it's certainly possible that it'll be easier to buy a home in the future than it is today, maybe cheaper even as well," he said. "But the general condition that I was describing likely endures for a while. … The base level of housing never goes back to where it was in the 1980s and 1990s and that likely means housing consumers might have to make different choices than their parents did."
Other post-pandemic needs from Utah's growth
Gochnour pointed out that about two-thirds of the growth over the past decade came naturally, which is babies born versus deaths. However, that's fallen to about half in more recent years with people coming in from elsewhere accounting for the other half.
That growth results in more needs than just housing and affordable housing. She argues that it means Utah's Legislature needs to invest "massively" in infrastructure, education and other needs associated with growth otherwise it will lead to decline.
Economic growth comes from improvement in areas that are in need, she explained. In a physical sense, that's improvements to roads, bridges or equipment. But that can only go so far.
Public and higher education, all of the panel members said, are important for future individual success and the ability to fill in future job needs. They said investing in education could also fix major inequalities that emerged from the pandemic.
"We have to invest in people; we have to invest in human capital and when we do that, great things happen for that person and for society at large," Gochnour said. "If you're looking at intergenerational poverty, racial or ethnic disparities or homelessness, if you're looking at these things, eventually you'll look at education and how important it is, and just to be honest it is the role of our state to do that."
Wilson said growth in Utah is inevitable, but he agrees that unsustainable growth is "problematic," which is where the investment is important. A part of that is also ensuring that there are places where people can recreate and have a good quality of life experience.
Of course, there are also natural resources. In Utah, the two biggest questions on natural resources remain air quality and water availability.
The massive growth that's expected across the Wasatch Front over the next few decades needs to ensure that there are available resources for it, Larco added.
Then there are future emergencies that could impact even more people. Utah's pandemic experience also offered another disaster preparation test: earthquakes. Wilson said he believes Utah is perhaps the best-prepared state for emergencies, but added that doesn't mean a whole lot.
---
There's no doubt that we need to do more, to be thoughtful and plan and prepare for natural disasters in the state.
–Utah House Speaker Brad Wilson, R-Kaysville
---
The post-pandemic Utah could include even more attempts to be ready for a major disaster, which could be another pandemic, a major earthquake or even wildfires. Wilson said the Utah Legislature is planning to hold a special session this month in which legislators will go over new federal funds for infrastructure but will make sure to set aside money to be ready for future emergencies.
"There's no doubt that we need to do more, to be thoughtful and plan and prepare for natural disasters in the state," he said. "As our climate continues to be very challenging, fires are becoming a much bigger and bigger concern for the state."
Mammen interjected that the pandemic experience taught that insurance isn't quite the "panacea" that it was once believed to be for disasters, which is why he agree that it is important for governments to have plans for major disasters in the future.
Teleworking, traffic and commercial real estate
As Gochnour explained, teleworking, which existed but wasn't utilized much, has the potential to stay long-term even after the pandemic ends.
The U.S. Bureau of Labor Statistics reported that, as of March, about 1 in 5 U.S workers were still working from home. It's a figure not quite like March and April of 2020, but also much larger than before the pandemic, Larco added.
It's unclear what that percentage will look like this time next year or five years down the road. However, it is clear that the pandemic provided the power of a work mindset change for jobs that can be conducted away from a central location.
This week, Google announced it expects about 20% of its workforce to remain at home once its offices reopen with just 60% of employees on site for a few days a week, according to CNBC. And just a few minutes before the Envision Utah event even began Thursday, South Jordan officials announced that they plan to implement more teleworking as a part of the city's "new normal" going forward.
The city offered remote work in 2014 but it was rarely used until COVID-19 changed that, said Teresa Cook, human resources director for the city of South Jordan. Feedback from employees and supervisors then found that workers were happier and engaged more with their jobs during their work from home experience. In fact, city officials said they will even look into the possibility of designating some jobs that will work remotely full-time.
Teleworking has the potential to lead to "enormous shifts in how we live and where we live and how we move around," Larco explained. One of the biggest changes could be in transportation and rush hour on major roads.
"One of the things that you see from work from home and even the ability to make Zoom meetings happen and the flexibility that it gives you, is that there's going to be a lot less people traveling in those peak times, especially those morning peaks," he said, noting that it could result in changes to commute patterns more than it would the number of people using roads or other forms of transportation.
"There's huge questions then for how we invest in infrastructure, where people want to live (and) where people are going to be spending their time," he added.
Speaking of transportation, not only could fewer work commutes pose funding problems for Utah's roads but also emerging electric vehicle technology. Wilson pointed out that Utah's roads are mostly funded through gas taxes, which are "rapidly dying."
"We're going to be paying for roads differently in five or 10 years than we pay for roads now as taxpayers," he said. "If we don't figure that out as a state, our ability to fund infrastructure and to get out in front of the growth in the economy and quality of life issues is in jeopardy."
Commercial real estate, or where employees are traveling for work, is another aspect of pre-pandemic life that could be drastically changed by teleworking.
There haven't been any major disruptions to that in Utah so far, but it could alter commercial real estate demand down the road if more people are working from home, Gochnour explained.
E-commerce
E-commerce is another reason why commercial real estate in Utah could vastly change.
Online retail surged through the pandemic experience as the threats of contracting COVID-19 led to a reduction in consumer confidence. The stock value of Amazon, for instance, remains close to 85% of what it was valued at on March 13, 2020, which sort of offers one example of how online retail grew during the pandemic.
Larco said the pandemic accelerated online shopping trends by "five, six, seven years."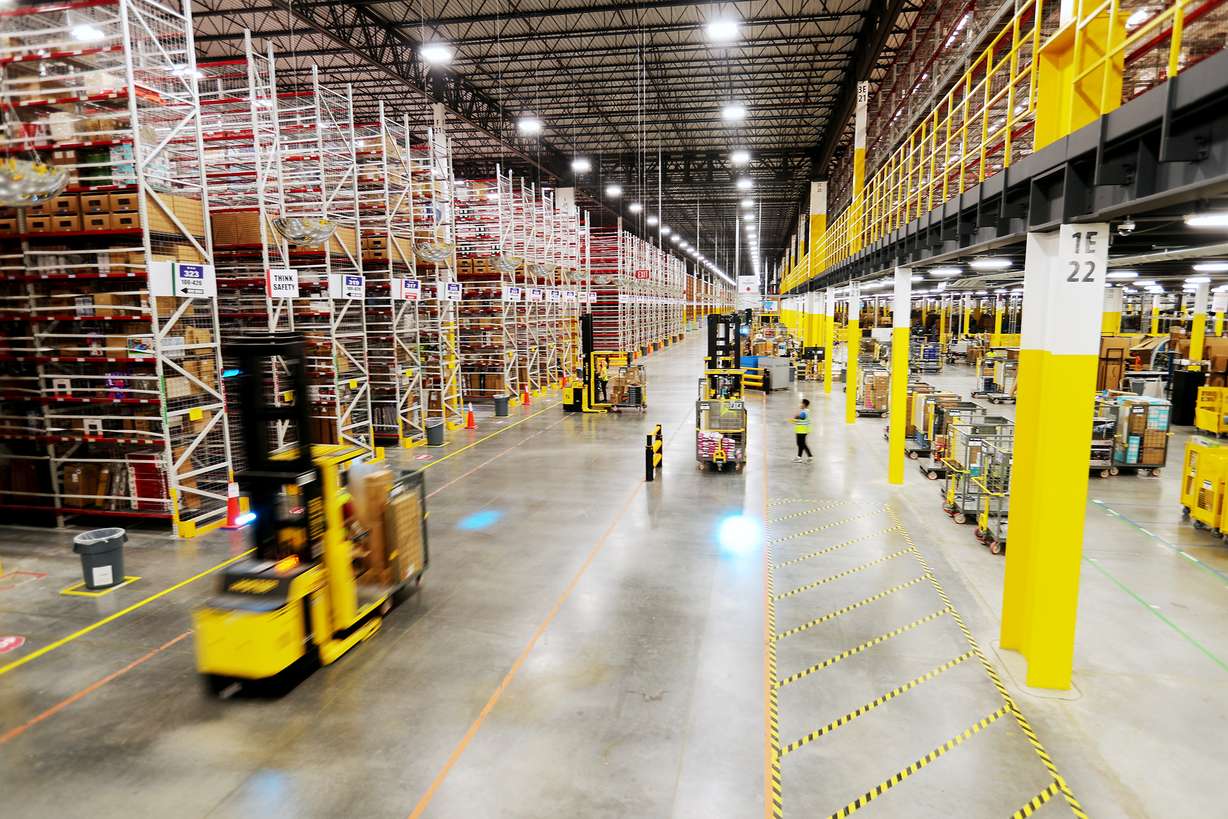 "We've advanced this trend tremendously," he said. "This is an acceleration of an existing trend. That whole shift to online, the closing of brick-and-mortar stores, the shift to experiential retail. All of that is going just much, much faster. … It's going to be really hard to go back to some of these other ways of shopping we used to have."
The growth has actually led to a new demand within commercial real estate. He explained that online retailers need storage space and that means many new commercial buildings are large warehouses that allow for fast delivery to local consumers.
Rural Utah
Wilson said he believes the pandemic also changed how rural Utah communities view their futures. A good chunk of rural Utah relies on energy and tourism, but the pandemic resulted in new possibilities.
Post-pandemic Utah could also shift workers to new areas outside of the Wasatch Front to help spread out the growth, where people can live in cheaper parts of the state and work remotely.
"One thing the state is doing, actively, is massive investment in broadband infrastructure, in particular for rural Utah," he said. "So we can support individuals not just growing up in rural Utah but staying in rural Utah as the workforce evolves in the future."
Larco added that the type of innovation possible in rural Utah is something that all rural communities in the country now have following the pandemic. The successes will come from communities willing to shift in new directions.
"I think of rural Utah as a part of the solution," Gochnour added. "The people, the resources — I think it's the right thing to always have them in every conversation."
All of these topics are why post-pandemic Utah will look different even if it's not completely clear when the pandemic will end or how different it will be. That's especially true of rural Utah.
"I think the story is still to be written," Wilson said. "But there's a lot of interesting things going on in that space."
×
Related stories
Most recent Business & Tech stories