SALT LAKE CITY — Simi Fehoko's football career isn't over.
It's just getting started.
The All-Pac-12 wide receiver from Brighton High School by way of Stanford was selected with the 35th pick in Saturday's fifth round (No. 179 overall) by the Dallas Cowboy, becoming the second Utah product from a Pac-12 school selected in the 2021 NFL draft.
Fehoko and USC's Jay Tufele, who prepped at Bingham, were both taken Saturday.
To make the Cowboys' pick, Dallas owner Jerry Jones turned to his daughter Charlotte, an executive vice president with the team and chief branding officer. Charlotte Jones is a Stanford graduate and mother of three, so the pick had a natural connection.
"I just wanted to welcome you to the Dallas Cowboys," she said on the call as Fehoko broke down with emotion. "We could use some more smart people around here."
"We did just get smarter," Jerry Jones added.
The connection was written in the stars — not just Star, the name of the Cowboys' practice facility in Frisco, Texas. One of Fehoko's earliest Halloween costumes as a toddler involved a Dallas jersey and helmet.
In many ways, the half-Polynesian wide out who grew up without a geographic NFL team in Salt Lake City was always preparing to go to the Cowboys.
"My family has loved Texas, in general," Fehoko said on a draft-day conference call. "Being a Cowboy is phenomenal. I'm excited."
Fehoko was projected as high as a third-round pick by some mock draft analysts after declaring following his junior season. The 6-foot-4, 227-pound receiver from Cottonwood Heights averaged 18.5 yards per reception in three years at Stanford, the third-best mark in Cardinal history.
Fehoko caught 37 passes for 584 yards and three touchdowns as a junior in 2020, including a stunning 230-yard, three-touchdown effort in a double-overtime victory over UCLA, en route to Pac-12 first-team honors by the Associated Press, league coaches and Phil Steele magazine. But he knows catching passes won't be the only thing he'll have to do in Dallas.
It's been written. @dallascowboyspic.twitter.com/I7zkvgy9L9

— Simi Fehoko (@Simi_Fehoko) May 1, 2021
The long-limbed receiver was often the big-play receiver at Stanford, out of necessity for the Cardinal's offense. But Fehoko believes he can do more than stretch a defense in Dallas' potentially dynamic offense that features star quarterback Dak Prescott.
"I am that guy who can take the top off at an elite level, but there's more to my game," Fehoko said. "I'm excited to work with some of thee best receivers in the leagues with the Cowboys … and a beast like Dak throwing you the ball."
Early in his Stanford career, Fehoko used his length to block a field goal attempt. He's not afraid to join the special teams group as a brand-new rookie.
"I'm sure I'm going to come in and be able to make an immediate impact on special teams," Fehoko said. "With my size, speed and ability, I have no problem coming in and playing."
Combined with his age — Fehoko served a two-year mission for The Church of Jesus Christ of Latter-day Saints — and his recent change in marital status — he married his wife Bailee in March 2020 — and the time felt right to begin his pro career while leaving a year of eligibility on the table.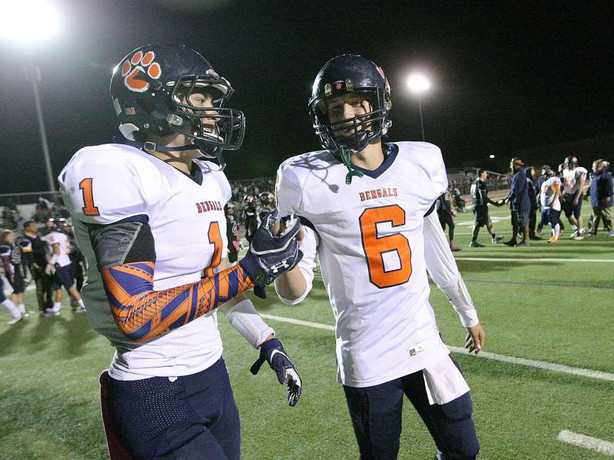 A former four-star recruit by Rivals, 247 Sports, ESPN and PrepStar, Fehoko was rated the top recruit in the state of Utah by Scout as a senior in 2016. The U.S. Army Bowl All-American and Gatorade Utah player of the year in 2015, Fehoko had a state record 3,571 receiving yards and 41 touchdowns that included a state-best 24 receiving touchdowns as a senior.
The two-time all-state first-team selection also starred on the basketball court for the Bengals, showing it regularly in his ability to high-point the football with the Cardinal. He played in four games as a freshman while maintaining redshirt eligibility for the 2018 season — Stanford was 4-0 in games he played — and burst on to the scene with 566 yards and six touchdowns on 24 receptions as a sophomore in 2019.
Fehoko believes his best days of football are ahead of them — and now they'll involve a Cowboys jersey.
"I would say I'm still raw," he said. "I think I just need one person to learn from, and there's no reason I can't be the best wide receiver in this draft class — if not the league.
"Given the offense at Stanford, I was just that deep-threat guy. I think I can be a guy on those short and mid-sized routes, too."
×
Related Stories