OREM — It took six years and a celebration 2,241 miles from home, but Utah Valley women's soccer put its name on the NCAA map Wednesday afternoon.
The Wolverines are no longer just a nice story from the Western Athletic Conference or a rising Division I program. UVU are tournament winners.
Sadie Brockbank scored the lone goal of the match about an hour in, and goalkeeper Isabel Jones-Dawe made it hold up as Utah Valley won its first-ever NCAA Tournament match 1-0 over Memphis at Johnson Stadium in Greenville, North Carolina.
Jones-Dawe made five saves to complete the shutout, the 10th of the year for the Gonzaga transfer who prepped at nearby Alta High.
The Wolverines (13-4-4) pick up their first NCAA Tournament win in school history, and do so on their third try.
"This team is special," Brockbank said. "Like we've been saying all season. We knew we could make history, and it feels so good — especially to do it with this team."
Utah Valley advanced to the national tournament in North Carolina for the first time since 2017, when it lost to Stanford 9-1, the school's first appearance since its inaugural tourney trip in a 1-0 loss to BYU in Provo.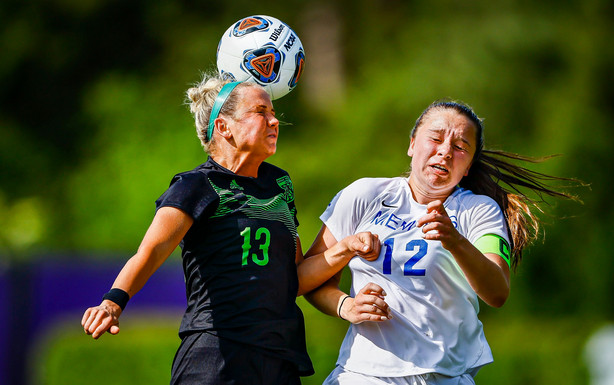 The second try against one of the top teams in the tournament came the year after UVU hired head coach Chris Lemay. When the former Cal assistant arrived in Orem, he immediately made promises — of NCAA Tournament berths, and wins, for a school that was rising off Utah's Silicon Slopes.
Most considered it to be big talk. But for Lemay, it wasn't. He's competitive, and he wants to win.
So do his players. And on Wednesday afternoon on a humid, muggy North Carolina soccer field, they did just that.
"It's what I was hired to do, and it's what I said I would do," Lemay said. "It feels good to see it happen. We had players crying happy tears on the field. That's fully committed. They're a great group."
It happened just like the Wolverines' drew up — or at least, just as they planned.
Memphis goalkeeper Elizabeth Moberg made three saves Wednesday, including a penalty kick off Heather Stainbrook in the 23rd minute to preserve a first-half shutout.
But for as good as the 'keeper was at stops, stuffs and saves from the penalty spot, she had a weakness: Moberg tends to over-extend on close-range shots, and the Wolverines knew it.
Brockbank took advantage of it in the 60th minute, when the Olympus High product drilled her team-high sixth goal of the season on a broken play with a ball off Memphis' back line.
☝️ half #GoUVU#UVUwsoc#ncaasoccerpic.twitter.com/8wy9Q1YA7T

— UVU Women's Soccer (@UVUwsoc) April 28, 2021
But the 5-foot-4 junior took advantage of the chaos, finishing a touch from Amber Tripp into the top shelf that gave Utah Valley a 1-0 lead that gave the Wolverines all the scoring they would need to hold off Memphis (8-4).
"Amber played an unbelievable ball, and we knew the keeper comes off her line," Brockbank said. "That little chipped ball got her."
Added Lemay: "She just got a knick on it, and that's all it took," who said Brockbank was the "best player in that situation" because of her fearlessness in crashing the box — a player the Wolverines designed over and over again in leading up to Wednesday's match.
"When we put our game plan together, they felt it was what they already trained and knew that it's going to happen. I think that builds trust," Lemay said. "We're going to do everything we can to be one-step ahead on the game plan. They have a great game plan, but I need to be able to look myself in the mirror and put everything I had in the match."
The Wolverines advanced to face sixth-seeded Arkansas (11-3) on Saturday at 2 p.m. MT. The winner will advance to the regional semifinal next Wednesday, May 5.
"We haven't talked much about Arkansas," Brockbank said. "I honestly have no idea how they play. But I'm excited to keep on rolling."
×
Photos
Related Stories