SALT LAKE CITY — Gov. Spencer Cox and Lt. Gov. Deidre Henderson joined several lawmakers on Tuesday in Salt Lake City to ceremonially sign six bills all aimed at "equity" by dealing with hunger, homelessness, immigration, housing affordability and language barriers.
Cox said the ceremonial signing at NeighborWorks' office in the Guadalupe neighborhood, one the most blighted neighborhoods in Salt Lake City before the community development corporation revitalized it, was meant to highlight several positive bills that deserved more attention but got "lost in the shuffle" of the 2021 Legislature and that Cox had already signed.
"One of the pillars of our administration is we wanted to focus on equality and opportunity and making sure that everyone in the state has the same opportunities as everyone else, that we work hard to lift others, and to make Utah a better place and a more welcoming place," the governor said. "And that's what we're here to celebrate today."
The highlighted bills were:
SB141
SB141, sponsored by Sen. Luz Escamilla, D-Salt Lake City, creates the Task Force on Food Security, a six-month panel tasked with developing a plan for establishing food security in the state.
Escamilla lauded it as "one of the most important pieces of legislation" to pass this year to convene an "amazing group of committed stakeholders" to addressing food security, especially for Utah's children.
HB404
HB404, sponsored by Rep. Joel Ferry, R-Brigham City, creates the Utah Immigration Assistance Center in the Governor's Office of Economic Development to help businesses navigate the complicated and bureaucratic immigration system.
"Whether that's a farmer trying to bring in workers for the summer, or a high-tech company trying to recruit a scientist," the new center can help them navigate the bureaucratic process, said Dan Hemmert, executive director of the Utah Governor's Office of Economic Development.
SB164
SB164, sponsored by Sen. Jake Anderegg, R-Lehi, uses $800,000 to allow the state to conduct a surplus property inventory across counties to determine viability for affordable housing projects. It allows cities or counties to grant real property to be used for affordable housing units and outlines programs that may receive funding from the Olene Walker Housing Fund.
Anderegg, while lauding the bill, also took a victory lap on the Legislature's significant investment of over $50 million in affordable housing and homelessness initiatives this year after years of effort, as well as matches from private sector that's expected to be multiplied to $730 million.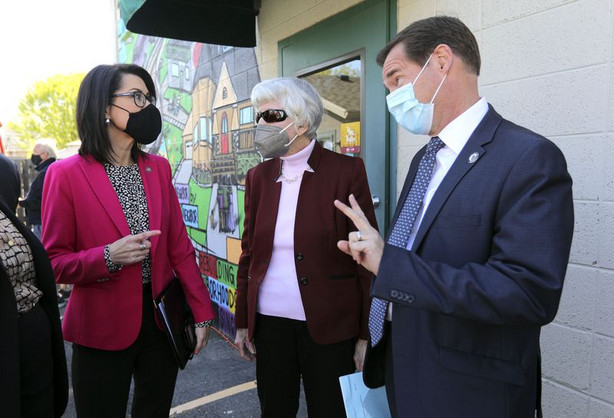 "That's huge," Anderegg said, estimating that should address over the next two to three years about 25% of Utah's estimated gap of about 40,000 affordable housing units. "And that cannot be understated. Because as we have ups and downs of our economy that happens, COVID, whatever's going to happen ... our housing prices have just skyrocketed. And that's pushing out (lower income) people to homelessness."
SB214
SB214, sponsored by Majority Assistant Whip Kirk Cullimore, R-Sandy, removes provisions in state law that resulted from a ballot initiative years ago that made English the official language of the state of Utah.
Those provisions, the governor said, had been "problematic for lots of reasons," especially a provision that prohibited the the state from expending funds to translate to other languages. The COVID-19 pandemic especially highlighted "how problematic this was," Cox said, as state officials struggled to distribute vital information to minority communities.
Henderson acknowledged that for some the bill "didn't go far enough" and actually eliminate the provision that states English is Utah's official language and she acknowledged the "concern and trauma and the feelings surrounding that and how problematic that has been."
"We recognize that, but we also want to do what we can do to make sure that we have the tools available to help people and to make sure we have the tools available to communicate with people," Henderson said. "Nothing pointed out our lack and our need to do better more than the pandemic of the past year. We absolutely as a state can do better."
HB34
HB34, sponsored by Rep. Jim Dunnigan, R-Taylorsville, establishes a pilot program to require the Utah Department of Health to apply for a Medicaid waiver or state plan amendment for medical respite care for homeless individuals. In other words, it sets up a program give better care for homeless individuals who are cycling in and out of emergency rooms because they aren't getting the follow-up care they need.
Rather than hospitals discharging homeless patients back onto the streets, Dunnigan said his bill directs them to discharge them to the Inn Between, a home for those who lack housing and who are in medical crisis.
"We're doing a pilot to show it can work," Dunnigan said. "It will be good for the person who is homeless, it's good for society, and good for our state because it's going to save us money. It's a win-win all the way around."
HB347
HB347, sponsored by Rep. Steve Eliason, R-Sandy, restructures Utah's homeless governance model to address a recent Kem C. Gardner Institute Policy report that found Utah's homeless system lacked clear leadership, consistent data and accountability.
As part of that restructuring, Cox this month appointed former Senate President Wayne Niederhauser to serve as the state's lead homeless coordinator, tasked with better coordinating Utah's various agencies and nonprofits all working on addressing homelessness. Niederhauser attended Tuesday's ceremonial signing.
"We needed a more streamlined way to make sure we're providing the right services, that the money we're spending is actually making a difference and there's better coordination among all those different groups," Cox said. "This is what's come out of that."
×
Photos
Related Stories