Estimated read time: 7-8 minutes
This archived news story is available only for your personal, non-commercial use. Information in the story may be outdated or superseded by additional information. Reading or replaying the story in its archived form does not constitute a republication of the story.
PROVO — BYU women's soccer didn't win a conference title during the strange, abbreviated spring season.
A berth in the NCAA Tournament — and first-round bye — will have to do for the Cougars, who will be joined by cross-county rivals Utah Valley in the North Carolina-based championship event.
No. 12-seeded BYU earned one of 16 byes to the second round, and will face the winner of ACC foe Virginia and SIU Edwardsville from the MAC. Kickoff is scheduled for Saturday, May 1, three days after the Cavaliers and Cougars meet in the first round.
The Wolverines (13-4-3) will face Memphis in the first round April 28 at 2 p.m. MDT, with the winner advancing to face SEC co-champion Arkansas.
Florida State (11-0) earned the No. 1 overall seed, followed by No. 2 North Carolina and No. 3 UCLA. Similar to the women's volleyball tournament, the top-16 national seeds received a first-round bye. That includes the 12th-seeded Cougars.
Like several other tournaments hosted by the NCAA during the pandemic, the entire 48-team tournament will be played in one geographic area. The women's tournament will be played alongside the men's soccer tournament in Cary, North Carolina, running from April 27 through May 17 at sites hosted by Campbell, East Carolina, UNC Wilmington, UNC Greensboro and Wake Forest.
It's a lot to manage, and some of it has never been done before — including for BYU coach Jennifer Rockwood, who is leading the Cougars into their 21st NCAA Tournament and eighth in the past nine years. From COVID-19 testing to travel delays, the Cougars don't even know when they'll leave for North Carolina yet.
They're just happy to be in the field — something that wasn't guaranteed, as an at-large selection.
"We're really excited about our seeding and our bracket, and really look forward to playing our first game on May 1," Rockwood told local media during a conference call Monday afternoon. "It's been an exhilarating year, with lots of ups and downs, but our team has been really resilient.
"We're playing some great soccer right now, and I'm excited to see how good we can be."
The new format presented by the pandemic has plenty of new experiences, including both advantages and disadvantages. But it's also similar to the single-site tournament employed other college sports like basketball and women's volleyball, and presents several distinct advantages, as well.
For one, the bracket is a truly national bracket. In previous years, BYU has often been included in a regional-based bracket of mostly western teams, and with the Cougars' additional school policy preventing Sunday play, it's left the tournament draw to be fairly easily to predict. They usually wind up a mid-tier seed, and often times have faced the top team in the West — regularly Stanford or UCLA — after a couple of rounds.
That won't be the case in the spring. The Cougars have never faced SIU Edwardsville, and have only played Virginia once — a 3-2 overtime win by the Cavaliers in 2001 — and can say as much about most of their quadrant of the bracket. It includes fifth-seeded West Virginia — those two teams haven't played since BYU's 1-0 overtime win in 2009 — as well as No. 4 TCU, against which BYU holds a 9-1 record but lost the most recent meeting, 2-1 in the tournament's first round in 2018.
"You see a lot of different matchups that haven't been seen in the first and second rounds," Rockwood said. "We still don't know exactly when we'll be leaving, who we're playing, or where we're staying. But we've learned during this season to just kind of go with the flow."
The Cavaliers (10-4-2) will likely be favored against SIUE, especially after a run to the ACC semifinals that only ended at then-No. 1 North Carolina. Like all teams in the ACC, Virginia played a split schedule of all-ACC play in the fall, followed by a mostly regional schedule of teams like George Mason, VCU and West Virginia in the spring. Led by 20-year head coach Steve Swanson, the Cavaliers have wins over then-No. 14 Pittsburgh and No. 13 Louisville, as well as a loss-tie split with fifth-seeded West Virginia.
So naturally, that's who caught Rockwood's eye.
"We only played them once, many years ago, but they have a very strong history in the ACC and the NCAA Tournament, led by a very experienced coach who has been doing for a long time," Rockwood said "We have great respect for them."
Because of the regional-site tournament and a list of 48 teams that had limited crossover — with conference-only play or mostly-conference play in most cases — the selection committee relied heavily on regional subcommittees to guide the formation of the bracket, selection chair Clifton Douglass told NCAA.com
"We relied a lot on our regional advisory committees," said Douglass, who is also an associate commissioner for Conference USA. "They met year-round to talk about the teams in their separate regions.
"They were very helpful in putting together the bracket and this tournament."
Even traditional metrics like the RPI were limited in its scope and effectiveness during the spring season, because of the limited crossover.
"We tried to put the best at-large teams in that we could," Douglass added, "and really honed in the last few days at what those bodies of work looked like."
The first round is scheduled for April 27-28, followed by the second round April 30 through May 1. After a short break, the third round will commence May 5, with quarterfinals decided May 9 before shifting to WakeMed Soccer Park for the national semifinals and championship match.
The national championship is scheduled for Monday, May 17 at the home of the NWSL's North Carolina Courage and third-division North Carolina FC.
Fans will be allowed to attend each championship match, with a maximum stadium capacity of 25% and priority given to family and close friends of players and coaches.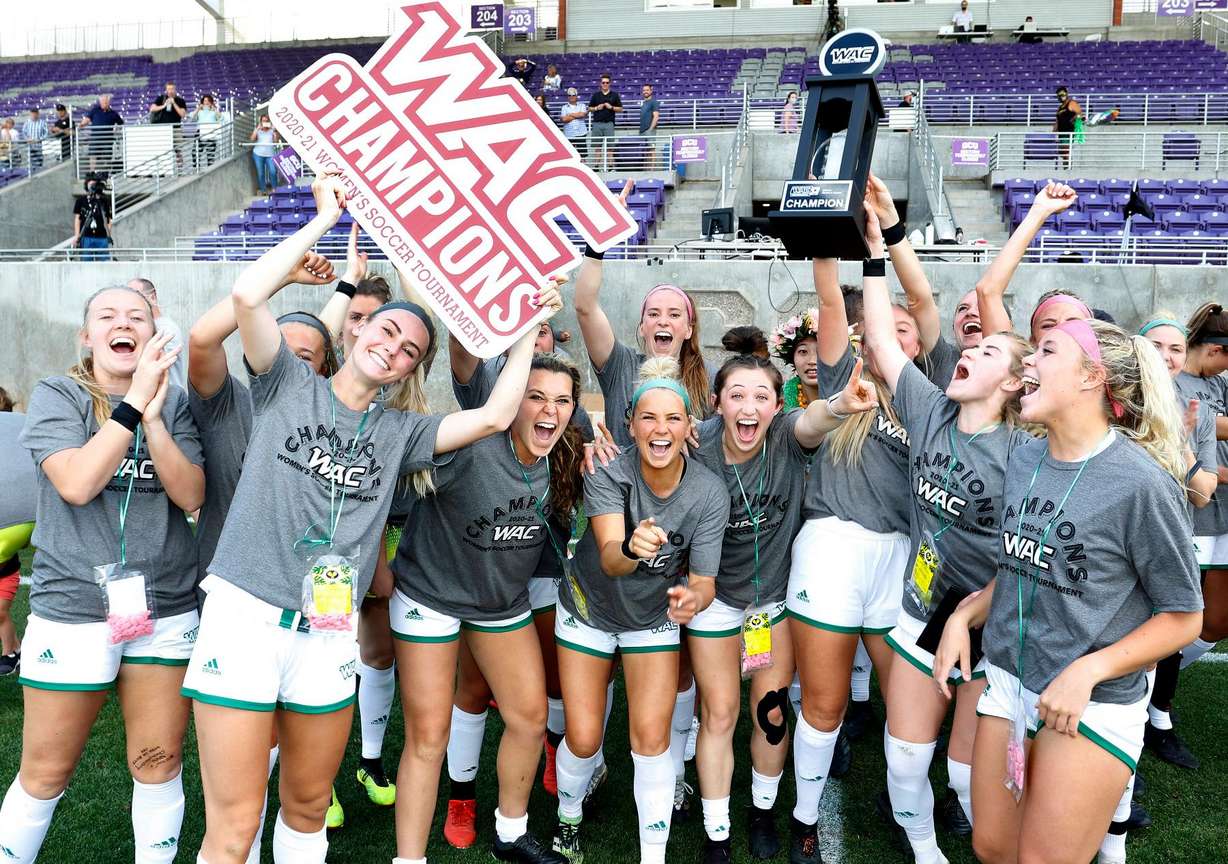 Ranked No. 17 nationally in the latest United Soccer Coaches poll, the Cougars did not win the West Coast Conference and qualify for an automatic berth — but they were about as automatic as a selection as could be. BYU's three losses came to No. 3 UCLA, No. 19 USC and No. 11 Santa Clara — the last one clinching the West Coast Conference title (and an automatic bid to the NCAA Tournament) for the Broncos.
The Cougars (11-3-1, 7-1-1 WCC) later went on to beat Santa Clara in a second match that did not count in conference play, and the Broncos finished at the top of the league table based on a Ken Pomeroy-derived winning percentage formula.
Santa Clara had an adjust winning percentage of .979 to the Cougars' .837 — though BYU's 7-1-1 conference record would've garnered one more point in traditional soccer standings than the Broncos' 7-0.
The Broncos earned the No. 11 seed, and will face the winner of the first-round match between Ohio State (7-2-3) and Stony Brook (6-3).
BYU, which wrapped up the regular season with a 4-0 win over Portland on Saturday, also boasts wins over Utah, Missouri and a nonconference win over Santa Clara, also owns the No. 22 RPI in the country, with a 6-2-1 road record in the truncated, mostly-conference spring season.
The Wolverines were one of 24 automatic qualifiers, clinching their second NCAA Tournament bid in four years — and first since head coach Chris Lemay's first season in 2017 — with a 1-0 win over Seattle in the Western Athletic Conference Tournament championship Saturday afternoon in Phoenix.
Led by WAC defensive player of the year Jenna Shepherd, the Wolverines rode a strong defense and timely scoring to a share of the league's regular season championship and tournament title. UVU allowed just 16 goals in 20 matches, and only three times gave up more multiple goals in a match, including a 4-1 loss to BYU and a 3-2 win over in-state WAC rival Dixie State.
×
Related stories
Most recent BYU Cougars stories