PROVO — They didn't wrap up a West Coast Conference title, nor would they officially clinch an NCAA Tournament bid until Monday.
But the BYU women's soccer team looked as close to a championship team as they could in Saturday's finale of the truncated spring regular season.
Rachel McCarthy had a goal and an assist, and No. 17 BYU struck first through Bella Folino's goal in the 14th minute and never let up in cruising past visiting Portland, 4-0 in the final match at South Field until the fall.
The Cougars (11-3-1, 6-1-1 WCC) converted four goals on nine shots on goal, and limited the Pilots to just six shots, including two on goal, in the shutout.
"It was just a great day for us, against a good team who had only given up eight goals all season," BYU coach Jennifer Rockwood told BYU Radio. "I'm proud that the looks we created were effective.
"I thought we just played really well; we wanted to get off to a better start than we have recently … and the girls did a great job today."
Playing without star midfielder Olivia Wade, the Cougars had more than enough firepower to dismantle the Pilots, who finish the spring season 3-4-3 with just one win in their final six matches. From Orlando Pride draft selection Mikayla Colohan to standout forward Cameron Tucker, BYU showed off its depth in the final match of the shortened regular season.
Then there was McCarthy, the sophomore who started the first match of her career and scored her ninth goal to go along with her seventh assist less than two weeks after an ankle injury kept her out of the Cougars' April 10 win at Pepperdine.
"It's awesome to see people stepping up into those roles that we need when people go down," McCarthy said.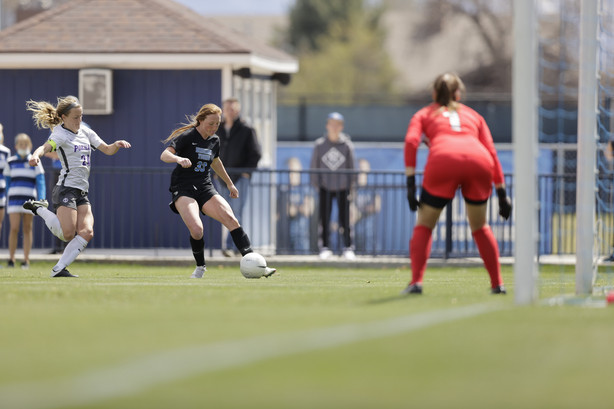 It started in the back, too.
BYU goalkeeper Cassidy Smith made two saves to earn the shutout through 60 minutes, including saving Taryn Ries' penalty-kick attempt in the 17th minute for the Cougars. The senior Lone Peak product made way for the final half-hour for reserve keeper Savanna Empey, the freshman from American Fork.
Folino tallied her ninth goal of the year that gave BYU a 1-0 lead in the 14th minute of play. Less than three minutes later, McCarthy doubled the advantage with a 25-yard chip from Jamie Shepherd that floated over Portland goalkeeper Madison Zamora and into the back of the net.
UCLA transfer Brecken Mozingo notched a third goal in the 33rd minute. The former Alta High star scored her third goal of the season, coming in off the bench to put away a loose ball from McCarthy in front of goal that led the Cougars to a 3-0 halftime advantage.
Ashton Brockbank Johnson finished a one-touch attempt from Cameron Tucker less than 10 minutes into the second half, giving the Cougars a 4-0 advantage in the 54th minute to cruise to the win.
Now they'll wait.
"This whole team is so awesome," McCarthy said. "It's a great culture. When we say it's a family, it's no joke."
"It's going to be so fun. We were hoping for this in the fall, but it's awesome to do so right now, too."
Rachel. McCarthy. That's it. pic.twitter.com/5QIGjhOK4X

— BYU Women's Soccer (@byusoccer_w) April 17, 2021
The NCAA will host the selection show for men's and women's soccer Monday at 11 a.m. MDT, and the Cougars will be eagerly waiting for a bid that is expected, if not guaranteed. The entire 48-team tournament — down from 64 teams due to effects of the pandemic — will be played in or around Cary, North Carolina, beginning with the women's first round April 27-28 through the national championship match May 17.
The Cougars are ranked No. 17 nationally in the latest United Soccer Coaches poll, with three losses to No. 3 UCLA, No. 19 USC and No. 11 Santa Clara — the last one clinching the West Coast Conference title (and an automatic bid to the NCAA Tournament) for the Broncos.
BYU, which also boasts wins over Utah, Missouri and a nonconference win over Santa Clara, also owns the No. 22 RPI in the country, with a 6-2-1 road record and 1-0 neutral-site record in the truncated, mostly-conference spring season. They also played 15 matches in a year postponed by a global pandemic, with limited nonconference opportunities across the country.
"A really different look, but we're pleased that the NCAA is having tournament," Rockwood said. "We're anxious to see who we play, where we'll play, and when we'll be allowed to go out. We'll celebrate now a fantastic season, and on to bigger and better things."
×
Photos
Related Stories