SALT LAKE CITY — Utah Sen. Mike Lee wants to take a swing at Major League Baseball for pulling its All-Star Game out of Atlanta to protest Georgia's controversial new voting law.
Lee joined Republican colleagues Sen. Ted Cruz, of Texas, and Josh Hawley, of Missouri, at a news conference Tuesday announcing plans to introduce legislation to take away baseball's antitrust exemption.
Baseball wouldn't have moved the July game to Denver if it wasn't insulated from market competition by an exemption created from "whole cloth" by the U.S. Supreme Court in 1922 that no other professional sports leagues enjoy, Lee said.
"When they act in this way, when they made this announcement about the All-Star game, my immediate thought was this is the behavior of a monopolist," he told reporters in Washington. "They've enjoyed that lack of competition for 99 years due to a judicial mistake, but it's a judicial mistake we can correct and we intend to do so."
MLB Commissioner Rob Manfred made the decision to move the All-Star events and its player draft from Atlanta after discussions with individual players and the Players Alliance, an organization of Black players formed after the death of George Floyd last year, the commissioner said in a statement earlier this month.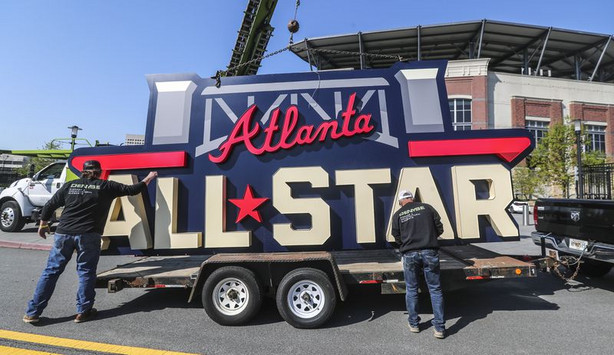 "I have decided that the best way to demonstrate our values as a sport is by relocating this year's All-Star Game and MLB draft," Manfred said. "Major League Baseball fundamentally supports voting rights for all Americans and opposes restrictions to the ballot box."
In addition to baseball, major corporations such as Atlanta-based Delta Air Lines and Coca-Cola Co. condemned the new Georgia law that critics say will restrict voter access and disproportionately affect people of color.
The legislation, which was signed by GOP Gov. Brian Kemp, requires ID to vote by mail, empowers the state Legislature to play a larger role in election administration, limits the use of ballot drop boxes, adds early voting days, shortens the runoff period to four weeks and bars advocacy groups from distributing water and food to voters waiting in line.
In objecting to the Georgia law, baseball and businesses are enforcing a "woke" standard based on a "pile of lies," Cruz said.
"This was not about voting. This was about virtue signaling and this was about punishment," he said.
---
They've enjoyed that lack of competition for 99 years due to a judicial mistake, but it's a judicial mistake we can correct and we intend to do so.
–Sen. Mike Lee
---
Cruz said the decision underscores that baseball doesn't deserve an antitrust exemption that the NBA and NFL do just fine without.
"In the past month, these woke corporations have decided to become the political enforcer for Democrats in Washington," he said. "If they're going to play partisan enforcer, they shouldn't expect to see special goodies from Washington when they are dishonestly acting to favor one party against the other."
Lee said Congress never acted on the exemption for baseball, and though the Supreme Court set a precedent with its decision, lawmakers have the ability through legislation to undo it.
"There's no reason that Major League Baseball should be treated any differently than any other sports leagues in America," he said.
Lee said he doesn't know if baseball made the decision to move the All-Star Game as a favor to the Democratic Party or to promote the Democrats' voting reform proposal or whether it was simply a business decision.
"My point is there's a lot of possibilities as to what subjectively motivated them. But they did make this decision, and it's a decision you wouldn't see from an entity that wasn't insulated from market competition by our antitrust law," he said. "That's why it's a problem."
×
Related Stories