SALT LAKE CITY — Marcie Leek stood on the sidewalk waving her clipboard, indicating where Grace Mary Manor was nestled among commercial buildings on Gregson Avenue.
Leek is the mobile clinic program manager for Fourth Street Clinic. Her face beamed when she stood in front of the RV-style vehicle. Inside the mobile clinic are rooms resembling a doctor's office, each equipped with medical equipment and a cushioned medical exam table. PPE hangs from the wall, neatly labeled with names.
Leek picked up one of the gowns pointing to some wear around the sleeves. She said the clinic struggled to find PPE at the beginning of the pandemic like many other health care workers.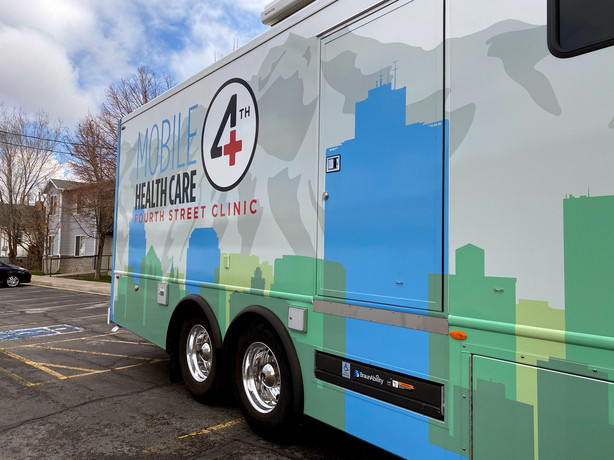 Before COVID-19, the clinic could provide health care inside the RV to individuals experiencing homelessness. That has stopped since the onset of the pandemic, the enclosed space making it difficult to social distance.
But Fourth Street Clinic has adjusted to the need, conducting COVID-19 outreach clinics at shelters or transitional housing such as Grace Mary Manor.
Grace Mary Manor is made up of 84 studio apartments occupied by 84 chronically homeless men and women. Housing Connect places people who have been living in shelters for one year or longer, or four times in the past three years, into subsidized housing such as Grace Mary Manor.
Inside Grace Mary Manor is a semicircle of metal foldable chairs placed 6 feet apart. Near the entrance of the room is a long table with two doctors carefully examining syringes which are laid neatly in a row on the table.
The medical container nearby slowly begins to fill up with the used syringes.
According to Fourth Street Clinic Developmental Director Laura Ingham, the clinic receives around 30 vaccines a day.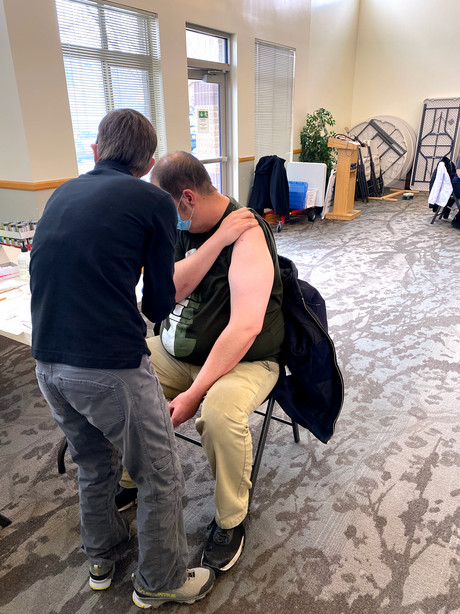 Leek said the clinic had administered 993 vaccinations as of April 6. Of those 993, 762 were the first dose and 231 were the second dose; 668 of the first dose were Moderna, with 94 receiving the Johnson & Johnson vaccine.
Fourth Street Clinic and other programs that serve the homeless population, such as the Veterans Affairs, have stated that the Johnson & Johnson vaccine has made the process easier. The two doses required by the Moderna vaccine involved strategic planning to administer both doses.
Alfonso, age 61, is one of 30 people to be vaccinated at the clinic.
"I don't want to die. It's been a concern of mine because I'm homeless and I'm exposed to a lot of ... people and places and situations. So better to have a safeguard on you than not to have one at all, you know?" he said.
Alfonso added that the COVID-19 pandemic has made it harder to get into shelters and housing programs. He's been on a waitlist for long-term housing similar to Grace Mary Manor, where his twin brother currently lives.
Dr. Sue Berkebile, a volunteer doctor with Fourth Street Clinic for around 15 years, echoed Alfonso's sentiment, saying the pandemic has made it harder to reach people experiencing homelessness.
"Even for people that are willing to go into the shelter and try to find ways to get out of homelessness, it can be scary to be in the shelters when in a moment, there could be a COVID outbreak," said Berkebile. "So it's just become really hard to keep people in the shelter system to get them the help that we have to offer them because of the pandemic."
Related Story
Salt Lake County's COVID-19 dashboard indicated that homeless resource centers have had 16 reported outbreaks with 780 confirmed cases from March 2020 to April 2021.
Upon receiving his vaccine, Alfonso said he felt a sense of relief and hoped that this would open more doors for him.
Alfonso's relief is a common reaction to being vaccinated, said Berkebile.
"It's one of the happiest times we've had in medicine," she said.
According to Salt Lake County, 1,151 individuals experiencing homelessness had been vaccinated as of March 31.
In addition to receiving a vaccine, those who attend the COVID-19 clinics hosted by Fourth Street Clinic will receive a gift card to Walmart. The gift card helps act as an incentive for those who may be hesitant to attend or come back.
"When you're homeless, the barriers to care are already insurmountable," said Fourth Street Clinic member James Jarrard. "And so, giving someone an incentive to come to, in this instance a COVID vaccination clinic, they'll actually want to come."
"I think those incentives can really drive someone to actually make the effort to come," he continued. "And without those incentives, they already feel pretty unsafe going anywhere, and so this gives them an opportunity to go out and build relationships with providers."
Any eligible individual can attend the Fourth Street Clinic the following days and times for the COVID-19 vaccine:
Monday, Wednesday, Thursday, Friday from 8 a.m. to 4 p.m.
Tuesday from 9 a.m. to 4 p.m.
Friday from 8 a.m. to 3 p.m.
The VA is also offering COVID-19 vaccines for veterans experiencing homelessness and their families. Veterans do not need to be enrolled in VA health care to receive the vaccine. If you are already an eligible, enrolled veteran and wish to schedule an appointment, dial the VA's COVID Vaccine Hotline at 801-582-1565 ext. 5657 to make an appointment.
×