PROVO — At his best, there's no question: Gavin Baxter is a transcendent player for BYU basketball.
A 6-foot-9 forward with a 7-foot wingspan, the junior from Timpview High School is a stat stuffer for the Cougars, averaging 4.2 points, 2.8 rebounds, and 1.0 blocks per game despite playing in just 39 games, with 11 starts due to a handful of injuries.
He's also an incredible teammate, burning a medical redshirt last season to come back and play in seven games, including one start, after shoulder surgery, helping the Cougars to a 24-8 record in the coronavirus pandemic-shortened season of 2019-20.
But in Thursday night's Thanksgiving victory over New Orleans, disaster struck again. Baxter dropped to the court after making a cut in the post, where he's scored, rebounded, blocked and patrolled for parts of three seasons, and immediately grabbed at his knee.
"It's always hard to see a player go down," BYU guard Connor Harding said fo Baxter's injury. "We don't know anything; I'm hoping for the best. As a team, we're praying for his health. He gives us a lot of length and athleticism. Seeing him go down, personally it broke my heart."
Baxter did not return to Thursday night's game, and his spot in the second-half starting lineup was replaced by freshman Caleb Lohner. Instead, the Cougars immediately sent him to receive a magnetic imaging resonance (MRI) after he was helped off the court by the team's medical staff.
As Baxter lay on the court, and even as he was aided off without applying any significant pressure on his leg, the Marriott Center went quiet enough to hear a pin drop. No one on the Cougars' bench, or the Privateers', or among the hundred or so family members and BYU administrative officials said a word.
The fear is obvious: with the way he went down, the angle of the cut, and the limited reaction, the Cougars fear a torn ACL, according to a source. That would put Baxter back into season-ending surgery, to undergo another round of painful rehabilitation to make it back on the court for his team.
Obviously, that's the worst-case scenario. BYU is clearly hoping — praying, even — for a much better result.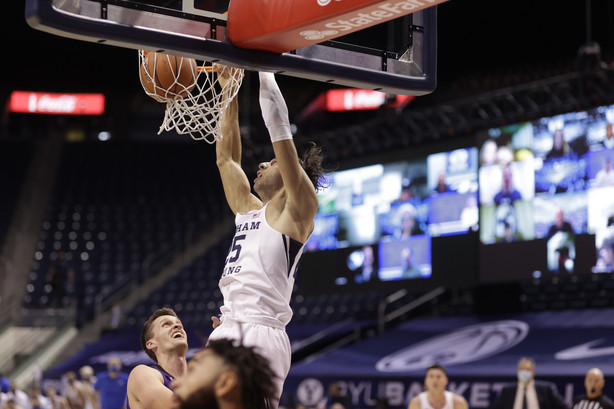 "We're super hopeful and prayerful," BYU coach Mark Pope said. "We just don't know. He's going to get an imaging, but we're really hopeful and praying that it is something that is recoverable quickly."
It's not necessarily that the Cougars (2-0) don't have players to fill in for Baxter. On the glass, newly eligible UVU transfer Richard Harward has averaged 8.5 per game in the first two contests, including a double-double of 11 points and 10 rebounds on Thursday. New Mexico Junior College transfer Gideon George and Lohner, the freshman from Wasatch Academy who is averaging 7.0 rebounds in the first two games, can also step up.
"I feel like we did pretty solid," Harward said in describing the team's work on the glass in an 86-61 win over New Orleans. "I felt like everyone was getting to the boards. Caleb is an absolute monster … but I feel like we're such a threat all-around with so many boards, and so many guys who can get the rebound, especially the offensive rebound."
On the inside, Pope is even more hopeful that 7-foot-3 Purdue transfer Matt Haarms will be fully healthy sooner rather than later after struggling with an ankle injury during the Cougars' first week of games.
But there's no doubt: BYU is not the same team without Baxter, the son of former BYU basketball player Kurt and All-American sprinter Angela who signed with the Cougars over offers from Arizona State, Cal, Oregon and Utah State, among others. The Cougars can be different, and even good enough — but they're worse, for sure.
"As a team, we also knew we had to step up," Harding said. "Hopefully he's fine and hopefully we get to see him out on the court. The last two games, his ability to run the floor and get people open, we really need that."
The Cougars will try to rebound Saturday against crosstown rival Utah Valley, a team with a breakout post player of its own after Fardaws Aimaq went for 24 points and 18 rebounds in his UVU debut, a 100-75 win over Adams State.
"They're really good," Pope said of the Wolverines, whom he coached for four seasons prior to coming to Provo. "(UVU coach Mark Madsen) has done an unbelievable job. They had a solid year last year, and they're going to have a really good this year. They had a kid up front who was on pace today to have a 40-30 game.
"They're going to be really good, really well coached, and like every one of these in-state games, it's going to be an all-out battle. It's why you roll the dice."
Sat., Nov. 28
BYU (2-0) vs. Utah Valley (1-0)
Tipoff: 7 p.m. MT
TV: BYUtv
Streaming: BYUtv.org
Radio: BYU radio, KSL radio 1160 AM/102.7 FM
Series: BYU leads, 5-1 (last meeting: 2018)
×
Related Links