This archived news story is available only for your personal, non-commercial use. Information in the story may be outdated or superseded by additional information. Reading or replaying the story in its archived form does not constitute a republication of the story.
OREM — New Utah Valley coach Mark Madsen knows the challenge in front of him.
After officially accepting the job Sunday morning, the first-time head men's basketball coach has just three days to get ready for the open recruiting period Wednesday as he hits the road to bring in new players to Utah Valley University.
But his most important recruiting job will be within the walls of the Nuvi Basketball Center, where his team practices every day.
"My job is to re-recruit every single player in this program, to win them over," Madsen said, "to show that I care about them — not only as people or athletes, but as a member of this community."
Wyatt Lowell and Isaiah White are the latest UVU players to enter the NCAA's transfer portal, joining Western Athletic Conference player of the year Jake Toolson and Eastern Michigan transfer Baylee Steele from the Wolverines.
The news was first reported by 1280 The Zone radio in Salt Lake City and confirmed by KSL.com from a source with direct knowledge of the situation. The source spoke on the condition of anonymity because the university does not publicly comment on the NCAA's new database to facilitate transfers in a "free agency" type setup, of which Madsen is a fan after spending the bulk of his coaching career in the Los Angeles Lakers' organization.
"One of the biggest changes in college are the transfer rules," Madsen said during his introductory press conference Monday. "The college game is morphing almost toward free agency — which ultimately I think is fantastic for the student-athletes. It gives them more options and flexibility. I'm a huge supporter of that."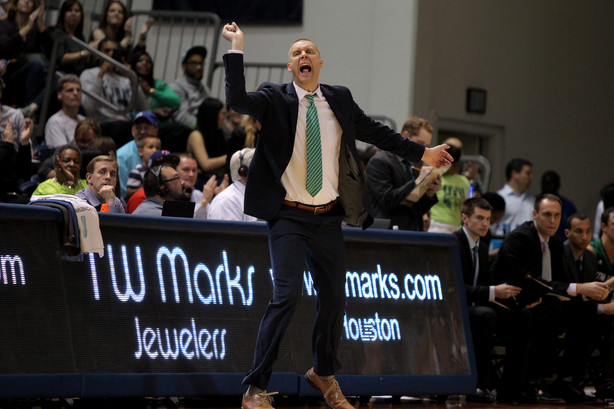 Toolson and Steele will be graduate transfers should they depart Utah Valley, with at least three years having elapsed since they began playing college basketball. Steele, the 6-foot-11, 245-pound center from Norwalk, Iowa, recently committed to Duquesne as a graduate transfer, according to the website prepscouting.net.
Toolson is finalizing his degree with Utah Valley — he has one semester remaining to earn his diploma — but already has interest from Arizona State, Utah State, Stanford, Duke, Virginia and returning to Utah Valley, according to Stadium.
Lowell is not likely to be in the same position academically, meaning, if he transfers to another Division I university, he will be required to sit out a season.
Lowell, the 6-foot-10, 205-pound big from Gilbert, Arizona, recently returned from a two-year mission for The Church of Jesus Christ of Latter-day Saints in Minnesota and enrolled quickly to join former head coach Mark Pope, who recently took the job at BYU. Rated a four-star recruit by Scout.com, he is believed to be the highest-rated recruit to sign with Utah Valley in men's basketball history after averaging 24.3 Points, 10.4 rebounds, 2.3 assists and 20 blocks per game as a senior at Williams Field High School in 2016.
Scout.com rated him the No. 1 power forward in Arizona during his prep career, and the fifth-rated power forward in the west. His uncle, Stephen Rogers, played basketball at BYU from 2010-12 before retiring with a medical condition, and Lowell was first recruited to BYU when Pope was an assistant coach in Provo.
Related Story
Lowell burst on the scene as a freshman in 2018-19, starting two games and coming off the bench in the other 33 to average 4.6 points and 2.6 rebounds in 15.7 minutes per game en route to WAC freshman of the year honors. He had a career-high 14 points in his most minutes of the season during a 92-63 loss to Saint Mary's, and played a key role off the bench in helping the Wolverines to a program-record 25-10 season that included a 12-4 mark in WAC play.
"Not only is Wyatt a nationally recognized top-rated player at his position, he is also an extraordinary young man," Pope said when he signed Lowell. "He has great length, an explosive first step and a sweet stroke. With a unique skill set for his size, he has an incredibly high ceiling and has a chance to play this game for a long time."
White, a redshirt sophomore from Rancho Cucamonga, California, spent two seasons at Salt Lake Community College, including one as a redshirt sophomore in 2017-18 before enrolling at Utah Valley. He averaged 8.5 points and 4.4 rebounds in 33 games in 2018-19 for the Wolverines, including 32 starts.
Players are not bound to leave after entering the transfer portal, but coaches are not required to renew their scholarship, either. With the four potential transfers, as well as departed seniors Ben Nakwaasah, Conner Toolson and Connor MacDougall, the Wolverines are still set to return seven players from the 2018-19 roster, including three players who redshirted the past season — Oklahoma State transfer Brandon Averette, Boise State's Casdon Jardine, and Fordham's Ege Havsa.
Former Weber High standout Hayden Schenck, who was a senior in 2018-19, may also be able to return for another season. He is working with the NCAA about obtaining an extra season of eligibility for medical reasons, according to a source within the university.
×
Related Stories