Estimated read time: 9-10 minutes
This archived news story is available only for your personal, non-commercial use. Information in the story may be outdated or superseded by additional information. Reading or replaying the story in its archived form does not constitute a republication of the story.
SOUTH SALT LAKE — Wednesday marks the first day that all Utahns age 16 and up are eligible to receive a COVID-19 vaccine.
It's a major milestone not just four months into the vaccination process, but about 55 weeks into the pandemic.
"We're getting closer to getting life back together to what we used to know," said Salt Lake County Mayor Jenny Wilson, regarding the ability for all Utahns age 16 and older get the vaccine. "But we are still facing challenges due to COVID-19."
Scheduling appointments for vaccines opened up for residents in Salt Lake County on Monday. Over 31,000 residents had signed up for appointments, said Gary Edwards, executive director of the Salt Lake County Health Department.
He added there were still 17,000 open vaccination slots through the end of April as of late Wednesday morning. It comes as the state's most-populated county has increased its vaccination capacity.
"Over the past three weeks, Salt Lake County Health Department clinics alone have vaccinated over 30,000 individuals each week," Edwards said. "We're prepared to do more than that, even double that amount."
That's in addition to the various pharmacies and health system partners that are also conducting vaccinations in and around Salt Lake County.
On the date that the COVID-19 vaccine became available for all residents, the county marked the occasion by answering the top questions they've received from residents about the vaccine during a question-and-answer session Wednesday.
What is the best vaccine to get?
There are currently three vaccines available in the U.S.: Pfizer-BioNTech, Moderna and Johnson & Johnson. A vaccine from AstraZeneca is expected to be added to the mix later this spring.
The Pfizer, Moderna and AstraZeneca vaccines are completed with two doses, while the Johnson & Johnson vaccines is completed with just one dose. The Pfizer vaccine's second dose is scheduled 21 days after the first dose and Moderna's is 28 days after.
Wilson said there was no need for anyone to be "vaccine shopping," which is requesting or demanding a specific drug manufacturer. Edwards on Wednesday said that it's something that has "already become a little bit of an issue."
"The problem that it creates for us is many of those individuals who are 'shopping' do not cancel their appointment," he said. "So we'll have 6,000 appointments scheduled during the day during our various clinics. At the end of the day, we might have 600 appointments, 600 doses that went unused that day."
He added that doesn't mean all of those vaccine doses that go unused that day are wasted, but it does mean hundreds of people every day who weren't able to get the vaccine as soon as they'd prefer.
Like Dr. Angela Dunn, state epidemiologist for the Utah Department of Health who previously said that the best vaccine is the first one anyone can get, Edwards said everyone should schedule an appointment and take whatever vaccine is available, and then stick with that appointment.
"No (vaccine manufacturer) is better than another and we encourage anybody: Don't worry about what vaccine it is, just take the first opportunity to be vaccinated," he said. "That is the key point. … It can be confusing, but none of (the different variables) make one more important than the other."
There is one exception, which is that 16- and 17-year-olds are currently only approved to receive the Pfizer vaccine. It's because Pfizer was the only drug manufacturer that included individuals under 18 in its original study.
Wilson pointed out now that the vaccine is available to more people, it will be easier for groups of people to get vaccinated together.
"We don't have to cherry-pick families — adults in families. People can come together, as long as they are over 16, and receive the vaccine," she said. "That process really helps us, especially with diverse communities, people who might be working odd hours, and some of our community members (who), for whatever reason, are a little harder to reach."
It's still unknown if the current vaccinations are the only vaccinations that will be needed against COVID-19, or if more booster shots will be needed in the future.
Edwards also said there is hope that a COVID-19 vaccine will be approved for at least some children under 16 by the next school year. "We are anticipating, with the efforts taking place, that perhaps 12- to 18-year-olds first, and then the younger cohort later in the year or into 2022," he said.
What are the side effects of the vaccines?
Side effects were another popular question asked. "Most people only have mild side effects," Edwards said, noting that soreness at the injection site, headache and low-grade fever are the most common.
"These side effects are indications that the body is responding to the vaccine and the immune response is taking effect," he added.
The Utah Department of Health and the Office of the Medical Examiner jointly released a statement last week stating that no COVID-19 vaccines have been confirmed to be the cause of any deaths in the state. That followed a report that a 39-year-old Utah woman died shortly after receiving her second dose.
How do variant strains of the coronavirus affect vaccination?
Salt Lake County officials said Wednesday they were assessing the risks associated with COVID-19 variants in the state that could factor in vaccination efforts.
The state health department currently provides data on three variants. It had documented 163 confirmed instances of the United Kingdom variant in Utah and three instances of the Brazil variant, as of Wednesday.
Edwards said the vaccines do provide protection from the variants, but studies are still being conducted for other variants and to see the long-term strength of the vaccine against the variants.
"We still don't have large numbers of variants to be able to know how effective the vaccine is against those variants," he said. "The manufacturers are exploring whether or not they need to adjust the vaccine."
He pointed out flu vaccines are treated in a similar process with adjustments made every year.
Why do county officials still want us wearing masks?
Just because the state has opened up vaccinations to all eligible groups doesn't mean that the vaccination process is coming to an end.
As of Wednesday, nearly 800,000 Utahns had received at least one dose of the COVID-19, and nearly 439,000 Utahns were fully vaccinated, according to Utah Department of Health data. That means a little more than one-third of the state's total adult population has received at least one dose of the vaccine based on the Utah Department of Health's estimation of a little more than 2.3 million adults in the state.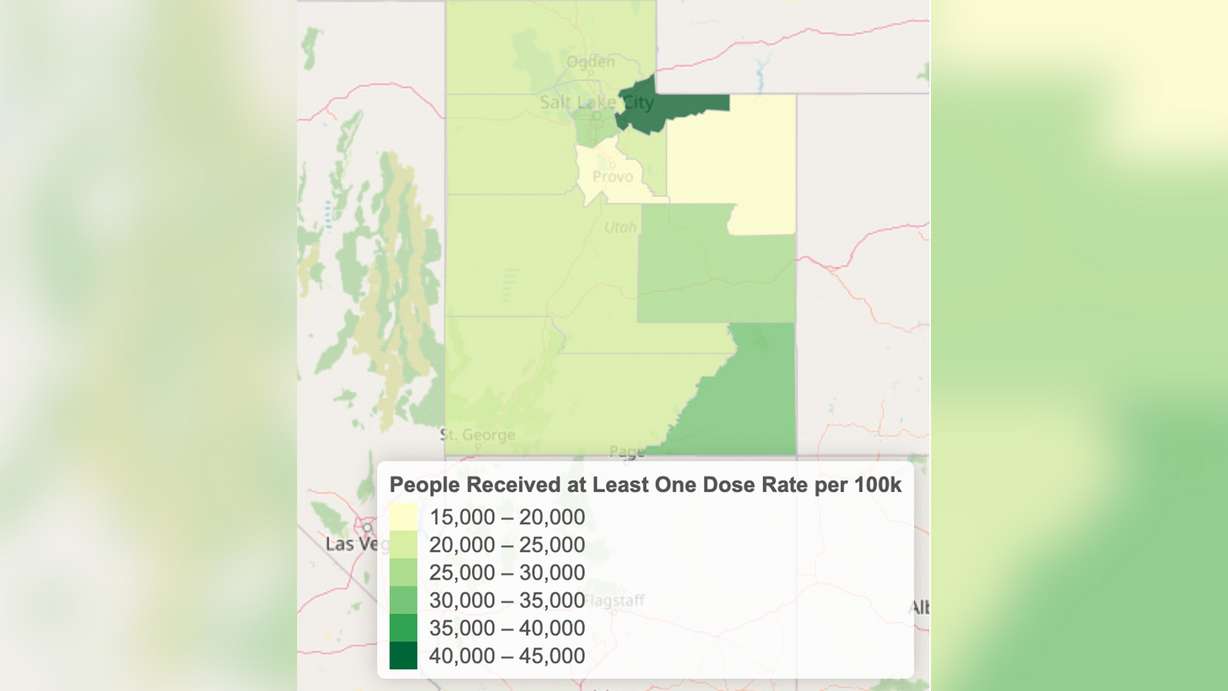 The state health department originally aimed to get at least 70% of that population, or a little more than 1.63 million residents, to be vaccinated before it removed mask mandates. There isn't a set number for what's needed to reach herd immunity, but experts have said it likely ranges somewhere between 70% and 90%.
One encouraging sign in the middle of all of this is that new COVID-19 cases are still on a downward trend.
The state's epidemiological curve has been in deceleration since Jan. 17. Utah's seven-day rolling average of COVID-19 cases has also fallen significantly. The health department reported 442 new cases per day following an update to numbers on Wednesday. That's a 86% decrease since the most recent peak of about 3,258 new cases per day on Jan. 9.
There are close to 177,000 Salt Lake County residents who have received at least one COVID-19 dose and a little more than 140,000 residents fully vaccinated, according to Salt Lake County Health Department data accessed Wednesday morning.
The county has also seen a large case decline. On Feb. 28, Salt Lake County reported fewer than 100 new cases for the first time in months, and what was once 1,000 cases per day has recently dropped to several instances of below 200 new cases in a day.
"Our cases have dropped 79% since January — just tremendous progress," Edwards said. "That gives us hope and optimism as we move into the summer, but we have to remember that this is not over."
While a good portion of the statewide COVID-19 mask mandate will expire on April 10, Wilson urged that residents still wear masks in all public situations as much as possible after that date due to the risk of variants and the unknowns of who is and isn't vaccinated.
"The information tells us that when we're out we should wear face coverings, especially those who have not been vaccinated; and then those of who have, to protect just the general public for some time just so we can not have the level of angst and confusion in the community," the mayor said. "We do have some time to go."
Edwards said people should be sensitive to the possibilities of why someone hasn't gotten their vaccine, which include possible health reasons. On top of that, there will still be some threat of new cases throughout the next few months.
"A vaccine that is 95% effective is really good, but it's still not 100%," he said. "The mask continues to give added protection."
What's the endgame?
The Salt Lake County Council is reviewing the law that passed through the Utah Legislature that would set the April 10 deadline to end many parts of the statewide mask mandate and any additional exceptions to the mandate on July 1, Wilson said.
She said she and Edwards haven't decided yet whether or not the county would seek to continue a mask order beyond that April 10 date, but that she would prefer the county reach herd immunity before a mandate is lifted.
Wilson added that the county will continue to address the situation and urge mask-wearing until the number of cases in the county has reached a point where it's no longer a public health crisis.
It's still unknown when that would be.
"We want to continue to make progress until we can take the (COVID-19) dashboards down, and to the point that COVID cases can be simply addressed through the health system and through our traditional needs and methods," she said. "While there's light at the end of the tunnel, we need the community's help."
Clarification: A previous version of this story said the AstraZeneca vaccine is completed with one dose. While there has been a study on the use of the vaccine with one dose, it is currently completed with two.
×
Related stories
Most recent Coronavirus stories