Estimated read time: 6-7 minutes
This archived news story is available only for your personal, non-commercial use. Information in the story may be outdated or superseded by additional information. Reading or replaying the story in its archived form does not constitute a republication of the story.
SALT LAKE CITY — Research conducted by the University of Utah in 20 Granite District elementary schools and one private school provides "one of the strongest pieces of evidence yet" that transmission of COVID-19 in elementary schools has been very low, researcher said Friday.
"In-person schooling can be done safely with multilayered, strictly enforced prevention measures. It really enforces and reinforces the governor's recommendation that we continue masking throughout all schools in Utah at least through the end of the school year, and provides this reassurance that we do know how to make schools safe," said Dr. Adam Hersh, pediatric infectious disease specialist and lead investigator for the study.
Findings of the Utah Health and Economic Recovery (HERO) Project study, a collaboration between University of Utah Health and the David Eccles School of Business discussed at a press conference Friday, helped inform new Centers for Disease Control and Prevention guidance that says with universal masking, students should maintain a distance of at least 3 feet in classroom settings.
The new guidelines still call for 6 feet of distance between adults and students as well as in common areas and when masks are off while eating.
In middle and high schools, the CDC recommends that students be at least 3 feet apart in classrooms where everyone is masked and community risk is low, moderate or substantial. Secondary students should be at least 6 feet apart in communities where COVID-19 risk is high unless they are able to meet in small groups.
CDC Director Rochelle P. Walensky, during a White House briefing Friday, said safe, in-person instruction gives children access to critical educational, social and mental health services they need to be successful.
Recent research affirms "that K-12 schools that implement strong, layered prevention strategies can operate safely while protecting teachers, staff and students. We've seen data demonstrating that this is safe, even in areas of high community spread," Walensky said.
In the Beehive State, where 1 in 5 Utahns is a school-age child, 6-foot social distancing recommendations have posed challenges for educators. In some respects, Utah's unique characteristics provided researchers a glimpse of social distancing when it was not possible to meet the 6-foot recommendation precisely and the importance of other layers of mitigation.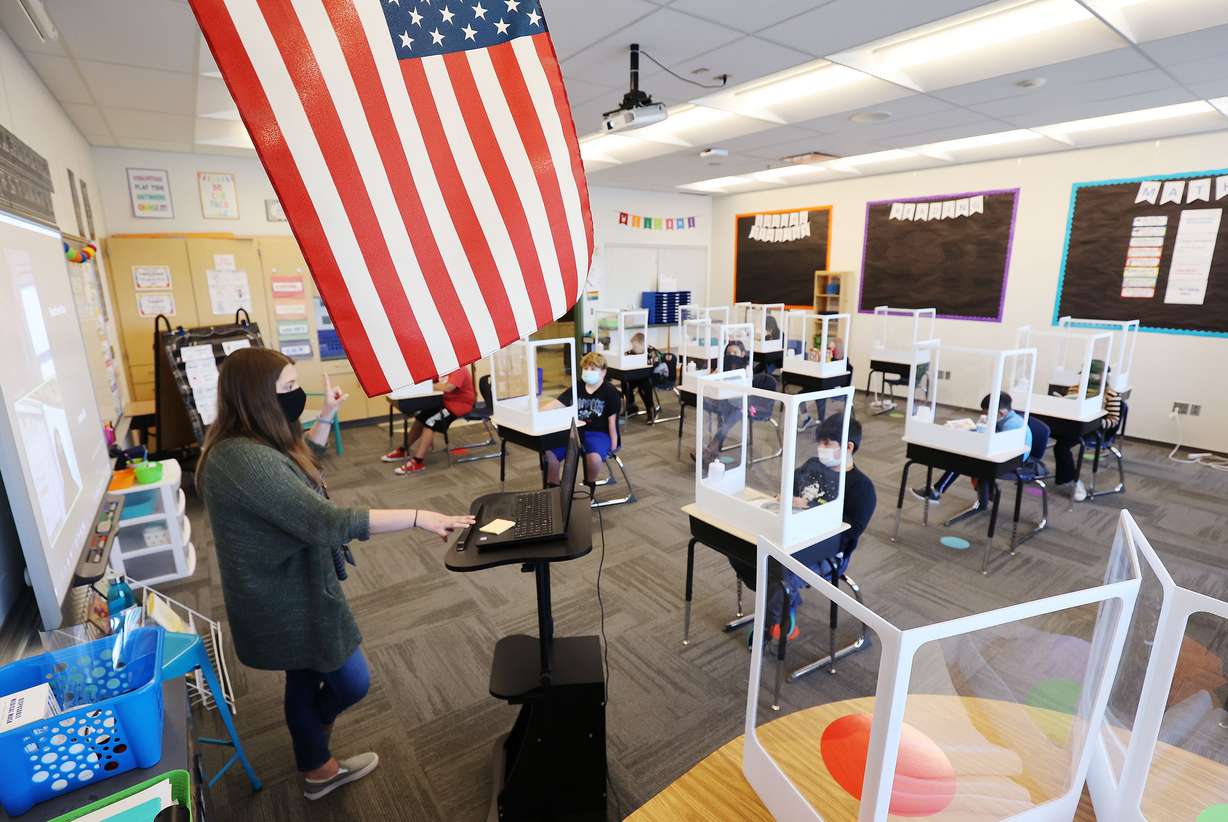 "It goes to the testament that the fact that the protocols we're using and the mask-wearing that's being adhered to was quite effective," said Granite School District communication director Ben Horsley. He explained that some schools studied had class sizes above national averages while others were closer to national averages because some students in those schools elected for virtual learning.
"Obviously, there were limitations (to 6-foot social distancing recommendations) from the get-go."
Dr. Andrew Pavia, division chief of pediatric infectious disease at the University of Utah, said the Utah classrooms conditions likely meant "our teachers in our schools really worked extra hard on assuring safety. There may have been a paradoxical benefit to knowing that they faced a bigger challenge. They did an even better job."
Among 21 elementary schools, researchers found five secondary cases of COVID-19 that were likely due to school exposure for a secondary attack rate of 0.7%, or seven per 1,000 contacts, Hersh said.
"In 4 out of 5 of these cases, there were obvious breakdowns in prevention strategies, including poor mask use, which helped us understand why transmission could have occurred in these instances," Hersh said.
"We also found that in most of the cases where the infection was presumed to have originated from school, there was secondary transmission back into their homes, which reinforces the importance of limiting in-school spread," he added.
In three circumstances, researchers conducted genetic sequencing to determine if infections were school or community associated.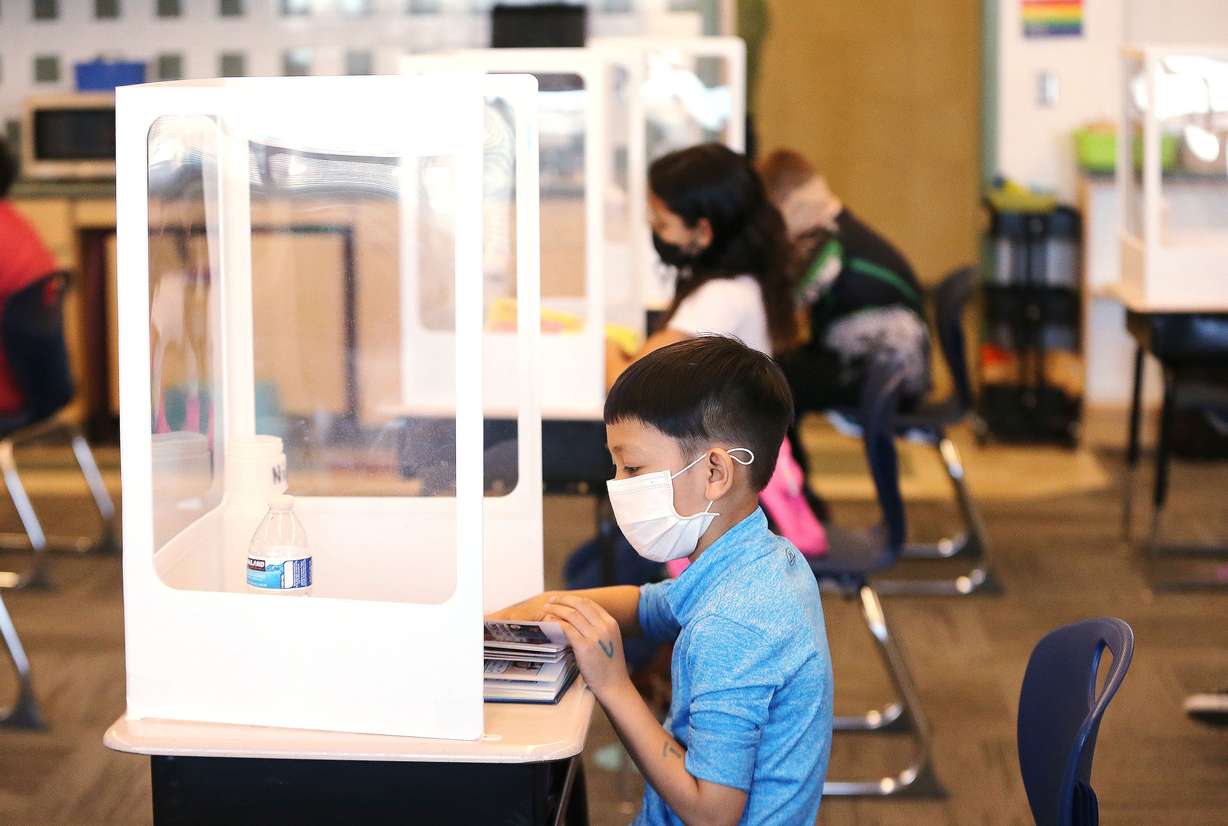 "The genetic testing of viruses was limited, but extremely insightful," Hersh said.
"In all three of those instances, it was evident that the viruses were of a completely different lineage, which told us that the second case that we detected was not related to the first case and came from somewhere else outside of the school," he said.
A statement from the CDC said in part that the Utah study was one of many across the nation that "affirmed CDC recommendations that schools should return to in-person learning and that doing so can be accomplished safely for the protection of students teachers in communities."
Since in-person learning resumed in Utah schools last fall, COVID-19 transmission rates have been higher in high schools and middle schools than elementaries, but typically lower in schools than in communities.
"Given Utah's class sizes it has always been a challenge to maintain 6 feet. However, our educators have done everything possible to create safe space. These efforts have allowed us to start and hopefully finish the school year in person," State Superintendent of Public Instruction Sydnee Dickson said on Friday.
Larry Madden, interim superintendent of the Salt Lake City School District, said the new CDC guidance on how to safely distance students was timely as the district prepares to welcome secondary students for in-person learning four days a week starting Monday.
Related:
"We'll continue to closely follow the safety guidelines we've received and will leave additional measures, such as plexiglass barriers, in place. We are committed to doing everything we can to protect our students and staff."
Madden continued: "We're thankful for the many health and epidemiology experts, including the Salt Lake County Health Department, working to help keep our schools and communities safe. Our experience working with the HERO Project at our three comprehensive high schools has been incredibly positive, and we've appreciated the additional support to help us keep COVID-19 transmission at bay in our schools."
According to the CDC, evidence suggests "many K-12 schools that have strictly implemented prevention strategies have been able to safely open for in-person instruction and remain open."
The agency's operational strategy presents "a pathway for schools to provide in-person instruction safely," which includes "universal and correct use of masks and physical distancing."
Testing remains an important strategy to identify people who have COVID-19 infections. Vaccinations of teachers and staff provide additional layers of protection, according to the agency.
The new recommendations come as the state of Utah appears to be headed toward lifting a statewide mask mandate on April 10 as directed under HB294, recently passed by state lawmakers.
The bill states that the mask requirement will continue for gatherings of 50 people and more and in schools. It also does not restrict businesses from requiring masks.
The bill has not yet been signed by Gov. Spencer Cox.
Meanwhile, National Education Association President Becky Pringle expressed concern "that the CDC has changed one of the basic rules for how to ensure school safety without demonstrating certainty that the change is justified by the science and can be implemented in a manner that does not detract from the larger long-term needs of students."
NEA welcomes the push to provide for widespread testing, vaccination and sufficient funding for mitigation measures.
"We are so close to being able to ensure that all our schools can be so much safer. But as public health officials have rightly cautioned, in the face of new variants and a race to make vaccinations widely available, this is not the time to let down our guard," Pringle said in a statement.
×
Related stories
Most recent Coronavirus stories