LOGAN — With respect to the challenges involved in coaching at Utah State and in the Mountain West, the hardest part of Craig Smith's college basketball career may be over.
The former South Dakota coach took over the Mayville State job in North Dakota when the Comets were coming off a one-win season in 2004. With no paid assistants and Smith playing double-duty to raise money himself to fund scholarships, the then-34-year-old first-time head coach didn't need long to turn the fortunes of the NAIA Division II school.
The Comets made the national tournament in his first season. Two years later, they were in the championship game.
Since then, Smith has had five jobs, two head coaching stops, and a look at everything from the Big Ten to the Summit League to the Mountain West, but one thing has remained the same: winning.
The third-year Utah State coach has the Aggies qualified for the NCAA Tournament for the third consecutive year (though the 2020 tournament was canceled due to the coronavirus pandemic) — and counting. The 11th-seeded Aggies (20-8) will open against No. 6 Texas Tech (17-10) on Friday in the South Regional (11:45 a.m. MT, TNT) in what they hope to be a long tournament run behind the Mountain West defensive player of the year.
If it is, Smith will have plenty of time to think about his next move. And he may need it, according to his former boss.
"He can be a high major coach or he can decide to make Utah State his home and build a big winner in Logan," said former Nebraska coach Tim Miles to the Associated Press, after he offered Smith a spot as director of operations at Colorado State and kept him on his staff at four schools over 11 years. "He's going to have opportunities to move. There's no doubt about it. I know a star when I see it, and he has the 'it' factor."
Just making it back to the tournament shows the caliber of coach that is Smith. After winning back-to-back Mountain West Tournaments and a regular-season co-championship in his first year, Utah State started the season 1-3 after a 3-point home loss to BYU, a game Smith missed after contracting COVID-19. To many, it looked like a rebuilding year in Logan after sending former Bountiful High star Sam Merrill off to the NBA.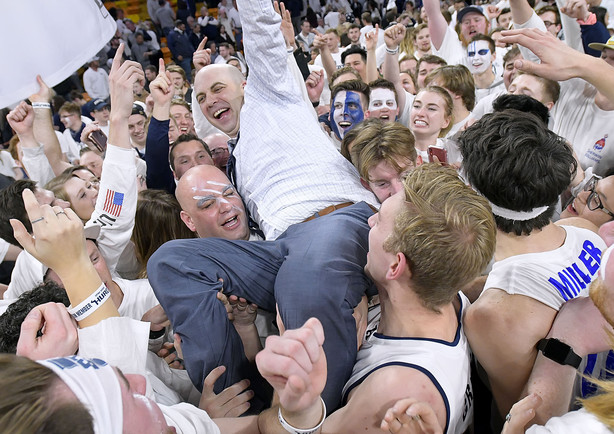 For a while, it looked like the Aggies were simply regressing to the mean for a program that finished above .500 just once in the five years before Smith set foot in Cache Valley.
But something weird happened after Utah State was forced to shut down its program due to rising infections, particularly when they returned to play.
They started winning. And they kept winning. They won 11 games in a row after their COVID-19 pause, including back-to-back home wins over now-No. 16 San Diego State. The Aggies finished second in the Mountain West regular season and advanced to the championship game of the conference tournament before losing 68-57 to the Aztecs.
"To have everything turn out the way it did after a rough start to the year says a lot about this team," Utah State forward Justin Bean said. "We're ready to make some noise, and our season's not over."
That was enough to get them into the tournament, where Utah State will open against the Red Raiders — a program that is ironically similar to the Aggies, despite one being backed by Power Five profits and the other located in a small town in the Mountain West.
"Lubbock isn't for everybody, Logan's not for everybody," said Smith, who grew up in Stephen, Minnesota (pop: 681). "Chris Beard loves Lubbock, Craig Smith loves Logan. Beauty is in the eye of the beholder. You have to recruit under rocks, you have to be open to a lot of different avenues whether it's international recruiting, transfer recruiting, high school recruiting and anything in between. And then you have to really know who you are and look for those traits that fit your program."
Smith kept the Aggies in front with a handful of local and regional recruits like Lone Peak's Steven Ashworth and former Gatorade Montana player of the year Rollie Worster. But he also tapped into the university's burgeoning international pipeline, buoyed by the success of 7-foot-3 Portuguese international Neemias Queta, the Associated Press All-America honorable mention who is the only player in the country with more than 65 blocks (he has 90) and 65 assists (71). Utah State's roster also feaures players from Australia, Ukraine, Poland and Canada.
Alongside the likes of Bean and Mountain West sixth-man of the year Alphonso Anderson, the Aggies have shown little drop-off, especially after that 1-3 start. And it has Queta convinced that a win over Texas Tech isn't out of the picture.
"It's just our versatility," Queta said. "I feel like we have a bunch of different type of weapons. We have a deep team, and we can play really good defense. Defense travels, so I am sure we can make a deep run, with those characteristics."
In all jobs like Utah State and other mid-majors such as those in the Mountain West, Smith will eventually have to make a decision. He recently signed a contract extension through the 2025-26 season, a six-year, $5 million contract agreed to in December that also lowered the buyout of his contract to 25% of his remaining salary if he gets another job.
In Power Five money, that's pennies on the dollar. And Smith is already seeing his name floated in circles for much bigger jobs than Utah State.
When Larry Krystkowiak was fired Tuesday at Utah, Smith's name was on many lips as a potential replacement roughly 85 miles to the south. Richard Pitino is out at Minnesota, meaning the largest state university in Smith's native state is open; could Stephen's own Smith be the next boss of the Golden Gophers?
Other jobs and similar candidates will likely emerge as the tournament progresses, and Smith won't be alone in being contacted — either through him, or more likely, his agent.
But those are decisions for another day. For now, Smith — the Stephen, Minnesota, native and former Mayville State head coach — is just looking to survive and advance with the Aggies.
"Coach Miles always taught me at a young age to be where your feet are," Smith said. "I love to coach, I love where I'm at, and just (try to) make the big-time where you are. Put everything you've got into this team, your team, and make it the best it can possibly be, and then whatever happens happens."
Contributing: The Associated Press
×
Related Stories