Estimated read time: 4-5 minutes
This archived news story is available only for your personal, non-commercial use. Information in the story may be outdated or superseded by additional information. Reading or replaying the story in its archived form does not constitute a republication of the story.
SALT LAKE CITY — A former BYU and NBA star was left paralyzed after being struck by a vehicle while riding his bicycle in January, according to details released by his ex-team, the Dallas Mavericks.
Shawn Bradley released the first public details Wednesday of an accident that happened on Jan. 20 near his St. George home. The 7-foot-6 former Mavericks center was riding his bicycle about a block from his house and was hit from behind by a vehicle.
The accident left Bradley with a traumatic spinal cord injury that left him paralyzed. After undergoing neck fusion surgery, the Emery High product was hospitalized for eight weeks and has been undergoing rehabilitation.
"With his wife Carrie at his side around the clock, and supported by an amazing team of rehabilitation specialists and family, Bradley is in good spirits," reads the Mavs' statement, which was authorized by the family. "He plans to use his accident as a platform to bring greater public awareness to the importance of bicycle safety.
"Bradley asked to convey his deep appreciation for the outpouring of well wishes and prayers he has received from family, friends and fans. Their support has energized his recovery and bolstered his confidence that he will manage the long process ahead successfully."
The Dallas Mavericks have issued a press release on behalf of former Maverick Shawn Bradley as well as statements from Mark Cuban and Donnie Nelson. pic.twitter.com/F9fCtlZ1zJ

— Mavs PR (@MavsPR) March 17, 2021
The Mavs added that "his very strong sense of faith is being tested as he participates in grueling physical therapy and learns how to cope with the challenges of paraplegia."
No further comment is expected from Bradley, but Dallas officials offered their thoughts and prayers to the family.
"We are saddened to hear of Shawn's accident," Mavericks owner Mark Cuban said. "Shawn has always been incredibly determined and shown a fighting spirit. We wish him nothing but the best in his recovery. He will always be a part of our Mavs family."
Added Mavs general manager Donnie Nelson: "We are deeply saddened to hear of Shawn's injury and our thoughts and prayers go out to him and his family. In his eight-plus seasons with Dallas, Shawn demonstrated all of the qualities you want in a person representing your organization. He has always exhibited unwavering grit and determination and we are thinking of him at this difficult time.
"He is a Maverick for life."
BYU issued a statement Wednesday offering "heartfelt sympathies for Shawn Bradley and his family."
"We were devastated to learn of Shawn's injury and join with all of Cougar Nation in thoughts and prayers for the Bradley family during this difficult time," the university statement read. "We admire Shawn for his positive attitude through this and his desire to use his platform to promote bike safety."
BYU athletic director Tom Holmoe echoed the school's response, adding via Twitter: "Shawn, Sending our love and prayers as you battle through your rehab process. I know of the Warrior Spirit in you!"
While he's moved from blocking shots to blocking out leprosy and other philanthropic efforts, Bradley has also been an avid cyclist since his retirement over 15 years ago, though he's had to invest in custom-built frames to sustain his 7-foot-6 frame during his regular rides around his Southern Utah home.
In 2011, his massive, $10,000 custom-built Trek bike was stolen, then recovered in Murray. The custom rig was built with an 80-centimeter carbon fiber-aluminum frame "since packing on the pounds after his retirement," according to the Associated Press.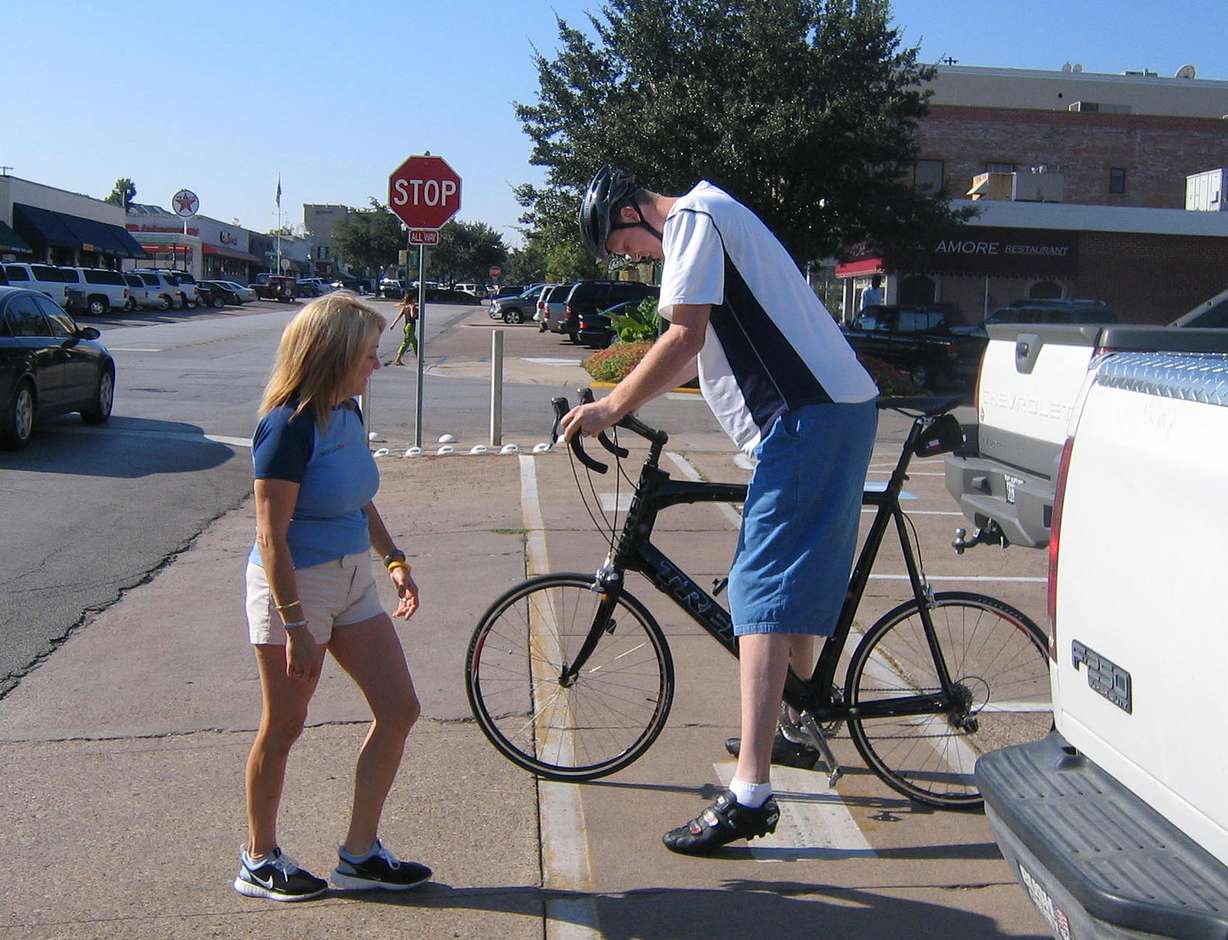 About a year before the theft, Bradley lost his father Reiner in 2010, at the age of 61. The elder Bradley apparently fell 15 feet off the roof of his home in Castle Dale while applying caulk to the rain gutter, according to the Emery County Sheriff's Office.
"Of course I'm biased, but there was no more gentler or kinder man," Shawn Bradley told the Deseret News at the time. "We loved him dearly."
Bradley, 48, was born on a U.S. military base in Landstuhl, West Germany, before growing up on a farm in Castle Dale, Emery County, where he led Emery High School to the 1989 state basketball title. A McDonald's All-American co-MVP and Parade All-American in 1990, Bradley played one season at BYU in 1990-91, where he averaged 14.8 points and 7.7 rebounds as a freshman and tied the NCAA's single-game record with 14 blocked shots against Eastern Kentucky.
Bradley served a two-year mission for The Church of Jesus Christ of Latter-day Saints in Sydney, Australia. Following his missionary service, he decided to forego his final three years of eligibility and declared for the NBA draft, where he was selected No. 2 overall by the Philadelphia 76ers in 1993.
Bradley played two years in Philadelphia, including being named to the NBA's all-rookie second team in 1994, before moving to the New Jersey Nets in 1995 and finally settling on an eight-year career with Dallas from 1997 until his retirement in 2005.
He retired with 6,752 career points, 5,268 rebounds and 2,119 blocked shots.
×
Related stories
Most recent NBA stories