Estimated read time: 4-5 minutes
This archived news story is available only for your personal, non-commercial use. Information in the story may be outdated or superseded by additional information. Reading or replaying the story in its archived form does not constitute a republication of the story.
TAYLORSVILLE — Utah public safety officials on Monday launched a new advertising campaign aimed to reduce the number of traffic-related deaths following an uptick in traffic deaths despite a reduction in road use in 2020.
The Utah Department of Transportation's preliminary report of 2020 road safety found there were 276 traffic-related deaths in Utah last year, which was an 11% increase from 2019.
It was also the most traffic deaths since 2016 and reversed a small trend in fewer traffic deaths over the previous three years. It also appears that 2021 is off to an even deadlier start than 2020.
The rise was even more concerning to law enforcement and traffic officials because UDOT reported that the number of vehicles on Utah roads had decreased by 13% in 2020, as well as fewer people commuted during the COVID-19 pandemic.
Utah Department of Public Safety Commissioner Jess Anderson said Monday that similar trends were found outside of Utah. Citing National Safety Council and Federal Highway Administration data, UDOT officials pointed out there was an 8% increase in traffic fatalities nationwide in 2020 despite the number of people on roads reaching its lowest figure over the past two decades. The total number of people killed in crashes was 42,060 nationwide last year.
"As law enforcement, we take this (seriously)," Anderson said. "This is not necessarily a Utah-specific cause. We are seeing these numbers increase nationally."
The new advertisement campaign, under the Utah road safety organization Zero Fatalities, targets popular myths that result in higher risk for crashes and fatal crashes. A new commercial launched by Zero Fatalities plays sound recordings of things people might say to themselves to try and justify speeding, impaired or distracted driving, or not wearing a seat belt.
Each saying leads to the scribbling of a lie detector until it scratches out the faces of a father and child. The message "our lies are costing lives" then appears on the screen. Advertisements under the new campaign will appear on TV, radio, online and social media beginning this week.
In addition to the new campaign, Zero Fatalities pointed out some of the findings from research into driver tendencies. They found that Utahns believed "dangerous behaviors" happened more often than they actually do in reality. The organization said that the finding could result in more of a focus on good driving behaviors to ensure those become the norm.
The research also found that many Utah drivers reported they were concerned about other drivers but also admitted to "engaging in the same dangerous behavior" they were concerned about in other drivers.
Utah's public safety leaders say they hope more education will help reduce the recent rise in traffic deaths in the state. They said that 94% of all crashes nationwide are the result of "bad behaviors" while driving.
"We all agree that we want our roads to be safer. And we can do better, together," said UDOT executive director Carlos Braceras. "If each of us makes one small change today like ignoring that text or buckling up, we will save lives. That change will be different for everyone, but we can all do better."
The Utah Department of Public Safety and UDOT teamed up to launch Zero Fatalities in 2006 in an effort to reduce traffic deaths. The joint venture was aimed to target the five largest factors for deadly crashes, which are: distracted driving, aggressive driving/speeding, drowsy driving, impaired driving and individuals not wearing a seat belt.
Utah's traffic deaths had fallen from 373 in 2000 to 287 in 2006. The number of traffic deaths continued to fall from there. It reached a 50-year low of 217 deaths in 2012, according to data from the organization. That's before the total number of traffic deaths rose back up to 281 by 2016.
The figure was on the decline once again after 2016. There were a total of 248 traffic deaths in 2019 before the 11% increase to 276 was reported last year.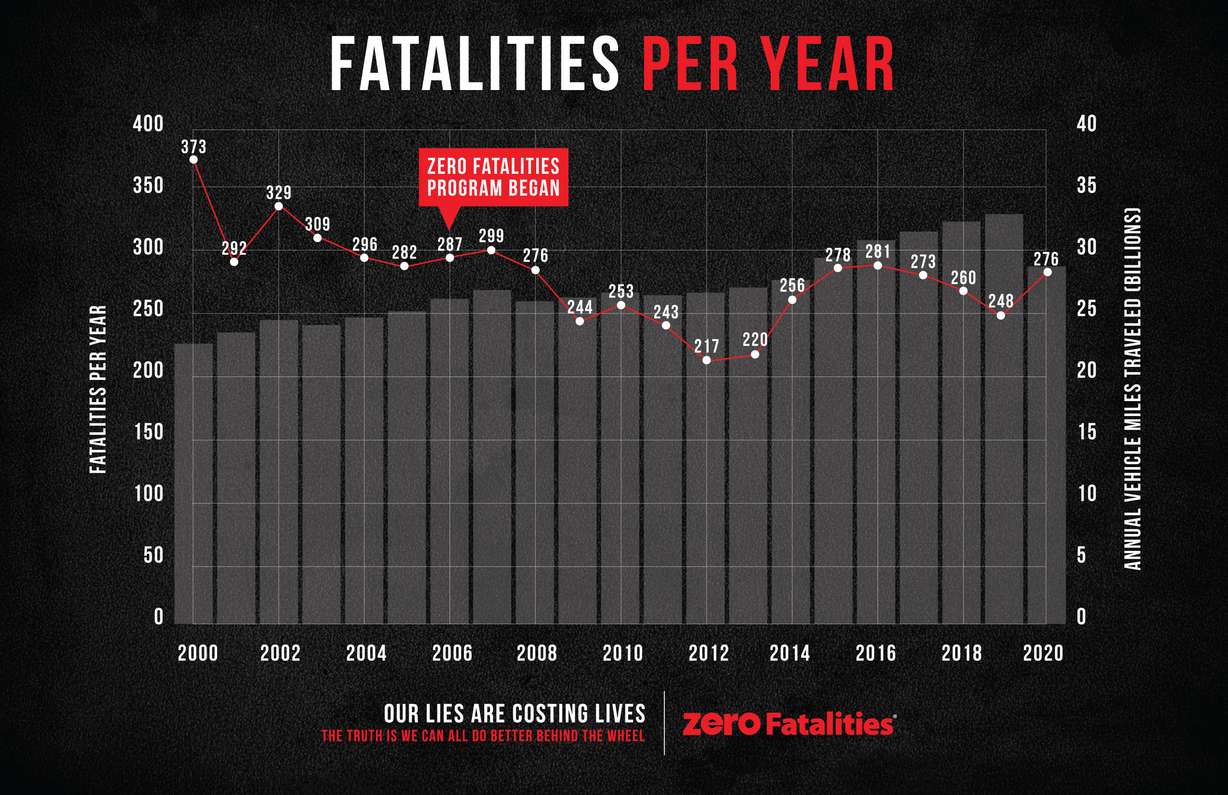 The 2021 calendar year is currently off to an even worse start than the previous year. Per Zero Fatalities, there have been 42 fatal crashes resulting in 47 traffic deaths since Jan. 1. That's compared to 34 fatal crashes and 37 deaths during the same stretch in 2020.
The total number of crashes in 2021 so far has declined a bit from data through March 15, though. Zero Fatalities reports there have been 10,693 total crashes since Jan. 1 compared to 11,093 at the same point in 2020.
"The truth is we need to look at our own behavior and be better drivers," Anderson said. "We can no longer justify that one text, or not driving the speed limit. One decision can change everything."
×
Most recent Utah stories