Estimated read time: 5-6 minutes
This archived news story is available only for your personal, non-commercial use. Information in the story may be outdated or superseded by additional information. Reading or replaying the story in its archived form does not constitute a republication of the story.
MIDWAY — Prior to the COVID-19 outbreak, Zenovate CEO Amelia Wilcox was the head of a flourishing company operating in all 50 states and Canada.
The tech firm focusing on employee well-being through its app-based platform provided on-site massage therapy to corporate business clients that offered the amenity as a perk to employees.
"We had 1,200 massage therapists across the U.S. and Canada, we worked with 4,000 businesses and just had a thriving business that was just growing and growing," Wilcox said. "We were on track to make $6 million in revenue in 2020. We went to zero in 10 days (and) just watched everything just get canceled. ... Nobody's going into the office anymore and you can't touch people."
Wilcox was among the featured speakers Friday during the Women Tech Council's virtual summit called, "The First Female Recession, the Impact on Women in Tech."
While the coronavirus pandemic has had dramatic impacts on everyone, women in the technology sector have borne the brunt of the job losses and added family-related responsibilities and find themselves in a recession that has set them back from hard-fought gains in workplace equity, national reports have shown.
The 38-year old married mother of three daughters had to figure out how to manage the responsibilities of a household while coping with the impact of the pandemic on her business.
In a relatively short period, she was able to pivot and transition to providing remote mental health services to many of those same clients using the same technology infrastructure that was developed for the massage business.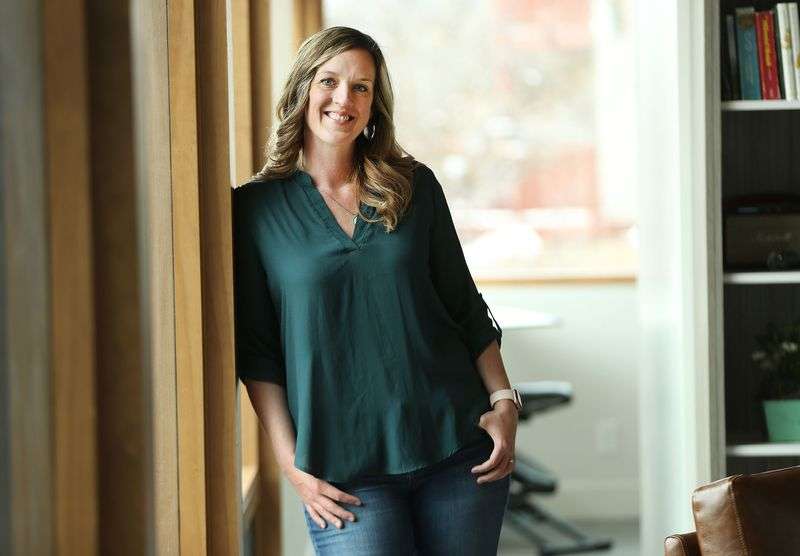 "We had a really comprehensive and robust technology platform that we built and had the ability to scale like crazy," Wilcox said. "We already had a team of recruiters who were experts at hiring, on-boarding, training and managing service practitioners remotely. We had all the systems that we already used for dealing with massage and all we did was add a different service type."
Wilcox's story was not uncommon, according to The Economist. In September 2020, 865,000 women left the U.S. workforce — four times as many as men. Women have regressed in the workforce to levels not seen since 1988, the report stated.
In the tech field, 47% of all women feel their career has been delayed because of the pandemic and 25% of women have considered leaving the workforce completely, due in part to lost career mobility. During the pandemic, men have received three times more promotions than women.
As in Wilcox's case, women have taken on more household responsibilities with 63% of moms working in tech also carrying the responsibility for home schooling their kids while child care options are only 79% of their pre-pandemic levels, the report stated.
Related:
Identifying the problem
"What started as a pandemic really became the 'female recession' because we have seen the most dramatic impact on women and it comes in a number of forms," said Women Tech Council co-founder and President Cydni Tetro. "The entire ecosystem has been really challenging and difficult for them and it shows up in really specific ways. You're watching unemployment close but one of the things that really defines it is that we've gone back steps for women that are reflective of (three decades ago)."
The virtual event brought together women across the local tech sector to put faces and numbers to the impact of the female recession on Utah's economy and tech scene, particularly in Silicon Slopes, along with solutions that can be implemented to help the community rebound, Tetro.
"This is a critical conversation for tech companies and women, and the future requires all of us to work together to improve the outlook," she said.
Finding solutions for equity
Maryna Storr, vice president of human resources for Pure Storage — a hardware and data storage company — said there are a variety of ways the recession is impacting women, and the challenge for companies is to respond to individual circumstances and needs instead of a mass workforce.
"A lot of women have a responsibility where they have to be at home taking care of children, so with the type of work approach that they are considering, (companies) are going to be attracting a lot more women that do not like going back to full-time employment or choosing the (remote working) technical route because they didn't have an opportunity to create that work-life balance (before the pandemic)" she said. "(Companies) are hoping that women will take a look and say, 'Hey, I can have my professional career in tech or pick a hybrid work approach or nontraditional work approach and not fail as a mother.'"
Included in the new work environment are efforts to promote a more welcoming workplace, said speaker Karen Rodriguez La Paz, head of diversity, equity and inclusion at Lehi-based Purple.
"We have to bring women back (to the workplace). Make sure that you are checking in with the women in your companies to make sure not only that they have a job but they're paid fairly for their work," she said. "There is a pay gap that comes naturally."
She cited a 2020 report from the Institute of Women's Policy Research stating that for women an employment gap of just one year leads to a 39% decrease in annual earnings that increases over time and reduces women's chances of breaking the glass ceiling and becoming future leaders in society. She said companies now have the tools to rectify that inequity.
"It's been explained for 30 years why diversity matters and why gender equity matters. So now, let's work to bring (women) into the workplace, let's ensure they're paid accurately, let's make sure that we're promoting them and mentoring them into leadership positions," Rodriguez La Paz said.
×
Related stories
Most recent Business stories