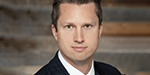 This story is sponsored by Joe Griffin, CEO TrueNorth Wealth.
Remember what it was like when you first started out?
You just finished your education, opened your own practice, launched your company, or took that big promotion.
You had big goals: wipe out the student loans, buy a house, start a family, sock away money for retirement, finance the kids' educations, take that big vacation, and achieve everything else that you dreamed of.
When it comes to your finances, to say you have audacious goals is an understatement. You want to be happy, you want to be comfortable, you want to travel, you want to go out to eat on the weekends. Basically, you want to feel the financial reward of all the hard work you have put in over the years. What's wrong with that?
The answer is that nothing is wrong with that. Nothing at all.
The trouble occurs when your financial goals start with "having enough" but make the leap to "enough is never enough."
In his book "The Psychology of Money," Morgan Housel identifies the stumbling blocks some of the uber-wealthy have when it comes to having "enough."
Housel talks about knowing the difference between "achieving your goals and dreams" and crossing the line into "unhealthy competition about wealth accumulation."
The key difference between the two is unnecessary risk.
Housel gives the example of Bernie Madolf. Madolf's legitimate business was earning him tens of millions of dollars a year. But he risked it all when he committed fraud simply to have more.
He had no sense of enough.
Quoting investment tycoon Warren Buffett, "There is no reason to risk what you have and need for what you don't have and don't need."
"The Psychology of Money" lists four things to remember when considering how to decide if enough is enough.
1. The hardest financial skill is getting the goalpost to stop moving
Essentially, what this means is that if you keep moving the point that indicates you've reached your goals, you will never be happy with what you've achieved. This can lead to taking increasingly unnecessary risks to get more on your way to hitting the ever-moving goalpost.
2. Social comparison is a problem
This is the basic "keeping up with the Jones's" philosophy. It's the need to have what everyone else seems to have instead of being grateful for what you have in your own life.
An example of this is comparing yourself to others. If your medical practice is meeting your goals, that's great! Celebrate that success!
Don't compare yourself to a colleague who has two or three practices in different cities or states, a second home, and a nicer car. Doing this can make you feel like you are in the poor house and that you don't have enough.
Remember, you decide what is enough. You set your own financial goals, and they don't need to look like anyone else's.
3. Enough is not too little
Housel reminds us that "having enough" doesn't mean you are leaving opportunity and money on the table. "Having enough" is instead "realizing that an insatiable appetite for more will push you to the point of regret."
4. Many things are never worth risking, no matter the potential gain
Remember that some things are not worth risking, no matter the potential reward. Reputation, family, friends, freedom, love, and happiness are all invaluable; you can't put a price on any of them.
If what you are doing to get ahead risks any of those, common sense tells you that it's a bad idea.
Are you on your way to enough?
If you aren't sure whether you are there yet, or how far you still have to go, now is the time to schedule a no-fee consultation with a TrueNorth Wealth financial advisor. We want to help you reach your financial goals, wherever your goalpost is.
To schedule a no-cost investment and retirement planning consultation tailored to your personal financial goals, contact the fee-only financial planners at TrueNorth Wealth, one of Salt Lake City's leading wealth management firms, at 801-316-8175.
×