LAS VEGAS — BYU women's basketball was rolling two weeks ago, fresh off a win over then-No. 16 Gonzaga and finishing the weekend with a win over Portland on a senior night that didn't feature a single departing senior from the squad's starting lineup.
The Cougars were projected as the last team in the NCAA Tournament by ESPN bracketologist Charlie Creme, and for good reason. With the return of Shaylee Gonzales from a devastating knee injury to average 18.5 points and 3.7 assists in a West Coast Conference player of the year-caliber season and a walking double-double in Lauren Gustin — not to mention Paisley Johnson Harding (13.7 ppg) and Sara Hamson (5.4 ppg, 4.0 rpg, 2.6 bpg) — BYU was proving to be a tough out in the any tournament, WCC or otherwise.
Then came the final week of the season. After rallying from a double-digit deficit to down Santa Clara 66-63, BYU lost for just the fourth time all season, 86-72 at San Francisco.
Suddenly knocked back to the bubble and among the "First Four Out," the Cougars (17-4) will try to rebound against the same Dons on Monday afternoon at Orleans Arena (3 p.m. MT, BYUtv).
Naturally, coach Jeff Judkins likes his team's chances — and not for anything about points, rebounds or leading scorers.
"I don't think losing is good, but you get the players' attention a lot better," Judkins said. "Confidence is a big part, and sometimes when you lose, you lose that edge. But this team is resilient; they're very confident in themselves, and I think that really helps."
Gonzales echoed her head coach, saying that when a team loses, it can easily spiral into a skid — or turn into a motivator to get up, move on, and get better.
Through 21 games in 2020-21, BYU has done the latter. After a 77-48 loss to Washington in the second game of the season, the Cougars responded with an 87-66 win over in-state rival Utah State to start a five-game win streak.
Then came a 58-56 loss at San Diego a week into conference play, and BYU again responded with a 71-57 win over Loyola Marymount and three-straight wins.
The 63-56 loss at Gonzaga was subsequently followed by eight consecutive victories, including that crucial home win over the Zags that will be as much or more a part of their NCAA Tournament resume as anything else.
So how will the Cougars respond this time? BYU hasn't lost consecutive games since Feb. 1-8 of last year, when the Cougars were swept on the road to Gonzaga and San Diego.
Losses motivate this team.
"We were very frustrated with ourselves after that game," Gonzales said. "We know it hurt us big time, and if we want to go to the NCAA Tournament, we need to win Monday's game and then Tuesday and clinch a bid to the NCAA Tournament."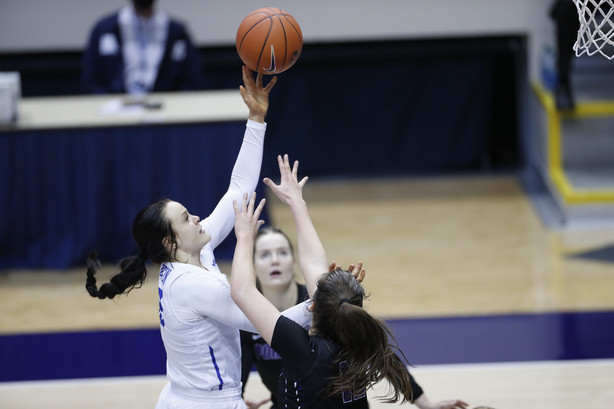 The loss to the Dons put more urgency in BYU's bid for an NCAA Tournament bid. It also showed that they can be beaten — like they were last year, when Pepperdine ended a 20-11 season with a 62-51 win over the Cougars in a Saturday quarterfinal. In that game, BYU was lethargic, shooting just 32% from the field and being outrebounded 43-33 — a team with three double-digit scorers but 10 turnovers, including seven unforced.
The benefit of a top-two seed in the conference tournament is a bye to the league semifinals. But it can easily be a two-edged sword, Judkins warned.
"I learned a long time ago when you have a bye in this tournament, you've got to play your game," he said. "We've got to play BYU basketball. Make people take tough shots, take high-percentage shots ourselves, and not give second or third opportunities.
"If we can do that, I think we can beat any team in our conference."
WCC TOURNAMENT
Semifinals: Monday, March 8
WBB: Gonzaga vs. Santa Clara, 12 p.m. MT (BYUtv)
WBB: BYU vs. San Francisco, 3 p.m. MT (BYUtv)
MBB: Gonzaga vs. Saint Mary's, 7 p.m. MT (ESPN)
MBB: BYU vs. Pepperdine, 10 p.m. MT (ESPN2)
Championship: Tuesday, March 9
2 p.m. MT: Women's Championship (ESPNU)
7 p.m. MT: Men's Championship (ESPN)
×
Related Stories