PROVO — As the West Coast Conference Tournament tipped off in Las Vegas this week, BYU basketball was tucked away in its compound, with players and coaches barely escaping past the Marriott Center Annex and home, determined to limit their "bubble" as much as possible with less than two weeks until Selection Sunday and the start of the NCAA Tournament.
As the No. 2 seed in the tournament, the Cougars (19-5, 10-3 WCC) have that luxury. They, and top-seeded Gonzaga, won't play until the tournament's semifinals Monday. For BYU, that means traveling to Las Vegas late Sunday evening, reporting for COVID-19 testing as soon as they hit the ground, and spending as little time away from the safety of their anti-coronavirus cocoon as possible.
Get in. Get out. Hopefully, with two wins and a tournament title, of course.
The Cougars are as close to a lock for the Big Dance as can be possible for a mid-major program ahead of college basketball's annual showcase of the top 68 teams in the country. And coach Mark Pope and the Cougars are doing everything they can to make sure nothing messes with the plan.
"Coach Pope told us, It's serious now. We don't want to put our team in jeopardy," BYU guard Trevin Knell said. "We're wearing masks everywhere, in team meetings, in our apartments, going out to our cars. We're not going out to eat at all.
"We just got to keep ourselves in a bubble here, and get ready for the WCC Tournament and March."
In practice, it sounds like something as close to a lockdown as has been conceived in the age of the novel coronavirus. In reality, it's what the Cougars have done all season — limiting contact with the outside world, conducting media interviews over Zoom, and constricting the bubble to family members, teammates and a small handful of close friends.
Call them rules, regulations, or protocols, but they've all worked for BYU. The Cougars have played 24 games on the season, from coast-to-coast, with 19 wins and a resume that stacks up with most in the country — one that will give them a shot at March Madness for the first time in five years.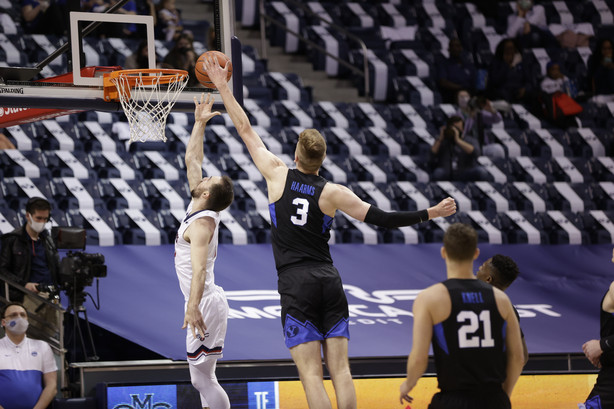 That's why they can't do anything to ruin that chance.
"We've just been doing what we've been doing all year. We've been having success so far; hopefully it stays that way," said center Matt Haarms, before knocking on the wooden table next to him. "Every single guy isn't just doing what they do for themselves, but for every single person on this team. Guys have done a really good job of staying masked up, staying inside.
"This week is even greater: go from your house to your apartment to the annex. That's kind of the game plan."
Except to the conference tournament, where Pepperdine awaits the Cougars after dispatching Santa Clara, 78-70, late Saturday night. Beat the Waves, and presumably the No. 1 team in the country awaits them — that being Gonzaga, assuming they beat the winner of Saint Mary's to move to 25-0 on the year.
It's been 20 years since BYU has won a conference tournament. Failing to clinch the WCC hardware this year likely won't keep the Cougars out of Indianapolis.
The Cougars have plenty of depth riding into the conference tournament, with a trio of double-digit scorers in WCC defensive player of the year Haarms (11.0 points per game) and fellow seniors Alex Barcello (15.7 ppg) and Brandon Averette (11.4 ppg). They've also got key rebounders like Caleb Lohner (6.9 rpg) and Richard Harward (4.0 rpg), as well as a litany of reserve role players like Knell (5.9 ppg), Connor Harding (5.7 ppg), Gideon George (5.5 ppg) and Spencer Johnson (5.4 ppg).
"I think it's definitely a blessing for us that we have a deep team," said Knell, who scored a team-high 15 in BYU's latest win, a 65-51 victory over Saint Mary's. "I know we changed the starting lineup a couple of times, but that's what the best locker room in America is. We do't care who scores 15 or 20 points; we just care about the W at the end of the day.
"Senior night was super exciting for me, and we're just looking forward to the postseason."
But the Zags are also the top-rated team in the country, with one-seed and national championship aspirations. BYU could do everything right over the next three days and still lose out on a tournament title to Gonzaga.
That's an objective, but not the primary one.
But it would be nice — mostly because, as Pope said, "it's hard to win a conference tournament, because I've never done it."
"There are some inherent challenges with it that may have affected BYU in the past," Pope said. "Depth can help you in the conference tournament, and a defensive foundation can really help you; something that gives you a consistency to fall back on every single night.
"The third thing that's important is really good coaching, which clearly will be lacking in our case. So we've got two of the three things needed to go win a conference tournament," he deadpanned.
WCC Tournament
Semifinals: Monday, March 8
WBB: Gonzaga vs. Santa Clara, 12 p.m. MT (BYUtv)
WBB: BYU vs. San Francisco, 3 p.m. MT (BYUtv)
MBB: Gonzaga vs. Saint Mary's, 7 p.m. MT (ESPN)
MBB: BYU vs. Pepperdine, 10 p.m. MT (ESPN2)
Championship: Tuesday, March 9
2 p.m. MT: Women's Championship (ESPNU)
7 p.m. MT: Men's Championship (ESPN)
×
Related Stories