SALT LAKE CITY — Public health experts say they remain cautiously optimistic about the COVID-19 pandemic outlook as the number of new cases declines and the number of Utahns vaccinated sharply increases.
Friday marked the first time there were fewer than 15,000 active COVID-19 cases in Utah since Sept. 24, 2020, according to Utah Department of Health data. It's a figure that reached over 63,000 at one point in late November.
The state's seven-day rolling average of "person over person" positivity rate fell below 10% on Feb. 26 for the first time since Sept. 7, 2020. Utah's seven-day rolling average as of Friday was 543 new cases per day, which is the lowest it's been since Sept. 14, 2020. All of this data show Utah is about where it was at before the fall surge led to the highest rates of COVID-19 the state received to date.
Meanwhile, vaccinations are on the rise. The health department now reports that 529,871 Utahns have received at least one dose of the COVID-19 vaccine, which means the number of Utahns who have been vaccinated since Dec. 15, 2020, is now nearly 1.5 times the number of people who have contracted COVID-19 since one year ago Saturday.
But while some states have used the vaccine, their own case declines, or national declines as a reason to ease back restrictions, a Utah health expert said Friday it's still too early to do that yet.
Dr. Brandon Webb, an infectious disease physician for Intermountain Healthcare, estimates that Utah is about or 30% immunity when taking into account vaccines administered or recent cases. That's a figure he said is "terrific," he says, but the estimate is still short of the 70% or more that experts believe needs to be reached to reach herd immunity.
"Right now, we're not there yet," Webb said during a question-and-answer session with members of the media Friday. "We're not at a point where we can rely on that 30% herd immunity alone, so it is important that we continue to follow the social restrictions and precautions that have been laid out by the Department of Health."
It's why Webb cautioned about loosening restrictions early or celebrating too soon, especially as some states, like Texas, have announced those plans this week.
Gov. Spencer Cox on Thursday said Utah would continue to move forward with its plan to reopen in different steps even amid pressure from politicians inside and outside of Utah to reopen "100%" increases.
---
There's hope on the horizon — we can see the finish line but, right now, the last thing we can afford to do is fumble the ball before we've crossed the goal line.
–Dr. Brandon Webb, infectious disease physician for Intermountain Healthcare
---
For months, former Gov. Gary Herbert used a sports cliche at his press briefings on the coronavirus. With every positive step Utah made last year, he'd point out that leaders and health experts weren't ready to "spike the football." Simply put, it was too early to celebrate because there was still work that needed to be done to exit the pandemic.
With COVID-19 case counts dropping and vaccines available, Webb offered a similar sports analogy Friday.
"We need to see this through to completion. There's hope on the horizon — we can see the finish line but, right now, the last thing we can afford to do is fumble the ball before we've crossed the goal line," he said. "If we think of it in terms of finishing strong and individuals making personal decisions based on their individual level of risk, we'll be able to get to that finish line while our vaccination distribution continues to accelerate."
A part of the reason experts remain cautiously optimistic is that new case count declines reported have started to flatten, indicating a possible plateau in new cases instead of completely disappearing altogether.
At the same time, Webb pointed out vaccination efforts across the globe are in a "race against" the various coronavirus variants discovered that could thwart the entire vaccination process.
So, how should Utah go about reopening?
The 'wisest course of action'
Utah leaders on Thursday moved Salt Lake and Davis counties into the "moderate" transmission rate level of the state's transmission index. They joined Box Elder, Cache, Duchesne, Grand, Juab, Morgan, San Juan, Sanpete, Wasatch, Washington and Weber counties in that category.
Only five counties — Daggett, Millard, Piute, Rich and Wayne — are in the "low" transmission rate. The remaining 11 counties remain in the "high" transmission category. Those are Beaver, Carbon, Emery, Garfield, Iron, Kane, Savier, Summit, Tooele, Uintah and Utah counties.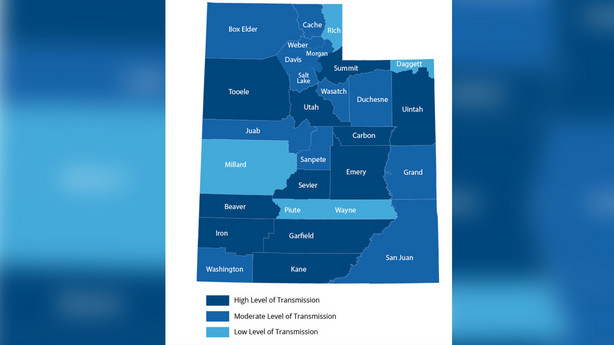 Webb called the state's tiered approach of reopening from COVID-19 "the wisest course of action."
"As less and less people in the community are susceptible, then we're able to incrementally loosen restrictions," he said. "All of these incremental steps to loosen restrictions have to be linked to how many individuals in our community have immunity."
That's why he encourages people to wear masks, practice social distancing when needed, and avoid "poorly ventilated areas." All of those can help lessen the spread of the virus.
While some communities have eased back on restrictions, Webb encouraged people to still use caution and follow guidelines to reduce the spread of the coronavirus even if they've been removed. He added that vaccines are extremely helpful but advised that more people need to get them.
"Not everyone should view the vaccine as a ticket to full freedom yet while we still have fairly high community transmission," he said. "Not everyone's been vaccinated."
Adding a new vaccine to the mix
Utahns began to receive the one-shot Johnson & Johnson vaccine this week. Webb said he read the entire 80-page report on the vaccine collected from clinical trials and believed the vaccine is "very favorable."
"The safety data is excellent," he added, noting that serious adverse events from the vaccine were "very uncommon."
Utah Department of Health state epidemiologist Dr. Angela Dunn said on Thursday that one of the most common questions the health department has gotten is which of the three vaccine options they should get. She advised that getting any of the vaccines is the best approach to the process.
"The best vaccine for you is the one that you can get first, regardless of the manufacturer," she said.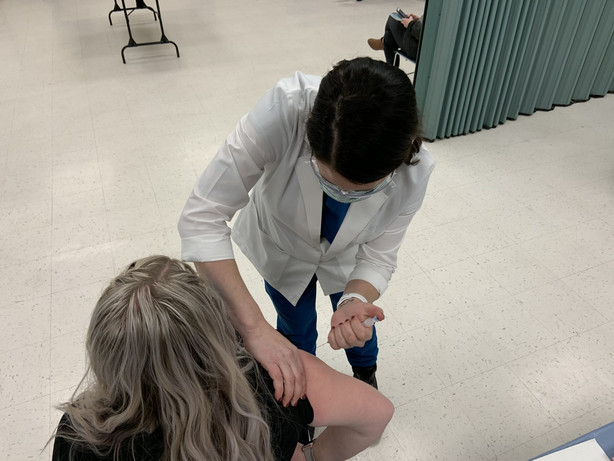 Intermountain officials pointed out that's the case for everyone except for 16-or-17-year-olds since the Pfizer vaccine is the only one that's been approved for individuals that young so far.
Most vaccines administered so far are through Moderna or Pfizer-BioNTech, which require two doses. While both are considered to be about 95% effective after the second dose, it is possible that someone could test positive for COVID-19 after receiving the primary dose of either vaccine.
In that case, Webb said the symptoms are typically milder. He added that it's now recommended that anyone who contracts COVID-19 after receiving the first dose of either vaccine still get the second dose after their case has resolved and they've waited beyond the 10-day isolation period.
"It's safe and appropriate to go ahead and have that second dose," he said.
Utah's 6-month outlook
It's been close to six months since the fall surge began in Utah. Now that Utah is close to where it was at the end of last summer, what will the next six months look like?
Available vaccines are the biggest difference between September 2020 and March 2021. It's what Webb referred to as the "most important tool right now."
The current trends, he said, are also "favorable" that restrictions, like mask mandates, could be lifted over the next six months. For that to happen, however, Utahns will still need to follow guidelines aimed to slow the spread of the coronavirus.
"We need to stay the course and get all the way through to the finish line by continuing to follow the social restrictions and the other layers of protection until our case counts and numbers of vaccinated individuals are at a point where we can safely pass the baton from those things we're all tired of to immunity," he said. "We're on track, right now, with the current vaccine distribution to be able to incrementally loosen restrictions throughout the spring and during the summer."
×
Related Stories