Estimated read time: 6-7 minutes
This archived news story is available only for your personal, non-commercial use. Information in the story may be outdated or superseded by additional information. Reading or replaying the story in its archived form does not constitute a republication of the story.
SALT LAKE CITY — Saturday will mark exactly one year since a state of emergency regarding COVID-19 was declared in Utah and the state's first case was confirmed.
Within the ensuing week, life as everyone knew it changed. Utah Jazz center Rudy Gobert's positive coronavirus test came five days after the first case. His diagnosis made it clear contracting the coronavirus was possible without having traveled internationally.
One day after that, then-Gov. Gary Herbert announced the first gathering restrictions; the "soft closure" of schools came the following day. By mid-March, many businesses had closed.
One year later, many parts of pre-pandemic life have reopened, but Utahns have adjusted to wearing masks and socially distancing to avoid COVID-19 spread.
The toll of the pandemic is partially seen in Utah Department of Health data. A little more than 10% of all Utahns have contracted the coronavirus, resulting in almost 15,000 hospitalizations. Nearly 2,000 Utahns have died as a result of the coronavirus.
While the spread of the coronavirus is finally slowing down in the state, there are still new cases of COVID-19 and related deaths reported daily one year later.
As Utah approaches the pandemic's one-year anniversary, KSL.com turned to our readers to reflect on what's happened over the past 365 days. Readers were given a survey with three questions tied to the COVID-19 experience. Here's how some of you responded.
What you said you missed the most about pre-pandemic times
The first question KSL.com asked was about life before the pandemic. For many, what they miss most are simple moments that were uprooted suddenly last year.
For instance, several readers said they missed attending sporting events or concerts. While the Utah Jazz only recently began to allow fans into games again, many plays and concerts have remained canceled.
But many also mentioned the other moments, such as celebrating holidays or birthdays with family and friends. Some also reminisced about the days without masks or social distancing.
"Leaving my house without a mask and interacting with friends freely." — Bobbie, Spanish Fork
"Concerts, going to movies, socializing, etc." — Brandon C., Holladay
"I miss my normal teaching. I hate teaching in a mask! I miss being able to have normal lifestyle, and seeing people I love." — Sierra H., Cedar City
"Going to full Jazz games and going to the movies and going to baseball games. I can't tell you the last time I went to the movies." — Kelly F., Provo
"Visiting with family, having a social life, sending my kids to school feeling relatively safe, not living constantly scared that I will inadvertently make someone ill." — Tarin, Eagle Mountain
One word to describe the past year
KSL.com also asked readers to describe the past year in one word and explain why they chose the word they selected. The majority of the words selected centered around COVID-19 and the many lifestyle changes it caused.
"Tragic. So many deaths, and so many long-haulers, and so many livelihoods lost." — Belinda E., Salt Lake City
"Refined. Because as we navigated a world with COVID-19, we were able to focus on what actually matters. Connection, kindness, empathy, flexibility and love." — Alicia W., Millcreek
"Challenging. With political tension and the threat of COVID-19, there were so many more reasons than normal to judge people and feel disappointed by people. It's been a real challenge to look past these huge differences in values." — Jim, Provo
"Hectic. Every time we thought we had something figured out, another catastrophe would knock us off our feet." — Jessica, Logan
"Crap. The last year was crappy. Everything got canceled. Things got shut down. Mental and emotional health were in the toilet. Everyone was angry. Protests everywhere. Too much division." — Nate D., Farmington
"Different. It just is. Everyday life has gone on, but so much has changed." — Michelle C., West Valley City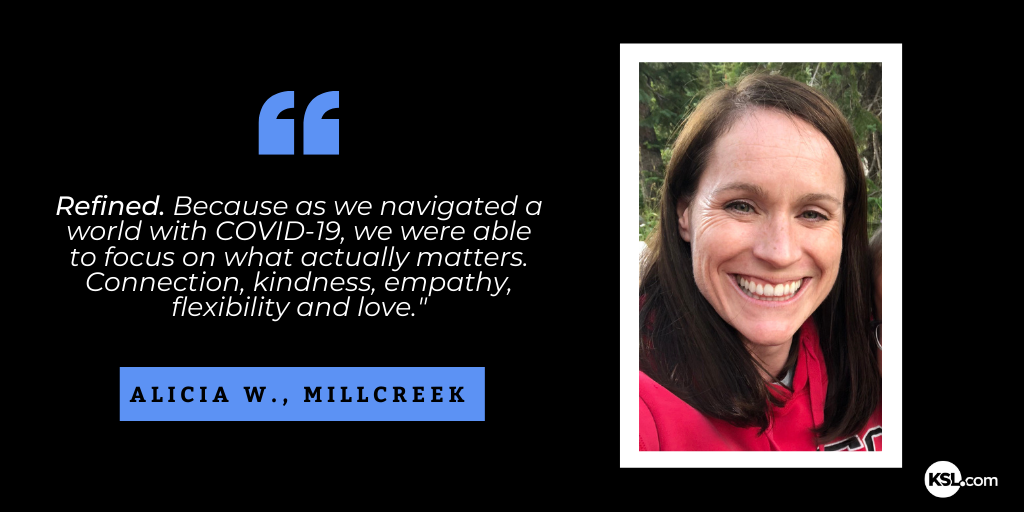 Lessons from the pandemic experience
The good news one year later is that it appears there is light at the end of the tunnel — something that seemed impossible in the first few months of the pandemic.
Now, there are three different vaccines available to the state's most vulnerable populations. Gov. Spencer Cox said Thursday that all indications are that all Utah adults who want a vaccine will be eligible to receive it by April. In addition to this, it seems Utahns have found meaning through some of the past year's tough experiences.
In light of that, the last question KSL.com asked readers was to tell us what you learned over the past year. Some responses centered around how people responded to the COVID-19 threat, but many centered around moments beyond the coronavirus.
"As a health care worker, we need to be much clearer in our public health messaging so it eliminates as much confusion as possible." — Payson A., West Haven
"Never take anything for granted and live your life the best you can. Enjoy the time you have with the others and all the experiences you get!" — Caitlyn S., West Valley City
"I really enjoy spending time with my family and eating dinner with them every night. It forced us to unplug and spend more quality time with each other. For that I'm grateful." — Mary I., Mapleton
"I've learned how important family is and how important it is to not take your time with them for granted. So many people I know became sick, and it was terrifying not knowing how their bodies would react to the virus. I learned that material things don't matter nearly as much as you think they do, and it brought a realization that time is very valuable." — Tyler H., Tooele
"Not to take the things we have for granted and our relationships for granted because, in a flash, everything can change." — Karli, Salt Lake City
"To care about others in our community. Whether that is taking food to a neighbor. Making phone calls to check on others. Donating to a pantry. Picking up things for people who can't go out. Shopping local. Or wearing a mask in public. Taking care of each other is so important. We have enjoyed trying all the local businesses we never bothered to try before the pandemic." — Michelle T., Utah County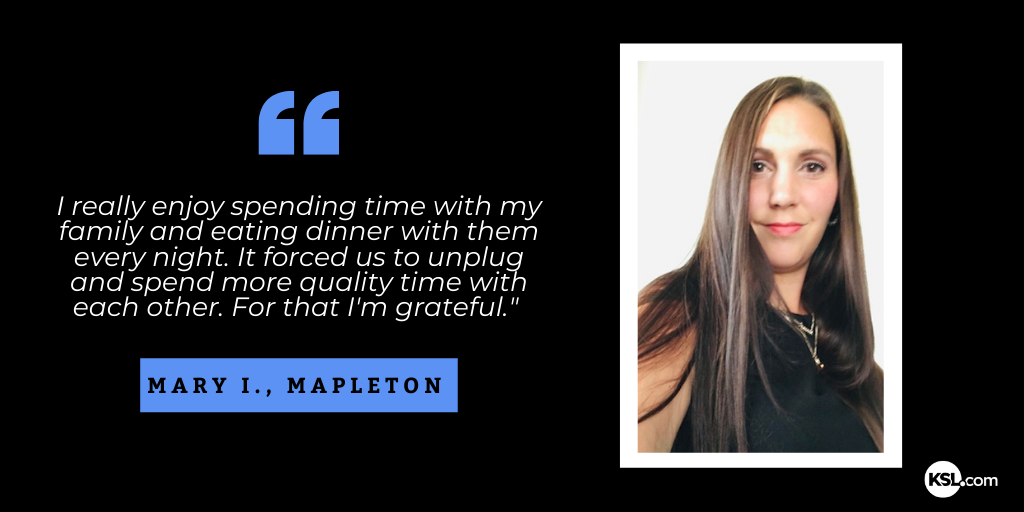 ×
Related links
Related stories
Most recent Coronavirus stories