SALT LAKE CITY — On the heels of a winter storm that passed through northern and central Utah over the weekend, temperatures are set to warm up over the next few days across the state, making it feel a little more like spring.
And it is — in a meteorological sense, at least. Whereas spring technically doesn't begin until the vernal equinox in the early hours of March 20, meteorological spring began Monday.
The National Weather Service tweeted Sunday that the forecast calls for temperatures across most of the state reaching the 40s and 50s by Tuesday. St. George's forecast high was 68 degrees for Tuesday. The current KSL Weather Center forecast calls for most of the Wasatch Front to even reach 60 by the end of the workweek, with St. George — with a storm midweek — reaching the 70s.
Why Utah's spring may be warmer, drier than average
If long-range meteorologic projections hold up, this week is a harbinger of what's in store this season. That's because the National Weather Service's Climate Prediction Center calls for a higher probability for a warmer and drier spring season than the average for Utah.
In simpler terms, it projects this year's spring may end up more similar to last year's than the average.
The Climate Prediction Center makes longer-range forecasts based on typical trends seen from oceanic patterns. Their outlook doesn't mean that Utah will have a warmer and drier spring, the forecast is a projection of probability based on observed trends. It also doesn't mean there will be periods of colder or wetter days in between. More precise forecasts can only be done about a week in advance.
"Basically, they take into account some long-term climate models as well as the current (El Niño-Southern Oscillation) patterns, which is what they're essentially basing (predictions) on," said Mike Seaman, a meteorologist for the National Weather Service's Salt Lake City office.
A La Niña pattern emerged in the ocean for the winter; however, it projected a 60% chance for "ENSO-Neutral" by April, which means neither La Niña or El Niño patterns. It's expected to last into the start of the summer.
Seaman explained that the pattern is typically less impactful to Utah and North American weather by the late spring and summer months.
"As you get later into the spring, that jet stream gets further and further north, so essentially you're seeing the jet shift away from that region and warmer, hotter (and) drier air working its way northward," he added.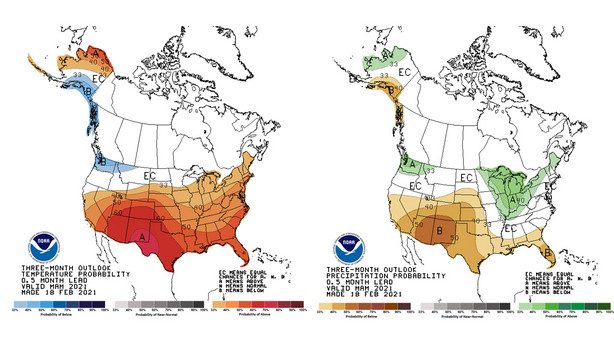 The model for March, April and May — the meteorological spring months — projects that Utah places have a 33% to 60% likelihood for a warmer than average spring season. A map shows northwestern Utah has a lesser chance for warmer than average temperatures, while southeastern Utah has the greatest probability for above-average temperatures.
The Wasatch Front areas were listed as a 40% chance while central and southwestern Utah were listed as having a 50% chance of an above-average temperatures spring.
It also calls for a 33% to 50% chance that precipitation totals will be below normal for most of the state. Areas within the Wasatch Front and central Utah were listed at 33%, most of southern Utah was listed at 40%, and a slight portion of southeastern Utah was listed at 50% likelihood. A sliver of northwestern Utah was listed as "equal chance" — meaning no likelihood for either wetter or drier conditions.
What a warmer and drier spring means for Utah
So what constitutes the average? The National Weather Service has two primary stations in Utah — one Salt Lake City and another in Cedar City —
that offer a detailed gauge for the state's climate. The current climate norms are determined by the average between 1981 and 2010.
Spring is typically the wettest season for the station in Salt Lake City. The months of March, April and May resulted in an average of 5.73 inches of precipitation, which is a little more than one-third of the city's normal precipitation accumulation for a calendar year. The average temperature during that time is 51.3 degrees Fahrenheit.
Meanwhile, Cedar City typically receives about 3.18 inches of precipitation in spring, based on the same 30-year sample span. The weather service doesn't list a normal temperature per season for Cedar City, but the average temperatures are 42.7 degrees in March, 50.1 degrees in April, and 60.1 degrees in May.
A warmer and drier pattern developed across the Wasatch Front region last year, resulting in Salt Lake City receiving its third-driest and fourth-warmest spring on record. Only Spring 1934 produced a spring as warm and dry as Spring 2020, according to climate data. Of note, 1934 remains the warmest year on record for Utah and was recently replaced by 2020 as the state's driest year on record.
Much like the Salt Lake City station, Cedar City is also on a streak of warm and dry conditions that dates back to last spring. The city's climate data shows that March 2020 was the last month the Cedar City station received precipitation totals at or above average; it also reported above-average temperatures for 10 of the 11 months during that span.
Recent snowstorms in Utah haven't really helped precipitation gaps caused by a dry fall, either. The 2021 water year began on Oct. 1 and both locations have below-average precipitation totals five months into the water year.
As of Monday, the Salt Lake City station was 2.97 inches below normal for this point in the water year, while Cedar City was 3.82 inches below normal. It's why 90% of the state is still in at least an "extreme" drought, according to the U.S. Drought Monitor.
The stronger likelihood for warm and dry conditions would extend those deficits further as the water year continues.
The rest of the country
Utah certainly isn't alone in the West when it comes to drought conditions. The spring projection model doesn't offer much optimism for the region either. Its highest probability for below-average precipitation is a circle that covers most of Arizona and New Mexico, as well as parts of Utah, Colorado and Texas.
Most of California, Nevada and Colorado fall into the 33% to 50% chance for below-average precipitation probabilities this spring. The southeast U.S. also has a higher probability for below-average precipitation.
The Pacfic Northwest is the West's outlier. Most of Washington, as well as parts of Idaho and Oregon have higher probabilities for above-average precipitation this spring. The Great Lakes and northern New England regions are the other U.S. regions with a higher likelihood for above-average precipitation.
Most of the U.S. is listed as having at least a 33% chance of above-average temperatures. That's led by a section between New Mexico and Texas, which is listed at 70%. The Pacific Northwest and southern Alaska were the only locations with a greater risk for below-average temperatures this spring.
×
Photos
Related Stories