PROVO — Among its three-man senior class of 2021, BYU men's basketball doesn't have a single player whose career began with the Cougars.
None of them are members of the school's sponsoring institution, The Church of Jesus Christ of Latter-day Saints.
But when it comes to representing BYU, the team and the school, they've all done more than simply managed it.
In many ways, Alex Barcello, Brandon Averette and Matt Haarms have excelled at BYU.
And they've played basketball well enough, too.
"The thing that these guys do that is so special is their leadership," said BYU coach Mark Pope, who also didn't start his playing career with the Cougars but went to Washington and Kentucky instead. "It's such a hollow word, because we say it all the time. But these three guys have gone out of their way every single day to fellowship the guys on this team, to teach them what it means to be a high-level Division I basketball player and help them understand what it means to be a great teammate.
"They've demonstrated the dedication and commitment it takes to be on a top-20 team. In all those ways, they've taught our guys how to absorb frustration and turn it into fight — and that all comes from these guys' leadership. These are extraordinary young men, and we've all been blessed. Everybody that's been able to follow the team through the media and on television, it's been really special to watch these guys lead and represent BYU."
Barcello, Averette and Haarms will be honored this weekend during the Cougars' final home games against San Francisco and Saint Mary's — the first week that BYU will allow 1,750 fans into the Marriott Center to watch a top-30 team nationally in the NCAA's NET rankings.
It couldn't come a moment too soon for these three, either.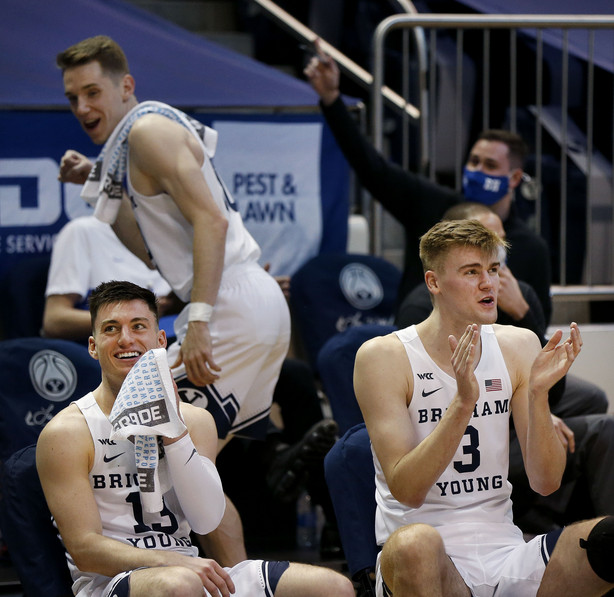 Their contributions on the court are impressive enough. Barcello leads the team in scoring, averaging 15.4 points, 4.5 assists and 4.5 rebounds per game as the engine of the offense. But his senior classmates are right behind him, including co-point guard Averette, who averages 11.2 points per game.
Then there's Haarms, the 7-foot-3 Purdue transfer who has already said this will be his final year of college basketball. A native of Amsterdam who averages 11.2 points, 4.3 rebounds and 1.8 blocks per game, Haarms has already earned one degree from Purdue, plans to graduate with another from his one-year master's program at BYU, and is looking forward to the next step in his hoops career.
But those three are more than stats.
"I give all the credit to those guys," BYU freshman Caleb Lohner said. "Day one, I came in as this Utah transfer — and they were awesome. From the day I stepped in the gym, I felt love. I'm going to remember these dudes for the rest of my life. Alex, Matt, Brandon; all three have been a huge impact.
"I'm super blessed to play with them. It'll be sad to see some of them go. But it's been such a blessing to have those guys."
On the court, Haarms can be defined by numbers: points, rebounds, blocks, assists. But the European center is much more than the numbers can dictate, Pope added — and BYU has helped him bring out more than his basketball game.
"His leadership has grown; I think he's taken ownership of this team," Pope said. "I've been super proud of his physical approach to the game.
"He's got so much promise in his game, and clearly he's a special player both on the offensive and defensive end. But his ceiling is still way in front of him."
First, though, Haarms plans to give fans of his new school — the one that warmly embraced him, even though he's never met most of them due to pandemic protocols and online schooling — a season to remember.
He wants to take BYU back to the NCAA Tournament for the first time since 2015 — or maybe even win a tournament game for the first time since 2011, or win a conference tournament for the first time since 2001.
In an abnormal year that has caused so much disruption for so many people, Haarms wants to do something extraordinary.
"Of course, I wish it was a 'normal' experience," he said. "But it's been special; this is a year I'm going to look back on as being really special. And that's why I'm committed to going as deep as possible in the postseason."
BYU had one NCAA Tournament taken away from it, and Yoeli Childs, Jake Toolson, TJ Haws and others won't get it back. Haarms doesn't want the program to face a second-straight year of casualty.
Making those memories with the Cougars' other two seniors — two fellow transfer students, Averette from Utah Valley and Barcello from Arizona — who also happen to be his roommates would mean the world to Haarms, who already owns a Big Ten title and has played in the NCAA Tournament.
"Of course, you want to think of all we've done so far. We've won games, but it doesn't mean anything," Haarms said. "We haven't hung a banner. We haven't won a ring. That's what everyone is playing for.
"As for someone who has been there and won a championship, that's what I value. I want this team to be looked back on as a team with actual postseason success. It's really important to me. I've had such an amazing time representing BYU, and I want to leave the fans some success."
ON THE AIR
San Francisco (10-11, 4-7 WCC) at BYU (17-5, 8-3 WCC)
Thursday, Feb. 25
Tipoff: 7 p.m. MT
TV: CBS Sports Network
Radio: BYU Radio, KSL NewsRadio
Saint Mary's (12-7, 3-5 WCC) at BYU (17-5, 8-3 WCC)
Saturday, Feb. 27
Tipoff: 8 p.m. MT
TV: ESPNU
Radio: BYU Radio, KSL NewsRadio
×
Related Stories