Estimated read time: 7-8 minutes
This archived news story is available only for your personal, non-commercial use. Information in the story may be outdated or superseded by additional information. Reading or replaying the story in its archived form does not constitute a republication of the story.
SALT LAKE CITY — An explosion of new high-density housing across Salt Lake County over the past decade didn't result in reduced property values of single-family homes; in fact, it even resulted in a slight increase in value, according to a report released Monday.
The findings were the result of a study conducted by the University of Utah's Kem C. Gardner Policy Institute that sought to find how massive high-density housing projects impacted home values during the 2010s. Higher-density development was seen as "a politically controversial topic" at city councils due to fears of how they may negatively impact existing housing values.
"Based on our analysis, what we find, in particular, is that apartments have had a positive impact on single-family home values," said Dejan Eskic, a senior research fellow at the Gardner Policy Institute and lead author of the study.
The development effect
Among the key findings of the report is that Salt Lake County homes located within a half-mile of new apartment complexes experienced a 10% average annual increase in median value compared to 8.6% of homes farther away from projects.
The report also stated that homes within a half-mile of new apartments also had an average 8.8% higher median value per square foot. That's despite the fact that homes in that category were, on average, 11.1% smaller and seven years older than those more than a half-mile away.
"This implies an additional 1.4 percentage points in annual price appreciation for homes closer to new apartment buildings," the report states. "Similar results are seen in most of the county, with the likely driver being that new apartment construction brings new demand and new dollars to a community and redevelops an older piece of property, thus bringing more vibrancy and 'buzz' to the area."

Researchers also found that the only real dip in housing near apartments built at the start of the decade; however, researchers determined the housing crisis that developed at the end of the previous decade was to blame for that.
Eskic explained the project began by looking into price acceleration because countywide home values have continued to move upward since about 2012. Since housing trends were similar across the county during this time, it allowed the research team to look at what caused some rates to perform better than others.
The team compared single-family home values in Salt Lake County from 2010 to 2019 with data on new apartments constructed between 2010 and 2018. This allowed a look at both short- and long-term impacts. The data omitted downtown Salt Lake City and a swath of land near the University of Utah; Eskic said this was due to looking more at suburban parts of the county. It left the team with 9,600 apartments to analyze even when removing those sections.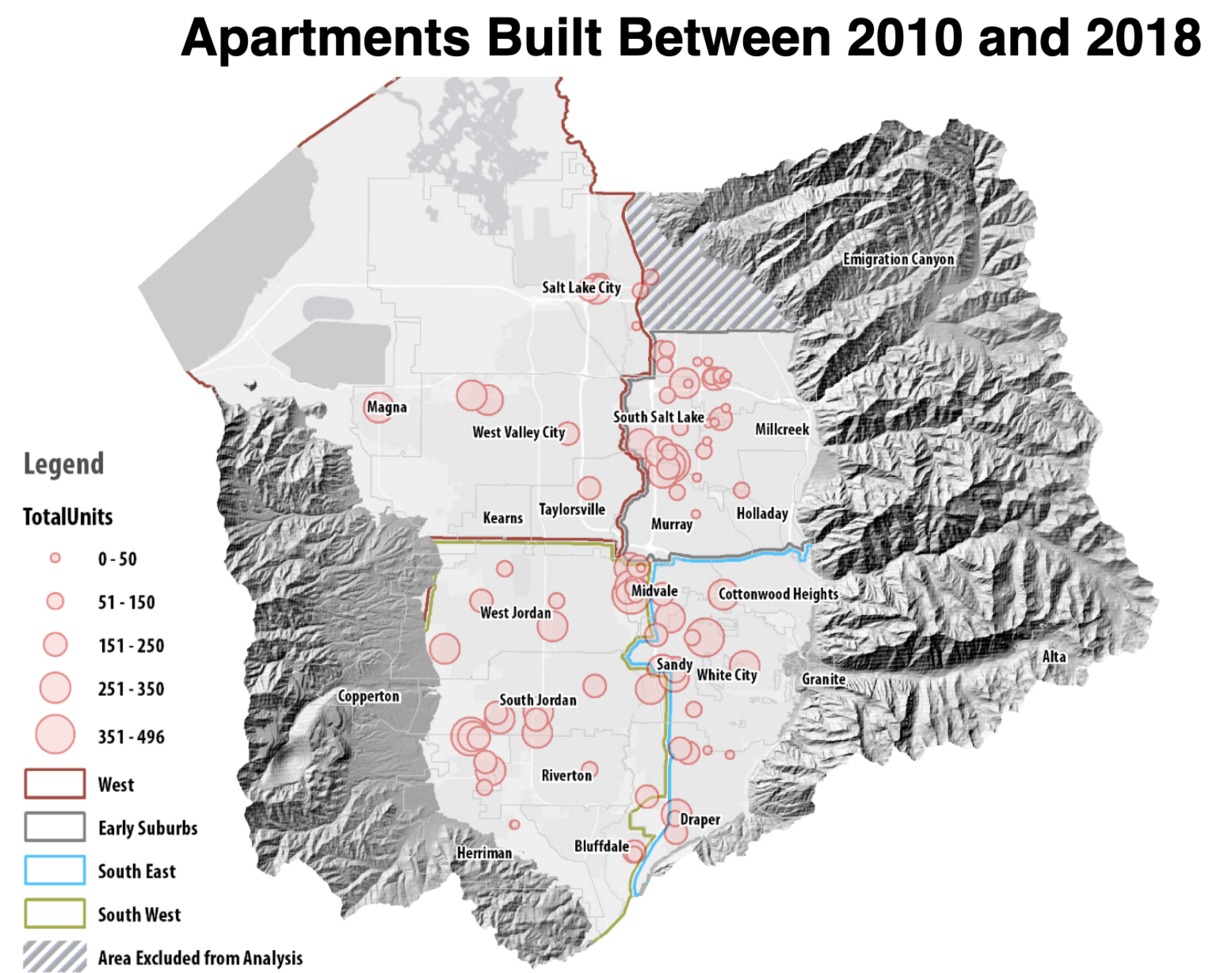 They also broke the research down into four quadrants. Of the four, the highest value happened in "West" Salt Lake County. That includes places like Rose Park, West Valley City, Kearns, Taylorsville and Magna. Researchers found that values rose 13.7% annually for homes within a half-mile of new apartments in those communities as compared to 10.5% for homes farther away.
The highest discrepancy was reported in the northeastern portion of the county, which was referred to as "Early Suburbs." That's an area that includes Sugar House, South Salt Lake, Millcreek, Holladay and Murray. The paper stated that was likely due to "some of the most expensive and largest homes are located in the areas of Sugar House and Holladay." Still, homes in the region closer to new apartments experienced larger value increases on average.
Southeast Salt Lake County — including places like Midvale, Cottonwood Heights, Sandy and Draper — was the only region where homes more than half a mile from apartments experienced higher annual property value increases. The difference was 7.3% for homes more than half a mile away compared to 6.8% for homes within a half-mile of new high-density development.
Eskic explained one section of single-family homes near State Street and I-215 in the area that include some of the outliers in the data. He said it's unclear why that was although it's possibly due to its proximity to major traffic.
"It's the one thing that stood out," he said, "whereas throughout the rest of the county, you didn't have as many single-family homes located near major arterials."
What the findings mean for future growth
Researchers wrote that their findings almost mirrored previous academic literature on the issue in different places of the country over the past few decades. That is, there's no substantial adverse impact as a result of high-density housing projects.
"The public perception about high-density housing continues to be a point of conflict in growing communities across Utah and the country. While many stereotypes and generalizations about negative impacts are brought up in public settings, high-density development does not actually appear to depress home values," the researchers wrote.
In looking at development today, Salt Lake County Mayor Jenny Wilson described most of the county as almost "wall-to-wall" in development, with the exception of canyons and the county's western bench, the latter of which is the site of current and future housing.
It's left county officials searching for new ways to add housing as the demand of people looking to move into the county still heavily outweighs the supply of homes.
"I think we've had to refine our practices and become more evidence-based," she said, adding that it provides community leaders harder evidence about one aspect of high-density housing that they can provide constituents.
"Again, times have changed. With so little land, we have to be thoughtful about these choices," she continued. "I am happy that the data helps us kind of weed out — this is perhaps a nonissue."
---
"This doesn't end the discussion; it doesn't end the concern but it is a great bit of information to help move the conversation in a very constructive way."
–Dan Lofgren, the president CEO of the developer Cowboy Partners
---
Wilson spoke at a virtual roundtable hosted by the Gardner Policy Institute following the release of the report Monday afternoon. It was a small event where a few of the county's top leaders and leading housing and development experts discussed the findings of the report.
She said the results also show that people want a wider range of housing styles than the previous stereotypical home with a white picket fence. That doesn't mean that newer houses like that won't be constructed in the future, but even more higher-density projects could be on the way.
Dan Lofgren, the president CEO of the developer Cowboy Partners, agreed with Wilson in that regard. He said the study could also move the needle for more development in the future.
"This doesn't end the discussion, it doesn't end the concern, but it is a great bit of information to help move the conversation in a very constructive way," he said. "I'm grateful to have this information as a part of the conversation."
He added that he believes while it won't completely solve affordable housing concerns, it would "accommodate affordability." Whereas, a lack of housing density could make housing less affordable.
Some experts say the study provides evidence toward one concern but doesn't address the entire issue completely.
Matt Dahl, assistant city manager for Midvale City, said there are still major conversations that need to happen when it comes to future development. That starts with the other impacts that residents near new apartments might see.
"Our challenges are that it's hard for residents to feel their home value is appreciating 1.4 (percentage points) faster than people who live in a different neighborhood, but they do feel it when there is more traffic or parking on the road, even if that parking and traffic is well below the capacity of the affected street," he said. "The experience of change in these neighborhoods is important and needs to be considered as we look to develop our policy."
It's why he said it's important that cities and developers are able to show residents the benefits of new development early on.
Meanwhile, some view the study as a game-changer for future housing development, especially as the state's population is expected to double in the coming decades. Michael Gallegos, the director of Salt Lake County Housing & Community Development, said that study helps potentially end one argument over higher-density housing; that could clear one hurdle in a monumental housing task.
"With the cost of housing, the shortings of 35,000 units statewide, that's a lot for us to respond to," Gallegos said. "It's going to take some period of time, so I think (the study) takes the argument off the table and we can start moving forward."
Correction: A previous version of this story indicated downtown Salt Lake City was included in the study. Researchers later clarified that downtown Salt Lake City data was not included in the study.
×