Estimated read time: 7-8 minutes
This archived news story is available only for your personal, non-commercial use. Information in the story may be outdated or superseded by additional information. Reading or replaying the story in its archived form does not constitute a republication of the story.
SALT LAKE CITY — Utah's ever-important snowpack, which got off on the wrong foot, is finally getting closer to average following several winter storms in a row — and there's a little more on the way.
None of the 16 Utah snowpack regions crossed 100%, or the baseline normal for Feb. 18, following the massive storm that broke records as it passed through Tuesday and Wednesday; however, some specific locations within those basins are now at or above-average levels, according to the Department of Agriculture's Natural Resources Conservation Service, which oversees snowpack totals.
It's a valued statistic because most of the state's water — which ends up going to agriculture or ordinary residential use — comes from the snow that melts and ends up in the state's streams, rivers and reservoirs. This year's snowpack is arguably even more important because the state suffered its driest year on record last year.
Here's how the latest storm helped those figures.
Snowpack update: Things are getting better
Snowpack is mostly centered on something called snow water equivalent, or how much water is in the snow that falls as compared to exactly how much snow falls on the ground. The normal snowpack figure differs for the 16 basins inside the state; however, most locations have reported below-average figures since the beginning of the water year on Oct. 1.
Some of Utah's locations within basins have normals in single digits or teens by Feb. 18. Then there are areas like Snowbird or Ben Lomond Peak, which should have snow water equivalent totals in the 20s by mid-February.
So where is Utah's snowpack following the most recent storm, which dumped record-level snow in some places?
Utah was close to 80% of the normal for Feb. 18, according to the NRCS's SNOWTEL data as of 8 a.m. Thursday.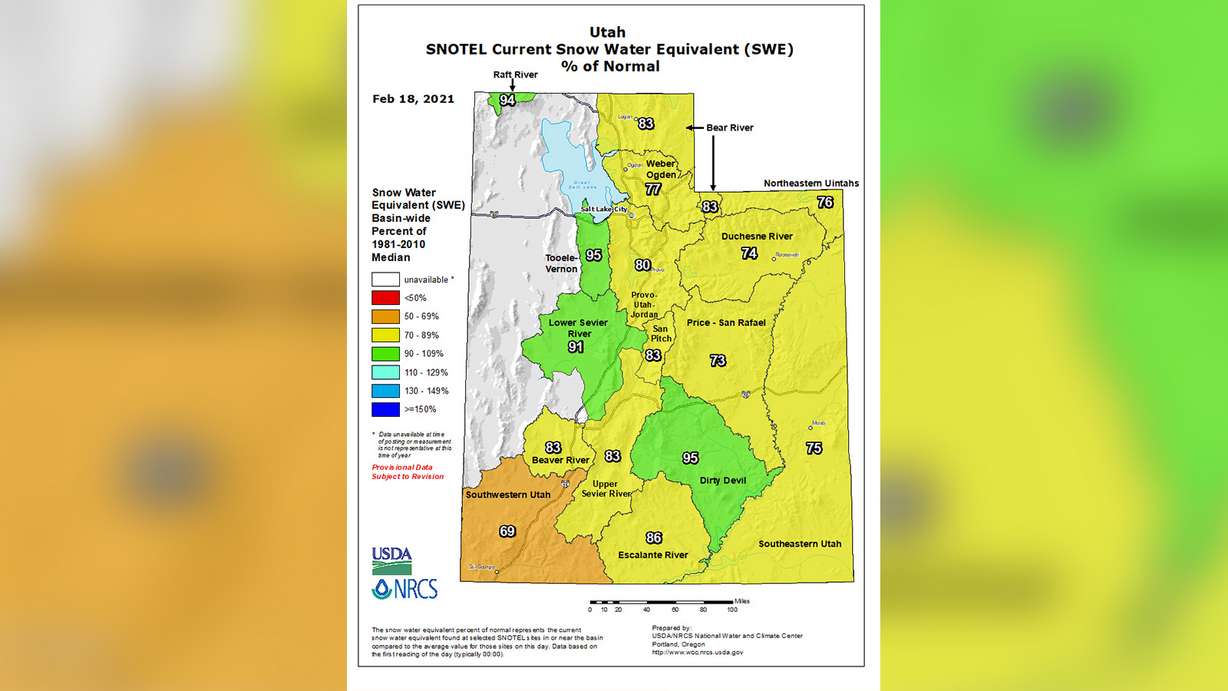 Some basins are closer to the average than others. For example, Tooele-Vernon Creek in the state's western range and Dirty Devil, a basin in southern Utah, now leads the pack at 95% of those locations' norms. Southwestern Utah is currently the lowest at 69% of its normal for this point in the season.
The two basins closest to the largest chunk of Utah's population — the Weber/Ogden and Provo/Utah/Jordan basins — are at 77% and 80% of their norms — as of Thursday morning.
It's all an improvement over how the year began. Here's how the situation has shaped over the course of the year to date:
Dec. 1, 2020 - 71% (High: Raft River, 136%; Low: Lower Sevier River, 29%)
Jan. 1 - 64% (High: Raft River, 80%; Low: Southwestern Utah, 47%)
Jan. 15 - 56% (High: Raft River, 87%; Low: Southwestern Utah, 38%)
Feb. 1 - 65% (High: Escalante River, 83%, Low: Beaver River, 53%)
Thursday (8 a.m.) - 80% (High: Tooele-Vernon Creek and Dirty Devil, 95%; Low: Southwestern Utah, 69%)
Natural Resources Conservation Service data show that there were points between these dates where Utah's cumulative snowpack totals threatened 30-year lows. The recent storms show up in a SNOTEL graph as a spike nearing the normal for this point in the year.
Where are we now compared to normal statewide? And how far are we away from a normal snowpack? The black line shows you how much we've improved. The green line is where we would need to get for a normal snowpack. #utwxpic.twitter.com/9qQFfhGaH2

— NWS Salt Lake City (@NWSSaltLakeCity) February 18, 2021
Other SNOWTEL data show that some specific locations in the state are now above average for this point in the year but that list is small. Black Flat-U.M Creek in the Dirty Devil basin and Beaver Dams in the San Pitch River basin are both now above 100%.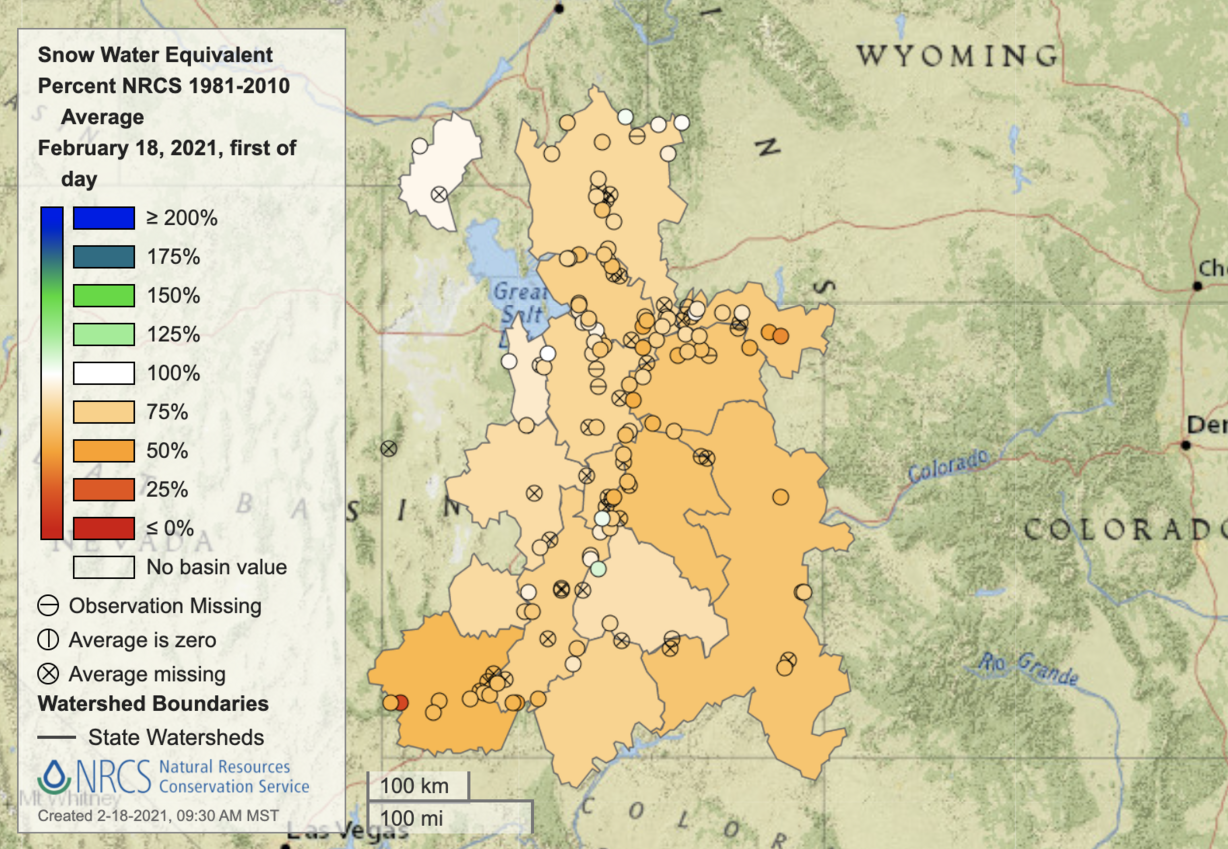 Snowpack totals typically peak shortly before the start of May. So there is plenty of time for the snowpack to reach 100% or exceed it by the end of the snow season. The state just needs to continue to receive snow like it has in recent weeks.
Salt Lake City precipitation crosses into positive territory — in one category, at least
Meanwhile, the National Weather Service's station near the Salt Lake City International Airport recorded something this week it hasn't in nearly a year: above-average precipitation totals. The weather service station crossed into the positive territory for the first time this calendar year on Tuesday.
Following record-breaking snow totals Wednesday, the station has received 2.51 inches since Jan. 1. That's 0.54 inches above normal. It does, however, still remain 2.53 inches below average for this point in the water year, which began on Oct. 1, 2020.
Regardless, it's an incredible feat considering the city had fallen to 0.82 inches below the calendar year average by Jan. 23. The city received 2.11 inches of precipitation between then and Wednesday to close the deficit and cover the average of 0.75 inches between those dates.
All of this precipitation comes after Utah experienced its driest year on record in 2020. So when was the last time the NWS weather station in Salt Lake City reported above-average precipitation in either a water year or calendar year? Almost this point last year.
The city and state's dry spell really began after a slightly-below average precipitation total in March. Salt Lake City's 2020 calendar year and 2020 water year fell into the negatives in April, which ended up 1.73 inches of precipitation below normal for that month alone. The 2020 water year went down as Salt Lake City's 16th driest dating back to 1874. The 2020 calendar year ended up as all of Utah's driest on record.
The 2021 water year, which began during the 2020 calendar year, got off to an absolutely miserable start, which is why the city is still 2.51 inches below normal.
The Salt Lake City weather station received 1.31 inches of precipitation throughout October, November and December combined, which is the first quarter of the water year. That alone was 3.07 inches below the normal. This same dry spell in Salt Lake City was also why the state's snowpack got off to a rough start.
In contrast, the weather service's Salt Lake City station has received 1.66 inches of precipitation already in February alone — and there are 10 days left before it ends. Over half of the city's entire precipitation totals to date — about 55% — have occurred since Jan. 23.
The push from the last few weeks is why the calendar year is now above average and why the snowpack levels are improving.
More snow on the way?
The good news for those tracking this data is there is a little more snow on the way that could further inch the snowpack levels closer to average and further improve Salt Lake City's precipitation totals to an extent; however, it won't produce nearly as much as Utah received earlier this week.
A cold front is expected to roll in late Thursday night into Friday morning. A storm producing snow is behind that front, according to KSL meteorologist Grant Weyman. The National Weather Service tweeted Thursday afternoon that it now projects that Wasatch Front valleys could receive as much of 1 inch as a result of the storm. It's also expected to produce upwards of 4 inches at Wasatch Mountain locations like Alta and Ben Lomond — possibly more than that in some northern Utah mountain locations.
❄️ More snow is expected Friday. Valley accumulation will mostly be less than 1". The left graphic is the percent chance of 1" of snow or more.

Mountain accumulation up to 4" is expected, with locally higher amounts. The right graphic is expected accumulation. ❄️ #utwx#wywxpic.twitter.com/293bPEExne

— NWS Salt Lake City (@NWSSaltLakeCity) February 18, 2021
"Although only very light accumulations will occur, patchy ice and road slush remain likely for (Friday) morning's commute," the National Weather Service advised.
Full forecasts for areas across Utah can be found at the KSL Weather Center.
×
Most recent Outdoors stories