Estimated read time: 6-7 minutes
This archived news story is available only for your personal, non-commercial use. Information in the story may be outdated or superseded by additional information. Reading or replaying the story in its archived form does not constitute a republication of the story.
OREM — Morgan Honsvick remembers starting the season with Maple Mountain's girls wrestling program with just five girls practicing and preparing for the first season of the newly sanctioned sport by the Utah High School Activities Association.
By the end of the season, four Golden Eagles were wrestling each other to finish off the final two weight classes of the 5A state tournament.
Honsvick clinched the 245-pound state title, and teammates Ashley Camacho and Abigail Archibald each added a title to help Maple Mountain roll to the first-ever 5A state title Wednesday night at Mountain View.
"Honestly, I was surprised," said Honsvick, who pinned teammate Auriella Ramos in 2:30 to clinch her title. "Nobody expected us to be where we are at today, and we just got there.
"It's amazing. A lot of hard work, and none of us expected this at the beginning of the year. We all had to work together, when we started off with five girls. But we brought our friends in, and just worked to expand the program. We have a lot of fun, and it helps us wrestle harder. But we all wanted to win that team title in the first year of state. It got us to where we want to be."
Camacho clinched the 190-pound title with a 3:20 fall over teammate Nya Seiuli — her third consecutive pin — and Archibald added a 17-1 win over Farmington's Jessica Hacking to complete the Golden Eagles' trifecta of individual champions.
But Maple Mountain also proved to be one of the deepest teams in the state, with 10 wrestlers combining for 192.5 points to beat out second-place ALA, who also had 10 wrestlers and four individual champions.
"It's been awesome, and it's all because of (Maple Mountain coach Billy Cox)," Archibald said. "He's made a huge team after I was kind of worried we wouldn't have much of a team.
"Two weeks before state, we all quarantined and came back to work so hard. You could see everyone's improvement, and it was so fun to see no one lost it while we quarantined."
Paced by national champion and local girls wrestling legend Sage Mortimer, American Leadershiop Academy finished second with 144 points, followed by Rich (108), Springville (107) and Mountain View (95) to round out the top five.
Rachel Camacho added the individual title at 108 pounds, and Jacqueline Hernandez (120) and Olivia Carrillo (136) secured their own championships for ALA.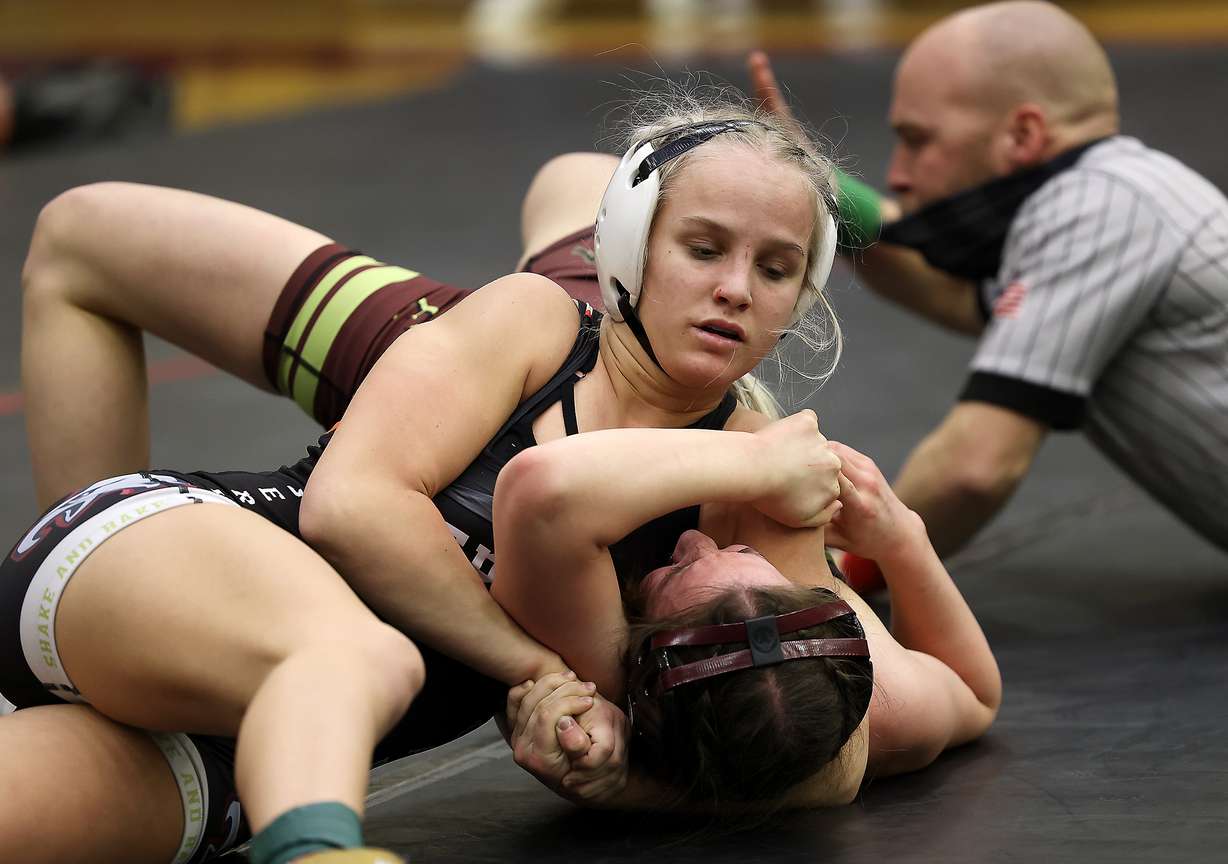 But the star of the night was Mortimer, a four-year standout who has wrestled in the boys' tournament for three-straight years.
In the first season of sanctioned girls wrestling, Mortimer did not give up a point all season. One of the top girls wrestlers in the country, the ALA senior has grown accustomed to wrestling boys for three years.
She's won national girls tournaments and approached the podium for three years at the Utah state boys' tournament, grappling with her team when girls wrestling wasn't sanctioned in the state.
And while Mortimer admits the bittersweet sting of not being able to wrestle in the boys' tournament as a senior was a tough pill to swallow, she stood atop the field for the first time in the final match of her high school career.
"It makes me emotional just thinking about it," said Mortimer, whose 3:03 pin of Maple Mountain's Donna Wright capped an undefeated senior season. "But when I won this tournament, I'm grateful for it. I'm just a bit disappointed I didn't get the chance to wrestle against the guys."
Mortimer wrestled just 1:03 in the first two matches, both pins, to advance to Wednesday's final. After jumping out to a 13-2 lead through the second period, she then made quick work to claim her third consecutive pin in a season where she was never even taken down.
"I'm glad I got to show that my hard work has paid off through elementary, junior high and high school," she added. "Next up is college and worlds. But it's nothing compared to the feeling of standing on the podium. … It's good to win a Utah state championship, either boys or girls."
The second girls wrestling state tournament in UHSAA's inaugural season sanctioning the sport, 5A combined classifications for schools in 1A, 2A, 3A and 5A and featured 117 wrestlers in the sport's 14 weight classes. Each weight class contained six to 14 wrestlers, illustrating why the classification drew from multiple schools in the first year of girls wrestling that included more than 500 individual grapplers.
Perhaps the biggest moment for Mortimer — alongside the individual title, Most Outstanding Wrestler award and team runner-up finish — was simply leading out the tournament's Parade of Champions, a preview event that feature all six placers in the inaugural 5A tournament.
In more ways than a medal can describe, Mortimer helped build the sport.
"I didn't think of it, until a tournament before Christmas, when it was pointed out to me that I kind of started all this," said Mortimer, who has offers to wrestle collegiately at King College, Oklahoma City and Colorado Mesa, among others. "I remember Scott Pace telling me girls wanted to wrestle because they saw me — even some of his daughters.
"It's kind of exciting to see the sport come to where it is, and to be a big part of it."
Team scores
Maple Mountain 192.5, American Leadership 144, Rich 108, Springville 107, Mountain View 95, Grantsville 80, Union 58, Farmington 57, Skyline 53, Water Canyon 48, Enterprise 45, Timpview 44, Bonneville 35, Manti 29, Utah Military 26, Duchesne 25, Park City 25, Mountain Ridge 19, Provo 19, Parowan 18, North Sevier 13, Providence Hall 13, Alta 12, Cottonwood 9, Kanab 7, Brighton 4, Grand County 4, North Sanpete 4, Hillcrest 3.
Individual champions
108 — Rachel Camacho, American Leadership p. Annika Futch, Park City, :53; 3. Cecily Morkel, Maple Mountain; 4. Jessica Harris, Springville.
115 — Sage Mortimer, ALA p. Donna Wright, Maple Mtn, 3:02; 3. Meg Annell Fischer, Water Canyon; 4. Siarra Sherod, Alta.
120 — Jaceueline Hernandez, ALA p. Valery Ethington, Springville, 0:52 ; 3. Abigail Adams, Maple Mtn; 4. Rebecca Williams, Manti.
124 — Corrie Williams, Enterprise p. Merci Jessop, Water Canyon, 2:23; 3. Isabelle Clements, Springville; 4. Hadlie Hood, Bonneville.
128 — Lillian Spieth, Mountain View d. Katelyn Wolf, Provo, 7-3; 3. Rachel Southam, Union; 4. Emma Quigley-Tolman, Grantsville.
132 — Jade Garcia, Grantsville, p. Zarieh Power, Mtn View, 2:39; 3. Hayley Mobley, Parowan; 4. Amanda Neff, Farmington.
136 — Olivia Carrillo, ALA p. Annie Peart, Rich, 3:23; 3. Darby Cooper, Skyline; 4. Kaziley Clark, Grantsville.
140 — Hotaia Valeti, Springville p. Kendal Hyatt, Timpview, 1:14; 3. Mika Andersen, Rich; 4. Isla Baeza, Mtn View.
145 — Kacy Mecham, Duchesne p. Nya Jolley, Rich, 2:24; 3. Bret Nicol Weston, Rich; 4. Rachael Hacking, Farmington.
150 — Abigail Archibald, Maple Mtn d. Jessica Hacking, Farmington, 17-1; 3. Abby Bowler, Bonneville; 4. Adreovina Avery, Skyline.
160 — Taimane Fiatoa, Timpview p. Jesse Harrison, Maple Mtn, 1:42; 3. Lois Herring, Mtn View; 4. Gabriella Aho, Skyline.
170 — Hannah Broderick, Grantsville p. Jocelyn Hepler, ALA, 3:39; 3. Rebecca Wamsley, Rich; 4. McKenzie Brown, North Sevier.
190 — Ashley Camacho, Maple Mtn, p. Nya Seiuli, Maple Mtn, 3:20; 3. Kenya Torres, Enterprise; 4. Nieve Parry, Farmington.
245 — Morgan Honsvick, Maple Mtn p. Aurellia Ramos, Maple Mtn, 2:30; 3. Oakley Snow, Union; 4. Andrea Patino, Mtn View.
×
Photos
Related stories
Most recent High School stories