PROVO — Years ago, when he first was learning about the game of basketball, Gideon George would bound out of his room to watch any college basketball or NBA game he could from his hometown in Minna, Nigeria.
The young man who would grow into the 6-foot-6, 190-pound BYU forward would run downstairs and turn on the television, where he begged his father to add whatever extra package or subscription he could so that he could watch these games. Sometimes he'd invite his friends over, and they'd watch together.
The NCAA Tournament. The NBA. Gideon George had a dream of playing on basketball's biggest stage — and he'd live that dream in his mind as he'd watch those players run the floor and listen to the squeaking of sneakers on the hardwood in a country thousands of miles across the Atlantic Ocean.
Most of the time, he'd watch alone. Because while these games were being played at 5 p.m. or 7 p.m. or even 9 p.m. in the United States, they were broadcast at a much different hour back home.
"Back home, because of the time difference, any time there was a 5 p.m. game, it would be 2 a.m., and I'd be up. I'd watch a lot of NBA games," George told local media Friday while laughing.
But the dream never died.
George eventually matriculated to New Mexico Junior College, where he blossomed under the guidance of head coach Luke Adams, averaging 14.5 points and 8.0 rebounds on 50.8% shooting as a sophomore, when he earned All-Western Junior College Athletic Association and All-Region V first-team honors for the Thunderbirds.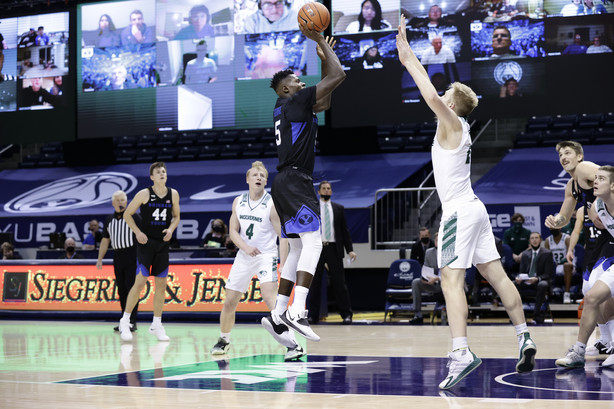 Eventually, he caught the attention of BYU head coach Mark Pope and his assistants, and George — who is not a member of The Church of Jesus Christ of Latter-day Saints — enrolled at the university and played on the same floor where one of his idols, Kawhi Leonard, once played prior to the NBA.
His dream was finally a reality. Back home, his friends and family kept watching the television — and they saw him.
"Coming out here and playing in front of my friends back home (on TV) is a blessing to me," George said. "I'm not taking anything for granted. I'm privileged to be here. The journey was hard, and I'm privileged to be at BYU. I'm loving it, and I'm just blessed to be here."
In his first season of Division I basketball, George is averaging 5.3 points and 3.3 rebounds in 19 games for the Cougars, with a pair of double-doubles. His pandemic-impacted season at BYU culminated Thursday night when the Nigerian international poured in a career-high 19 points, 13 rebounds, three assists and two steals in a 105-60 win at Portland — his first career start at BYU.
The Minna, Nigeria, product singlehandedly outrebounded the Pilots, 13-12. And while a 45-point win over the last-place team in the West Coast Conference may not impress some people, George is just getting started.
After such a night, George already has unique confidence heading into the biggest game of the Cougars' season: Monday night against Gonzaga (9 p.m. MST, ESPN), the second game of the year against the top-ranked team in the nation.
George has plenty of confidence in that game, too. Pay no attention to the 86-69 road loss the Cougars suffered Jan. 7 in Spokane.
"I think the last game, we were only thinking about ourselves," George said. "We were just worried. Right now, we're just doing what we can. And I think we are going to win on Monday."
Such confidence is unique for George, except on the basketball court. An unstoppable destroyer during BYU's practice in San Diego after the Cougars' game against USD was canceled due to COVID-19 concerns, George has been known for his quiet humility, kindness and friendship.
He's a big teddy bear in a 6-foot-6 frame — a teddy bear with a 6-foot-10 wingspan.
"First and foremost, he has the biggest heart of anyone I've met," teammate Alex Barcello said. "He cares about everyone he's around. He's caring, joyful; I don't think he's ever had a bad day. He just finds joy in every situation he's put in.
"I love to call him my teammate, but I also love to call him my friend. He's a great person to be around and a very high-character guy."
He's also — apparently — a fantastic chef, although his mother's recipes he brought from Nigeria only work so well with "whatever I can get at Walmart," he said sheepishly.
"He's a big-time chef. Like, big time," Pope said, in a way few other than Pope can. "You would pay him to come to the kitchen and cook. It's incredible. His curry sauce, I could bottle it up and sell it. We'd make a lot of money."
And on the basketball court? George is just getting started, the walking bucket adds.
"I think the sky's the limit for him," said Barcello, a team captain who averages 15.2 points, 4.6 rebounds and 4.6 assists per game. "He's extremely talented. But the growth he's had in a short amount of time is phenomenal, and I think it's only going to grow."
On the Air
BYU (15-4, 6-2 WCC) vs. No. 1 Gonzaga (19-0, 9-0 WCC)
Monday, Feb. 8
Tipoff: 9 p.m. MST
TV: ESPN
Streaming: WatchESPN
Radio: BYU Radio, KSL Radio 1160 AM/102.7 FM
Series: Gonzaga leads, 18-7
Last meeting: Gonzaga, 86-69 on Jan. 8, 2021
×
Related Stories