SALT LAKE CITY — It's not often a Christmas gift can change the life of an individual.
Sure, many can look back to a specific gift that brought them joy or fond memories about a simpler time. But for University of Utah gymnast Maile O'Keefe, a simple Christmas gift changed the trajectory of her life.
In 2005, when O'Keefe was just 3 years old, her aunt and uncle gifted her the first few months of gymnastic classes, along with the first year of registration fees and "a couple little leotards" to get her into the sport. According to O'Keefe's mother, Tori, her little girl had already been following her cousin's example as he taught her a few things following his own gymnastic classes.
The gift was an opportunity for Maile to try out the sport in a more professional setting than a backyard or in the family's living room.
"It started off very innocently once a week," her mother said. "It was an hour — it was a split between ballet and gymnastics — and it evolved from there pretty quickly."
By 5 years old, Maile had already progressed at a fast pace and her coaches, Tammy and Sorin Salcianu, saw "great talent" in her, according to her mother. She was ready for competition but was not allowed to compete until she was 6 years old.
"So we paid our dues and she exhibitioned at a couple meets, and then she got invited up with two other girls to work out with the older girls — the upper levels — which expanded her hours from two hours six days a week to four hours six days a week," Tori O'Keefe said.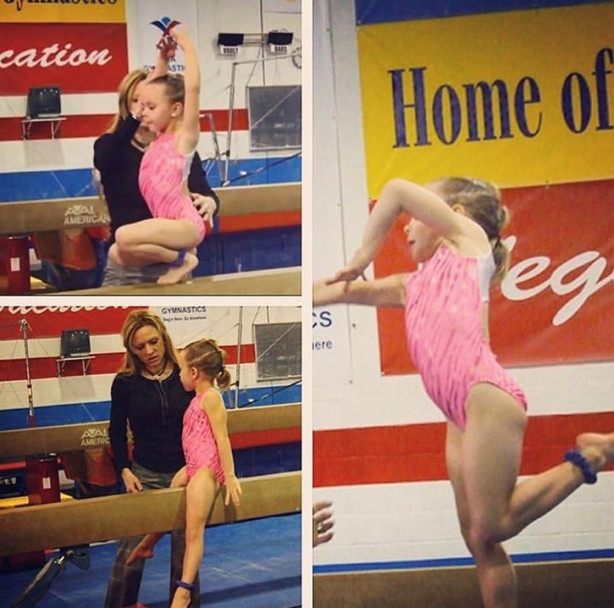 From there, Maile's investment in the sport and talent only grew. At one point, around the time she was 8 years old, she decided to opt for homeschooling so she could split duties in the gym with that of her school work. She did that until she was in seventh grade and then switched to a charter school when her schedule interfered with an attempt to try public school.
"It wasn't as bad as I expected it to be," Maile said. "I was kinda like, at the beginning when I was little, I was like, 'Oh yeah, home school, let's go, more gymnastics — super excited.' Then I got older and I was like, 'Oh man, I feel like I'm missing out on like, you know, the social aspect or whatever.' So that's what I tried to do the public school thing, and then my charter school is a really nice mix of both."
She eventually became one of the best gymnasts to represent the United States and was a three-year member of the USA National Team from 2016-18 and a member of the Senior National Team in 2018.
"It's probably a good thing that we were naive to what it would entail," Tori O'Keefe said. "But she was happy, she was thriving, she was doing well in her school, because once they started homeschooling, she was working out about 36 hours a week and basically lived at the gym."
Maile's talent took her all around the world — including competitions in Canada, Italy and Japan — and she won a few awards along the way, such as being a two-time P&G national all-around champion in the junior division. She was the first-ever University of Utah signee with that type of accomplishment.
With her talent, the dream was to be one of the select few athletes to earn a spot to compete in the Summer Olympic Games.
"For a long time I had this thought in my mind: I was just gonna go to the Olympics, do great, get a bunch of sponsorships, live off of that. But then you get older and you kind of learn more, and then it kind of came like a weighing thing," Maile said. "But then as I got even older, I realized maybe this isn't my path."
It's at that point where Maile decided collegiate gymnastics was her destination, and the University of Utah would be her new home after weighing approximately 14 schools that wanted her to be a part of their program. Her mother helped her narrow it down to five schools, and from those, it was an easy choice to pick Utah.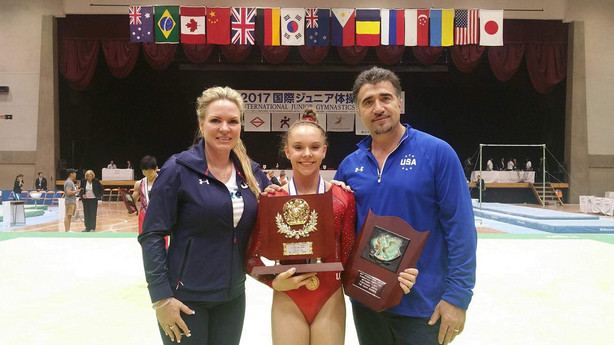 But her time in college would start earlier than most. Utah head coach Tom Farden approached Maile midway through her junior year of high school and asked if she could join the Red Rocks a year early at 17 years old.
Maile had all the necessary credits to come to Utah but not all the requirements to graduate in the state of Nevada a year early.
"It was January and I hadn't started my spring semester of junior year yet," Maile said. "So I talked to my counselor at my high school and was like, 'Hey, I need to finish a whole year's worth of math and a whole year's worth of English in a semester, can I do that?'"
The school told her she'd have "a giant class load," but if she could handle it, the potential to graduate a year early was possible.
"I was really excited at that point, honestly," she said. "I was like, I mean, all aboard. My mom was a little sad, you know she's losing her baby like a year earlier than she expected to. But I was all on board. Whatever it took to be here a year early I was gonna do."
"She took 10 classes her last semester," Tori O'Keefe said. "So she had three math classes, she had three English classes, she had her U.S. government, she had physics, she had psychology — she had a full plate. She pulled it off. I mean, she wanted it and she wanted it bad enough that she was willing to do that work, and she was ready to go."
Embracing collegiate gymnastics
As one of the youngest athletes at the university, it would be easy to expect Maile to take a while to make an impact on a team that already competes at a high level and has been to nationals every year since the program began. Collegiate gymnastics is a different world than Elite training, and many of the gymnasts were already at the top of their game.
But none of that mattered to Maile, who instantly had an impact during the 2020 season in which Utah went 11-0 and was on pace to go far at nationals before the COVID-19 pandemic shut down all athletic activities for the season. As a freshman, Maile was named to the All-Pac-12 first team on beam and was a second team All-American on beam.
She won five events and was a starter on bars and beam in all nine meets, and a starter on floor in seven meets. The freshman didn't seem to care that she was one of the youngest out there. But that didn't mean it wasn't a difficult transition period from spending a life of gymnastics competing as an individual to competing as a team in NCAA competition.
"Last year was like a little weird," Maile said. "People expected a lot out of me — like self-pressure and outside pressure. I didn't really thrive at the beginning of last year, and then I found my bearing and found where I belonged on the team.
"I feel like, at that time of my life, this was definitely the right decision for me," she added. "Coming to college was a nice change of pace and I feel like I learned a lot about myself. Coming a year early was hard, but I definitely feel like it's a good thing for me."
Now as a sophomore, just days before she turns 19, Maile is one of the most confident athletes on the floor. As she competes in all four events, she's composed, confident and a leader on the floor, but she's only just tapped into her potential even though she's currently ranked No. 3 in the country on beam and No. 9 in the all-around.
"She looks a lot more confident and trusts in her gymnastics. She's a gorgeous gymnast," fellow Utah gymnast Abby Paulson said. "She has fully embraced that role that her beam is just mesmerizing, and I think she took it all in this year and is just ready to kill it every single week."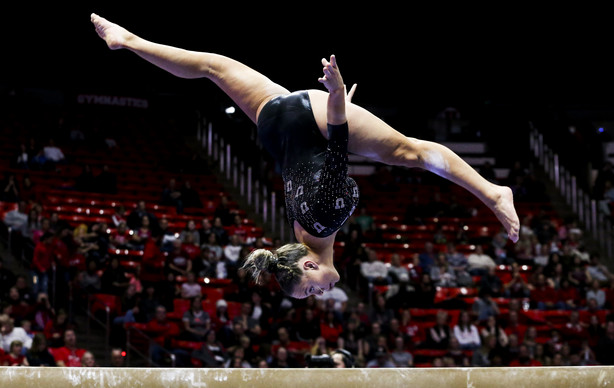 Maile recorded her first perfect 10.0 on beam against Washington at the end of January but she continues to make improvements in all her events. She's the first to say there's never a point when you're perfect in gymnastics, that there's always room to grow. Some weeks are just harder to be at the top of your game, but that's what keeps a gymnast like Maile going — to continually get better as an individual while helping the team accomplish its goal of a Pac-12 title and a deep run at nationals.
"Everybody grows, and the more time you spend in the system the more you understand it. I mean, the Utah system is different than clubs systems. We get a fair amount of athletes from the elite system, and so it's different. In the NCAA the goals are different," Farden said. "She was kind of thrown into it last year. I think she's got a better grasp on the rigors of college in terms of academia; but then also, you know, how our system operates and a better understanding of our teammates. So all the familiarity that was able to be learned that first year is helping her succeed this year."
As for Maile's mother, she's noticed a difference in her daughter, too: "I've watched her get more confidence. She's become an even better communicator, because I encouraged that when she was with Tammy and Sorin, to be able to talk to Tom, or Carly (Dockendorf) or Courtney (Griffeth) or Garrett (Griffeth), and express herself. So for us, it's been fun because we know that she's having a great time."
The future is bright for one of Utah's best all-around athletes, and it's up to Maile as to what her future holds.
"Maile can do whatever she wants," Farden said. "At one time she was one of the most talented — won the elite nationals two years in a row, back-to-back championships, and, you know, obviously was hanging; won the Japan cup and was in the American cup, and so all these big international meets all over the world. Her ceiling is limitless. She can kind of do what she wants, and it's her ... her uniqueness to her gymnastics is her artistry, her precision and her consistency."
And though her collegiate life is everything to her now, the likelihood for an Olympic dream is still technically on the table, and still a little thought in the back of her mind.
"It's definitely something I worked a long time for, and part of me feels like there's just a little bit of something like missing," Maile said. "So it's definitely like still a thought, but I think with time it'll tell that's actually something or not.
"A bunch of the Olympians just seem to be younger," she added. "But I feel like, especially Aly Raisman, she proved that your comeback can be even better than what you were before. So I feel like kind of the times are changing, you know, like people are going to become older. And with more science coming out, realizing that you don't have to push your athletes at like 11 years old, I feel like that's gonna make a big difference, too."
For now, Maile remains a consistent and stable force for a Red Rocks team on the verge of claiming another Pac-12 championship and deep run at nationals.
×