Estimated read time: 5-6 minutes
This archived news story is available only for your personal, non-commercial use. Information in the story may be outdated or superseded by additional information. Reading or replaying the story in its archived form does not constitute a republication of the story.
UTAH COUNTY — Sisters share many things through the years, but one pair of Utah County women never could have guessed that they'd be delivering their babies on the same day in the very same hospital.
On May 28 of last year, Paige Smith of Eagle Mountain woke up, took a pregnancy test and learned she was going to have a baby. Little did she know that just a few miles away in Lehi, her sister Brooke Trowbridge was doing the exact same thing.
With a trip to Lake Powell coming up in a few weeks, Smith knew her family would notice something was up if she opted out of the regular activities. So she and her husband decided to share the news with her sister first, using Trowbridge's 2-year-old daughter, Gracie, as the messenger.
Trowbridge was, understandably, shocked.
"I just kind of double took and was shaking because I could not even believe that she was there telling me on the same day that I had taken a test," she said. "I was freaking out, thinking to myself, 'How am I going to tell my husband now?' They're literally standing in our living room telling us they're pregnant and my husband has no idea that I'm pregnant as well."
So Trowbridge ran to her bedroom, threw the positive pregnancy test in a bag and handed it to her husband, Mitch.
"He opened up the test and we all just were freaking out," she said. "What are the odds that we are both pregnant? It was crazy."
---
We were just shocked that not only did we find out we were pregnant the same day, we took tests the same day and we were now due the same exact day.
–Brooke Trowbridge, new mom
---
Once the initial frenzy calmed down, the sisters began to process the unique reality of their situation.
"We looked up our dates and realized that we would have to be within a week or less apart," Smith said.
The sisters' first visit with their doctor brought even more exciting news: two babies, one due date — Feb. 2.
"We were just shocked that not only did we find out we were pregnant the same day, we took tests the same day and we were now due the same exact day," Trowbridge said.
At that point, the sisters decided to commit. They scheduled their appointments back to back, learned the babies' genders together (a boy for Smith and a girl for Trowbridge), and accompanied one another to multiple ultrasounds.
They even decided to schedule their inductions for the same date — Jan 28, 2021 — to try to up the odds of giving birth together.
"We were like, 'Let's just take this to the very end, you know?'" said Trowbridge.
But the road to "twin cousins" wasn't a completely smooth one. Trowbridge was in the hospital twice for preterm labor several weeks before the induction date. Smith said she kept encouraging her sister to do all she could to hold out.
"Go take a shower, lay down, take a bath, cross your legs!" she joked.
Miraculously, Trowbridge managed to stay pregnant. But when Smith went into Mountain Point Medical Center the night before the planned birthdate to start what was supposed to be a "slow and chill" induction process, she found herself in active labor within an hour.
"Brooke was like, 'Oh my gosh, are you going to make it? Are you about to ruin this for us?'" Smith laughed.
It would appear the babies really wanted to share a birthday because by the time Trowbridge arrived at the hospital at 6:30 a.m. on Jan. 28, Smith's little boy was ready to make his grand entrance.
Trowbridge got herself checked in, changed into her hospital gown, and rushed to her sister's bedside to witness the birth of her new nephew, Greyson.
"I went in there right when I got there and I encouraged her through some of her pushes," she said. "I was able to be there right by her side."
Trowbridge, a photographer, was even able to snap a few photos of Greyson's birth for her sister. Just seven hours later, she was able to welcome her daughter Remi into the world.
"It was super cool to be able to be there for my sister and then go and start my journey to meet my daughter," she said.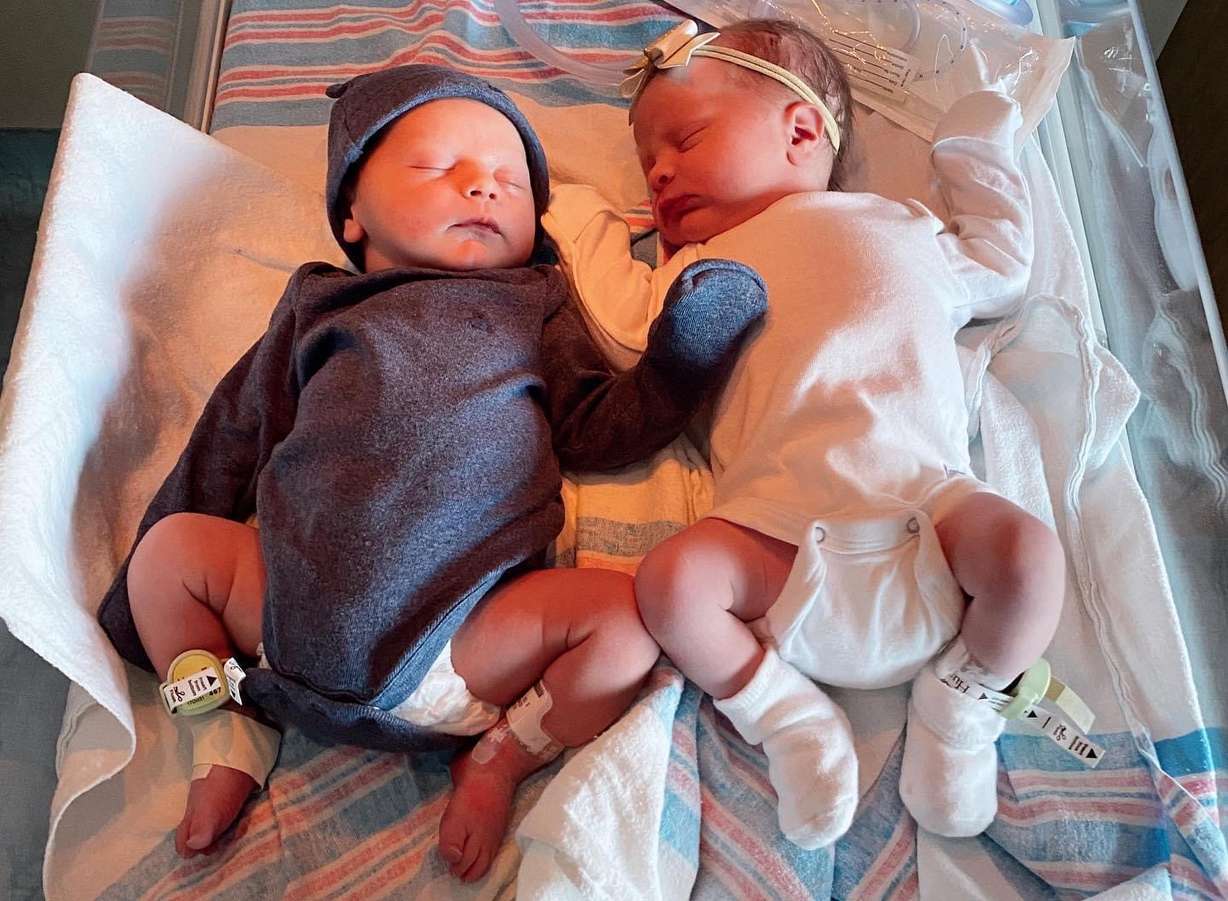 Greyson and Remi didn't have to wait long to meet — the nurses let their moms lay them side by side in a hospital warming bed when they were just hours old.
"All you want is healthy babies, and you just hope that everything goes great for each other," Trowbridge said. "So just to be sitting in our hospital room, and to see our babies side by side in the warmer and just to think of the journey that brought them together, it was the perfect ending."
Smith said she feels like this experience was far from just a happy coincidence.
"It's a complete miracle," she said. "We have a lot of family that has passed recently that we just know sent them (these babies) to us. It was so special for our family because it is like one in a million. So, we know that they planned this. We always joke about it, like, we had no idea but the cousins planned this."
The sisters said the journey of bringing their babies into the world together is something that brought them closer than they ever knew was possible.
"Being able to just hold each other's babies and just know that we went through so much together, it's just something that you literally can't plan," Trowbridge said. "I definitely feel like this is a journey that we were supposed to take together, and now we get to share our babies with each other."
The sisters created an Instagram page where they will be sharing photos and videos of the cousins' first year of life and beyond.
"We're so excited to be able to document their little life together as best friends," Trowbridge said. "Paige always says, 'They're twins from different moms, which is best on both of us.'"
---
×
Photos
Most recent Family stories