Estimated read time: 7-8 minutes
This archived news story is available only for your personal, non-commercial use. Information in the story may be outdated or superseded by additional information. Reading or replaying the story in its archived form does not constitute a republication of the story.
SALT LAKE CITY — Utah has signed a contract for COVID-19 vaccination distribution with Nomi Health, an Orem-based health care company behind taxpayer-funded coronavirus testing that state auditors found initially had a much higher price tag than expected.
"They had some bumps, for sure, and some hard knocks that they'd been through because of trying to do it so fast and be so responsive. So I think everyone acknowledges that there were some hiccups along the way," Utah Department of Health Interim Executive Director Rich Saunders said.
But Saunders said he's "had a lot of interaction" over the months with the company that continues to be behind the state's "Test Utah" program under a new contract, and is confident in Nomi's ability to "be agile and responsive to what we need them to do" —especially vaccinating large numbers of Utahns quickly and safely.
Josh Walker, Nomi's co-founder and chief operating officer, said, "We are very dedicated to being good stewards of public dollars and public programs. We are Utahns ourselves and we're very interested in making sure that we are being very effective there. We are also applying all the learnings we have had."
The contract awarded Jan. 26 allows the state, Utah's 13 local health departments and other public entities to use Nomi Health to set up and run vaccination sites for a monthly price of $90,000 or $125,000, depending on capacity, plus an average of $22.67 for administering each shot. A vaccination van is available for $75,000 a month.
When that happens has yet to be determined, Saunders said, adding it could be as early as this week "or it could be as late as we never use them." He said the contract is intended to help augment local health department vaccination programs as the state's weekly allotment of doses increases.
Walker, however, said the company is already in "late-stage" conversations with two Utah health agencies he declined to name about providing services. One is looking for "immediate support," he said, and the other, for help once the state's vaccine supply increases.
Utah Gov. Spencer Cox announced last week that allotments may triple to around 100,000 doses a week in March and April, thanks to the Biden administration's purchase of 200 million additional doses of the currently approved Pfizer and Moderna vaccines as well as the anticipated authorization of new vaccines for distribution.
From last Thursday:
Already, Utah is set to receive about 7,000 additional first doses a week over the next six weeks or so, up from around 33,000, the governor said on KSL Newsradio's "Live Mic" Monday. Once the new Johnson & Johnson vaccine is approved, that should climb beyond 70,000, he said.
When a fourth vaccine is added to the list, likely hitting 100,000 doses a week, Cox said help will be needed.
"That's what we're working on now. In fact, last week we started this conversation of now that we know that we have, the potential for that kind of increase, who are the partners that we need to bring on? We can't do that with local health districts on their own. They're close to maxing out," the governor said.
As the state's current distribution capacity is reached, that's when Utahns will see "local pharmacists, the grocery stores, clinics, all of those. And then mass vaccination sites, the stadiums and others, so we can just move as many people through as quickly as possible," Cox said, without mentioning the Nomi contract.
Saunders said, "In the end we may just use the existing infrastructure," which includes West Valley City-based Community Nursing Services, already vaccinating some teachers and school staffs, and pharmacies including CVS and Walgreens, administering doses in long-term care facilities.
Assistance in providing at least 1,000 shots a day at mass vaccination sites — Vivint Smart Home Arena has been mentioned as a potential location — could come from Intermountain Healthcare or University of Utah Health, state health department spokesman Tom Hudachko said.
Shots became available in Utah in mid-December for front-line hospital health care workers and eligibility has since expanded to all health care workers, emergency services personnel, first responders, long-term care facility residents and staff, teachers and school staff and, most recently, all Utahns 70 or older.
Once older Utahns were added to the list, local health districts have had difficulty keeping up with the demand. In Salt Lake County, servers and phone banks crashed at the start of the sign-ups earlier this month, and all available appointments were almost immediately booked through the coming weeks.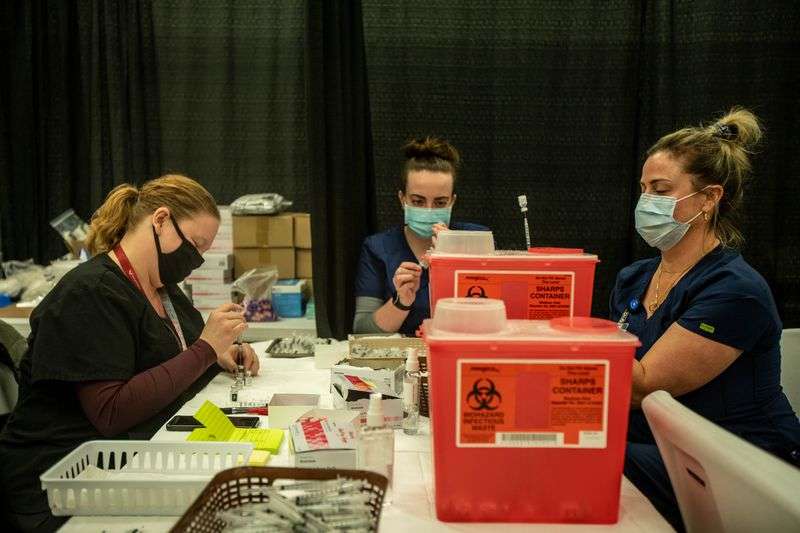 Saunders said the health department is also working with another, existing state contractor to create a new online platform that will make it easier for Utahns to make vaccination appointments that would be operated by the state but available to local health departments.
Nomi is offering specialized technology, including software and server capacity, Walker said, that can handle making online appointments during demand peaks that he compared to a post-Thanksgiving "Black Friday," along with a call center staffed by nearly 1,000 nurses for those who need additional help or don't use computers.
The company's contract with the state is for five years. Walker said whether Utah will need Nomi's vaccination services that long is "anybody's guess. We hope not ... although COVID will now be part of our lives sort of forever."
The state's initial multimillion-dollar contract with Nomi for the private testing initiative known as Test Utah that continues today was part of an audit of the $108 million spent by the state in response to the pandemic released in September by Utah Auditor John Dougall.
The audit concluded that while the company's per-test costs were "reasonable," the "actual per-test costs were unreasonable." The state's original 60-day, $7.6 million contract with Nomi, anticipated up to 3,000 COVID-19 tests a day, which would have cost about $44 each.
But because "the actual tests processed per day was substantially lower than projected, resulting in a cost per test of over $235," the audit said, pointing out the price turned out to be "significantly higher than other established testing services, which list their price at $125 or less per test."
Dougall said Monday he has not reviewed Nomi's current contract for coronavirus testing or the company's new contract for vaccinations. Neither are slated for review, he said, because his office is focused on a new audit for the federal government of the coronavirus relief funds sent to the state.
He said the issue with the original Test Utah contract was that the state overestimated how many Utahns would get tested at a time of "uncertainty" about the process. With vaccines, Dougall said, there is more demand than doses, so if there are people hired to administer vaccines "sitting around idle," that could be cause for concern.
---
It really comes to, how much are we paying and for what are we paying.
–John Dougall, Utah Auditor
---
"It really comes to, how much are we paying and for what are we paying. That could be good, appropriate, reasonable. I just don't know the details of the latest contract," the auditor said. "At the end of the day it really depends on, here's the performance."
Chris Hughes, state purchasing division director, said only one other company, Florida-based Red Tag-19, participated in the bidding process but was excluded based on responses during the technical evaluation before reaching the cost phase.
Hughes said Nomi was "flagged" over the publicity from last year's audit, but no one suggested rejecting the bid.
Dr. Lata Shintre, the head of Red Tag-19, a COVID-19 staffing and management company, said she didn't know enough about Nomi to comment on the state's choice. But she said states should be hiring medical professionals to oversee vaccinations, because "we are not going to be the cheapest bid but we are going to be the safest."
Nomi and other Utah tech companies initially volunteered to help the state deal with the virus outbreak, a stance that shifted as the scope and the scale of the crisis escalated. Asked Monday if Nomi would make money from vaccine distribution, Walker said, "Yes, we are a for-profit organization."
×
Related links
Related stories
Most recent Utah stories