SALT LAKE CITY — For a while after the whistle blew on Utah Valley's tipoff against St. John's, the visitors harbored plenty of intentions of a road upset.
The Wolverines did plenty right in their first meeting against a Big East foe since 2007: Fardaws Aimaq was a beast on the glass, Trey Woodbury was the crafty scorer he's become, and Evan Cole and J.J. Overton fulfilled their offensive roles well.
And then the Johnnies took it all away — literally, even.
Posh Alexander had 20 points and three steals, and St. John's forced 15 turnovers to pull away from visiting Utah Valley, 96-78, Saturday afternoon in Carnesecca Arena in Queens, N.Y.
Woodbury scored a game-high 23 points to go along with five rebounds and three assists and Overton added 18 points, three rebounds and three assists for the Wolverines in their second-ever game against a Big East opponent and one that wasn't on the schedule until Wednesday morning.
Aimaq added 10 points and a game-high 13 rebounds for UVU (5-6), and Cole supplied 17 points and five rebounds for a Wolverine squad that outrebounded the Red Storm, 34-30.
Cole gives UVU the lead off the drive down the lane!#GoUVU#UVUMBB#WACHoopspic.twitter.com/FAuCwijJQk

— UVU Men's Basketball (@UVUmbb) January 23, 2021
St. John's (9-7) forced 13 steals, including three players with multiple takeaways in Alexander, Rasheem Dunn (11 points, 6 rebounds, 4 assists, 2 steals) and Josh Roberts (4 points, 7 rebounds, 2 seals, 4 blocks) as St. John's scored 25 points off turnovers to just 4 for the Wolverines.
"We have to improve in that category," UVU coach Mark Madsen said after the game. "We have to be stronger with the ball. St. John's has some tough athletes, quick and tenacious. But we can't allow that many turnovers, or allow a team to create that many steals.
"That's what St. John's does. That's what everybody knows they are going to do, and it's what hurt us tonight."
The Wolverines jumped out to a 12-6 lead in the first seven minutes before their Big East counterpart rallied to regain the advantage.
But Madsen's team refused to go away. Overton, who leads the Western Athletic Conference in scoring at 18.9 points per game, tied the game a 21-all and Jordan Brinson gave the Wolverines a brief 23-21 lead with 8:18 left in the half.
UVU shot 60.9% from the field and outrebounded St. John's 17-12 in the first half. But the Johnnies forced 13 first-half turnovers and used a 10-0 run late in the half to take a 45-34 advantage at the break.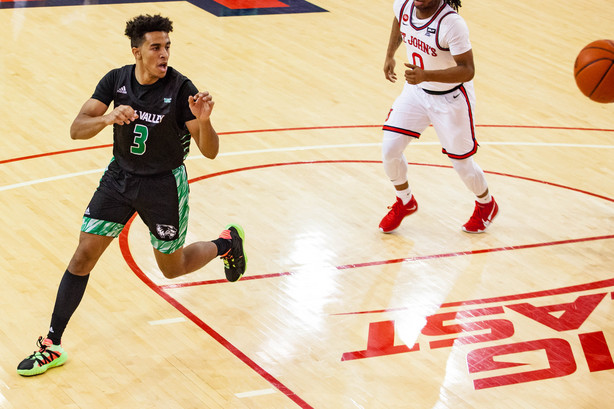 "We played pretty sound for the first 12-15 minutes of the game," Madsen said. "But they hit us in the mouth with the run, it some big shots, and we weren't able to compete in the second half."
The Wolverines could never get any closer as the Red Storm continued to press defensively and shot 61% from the field for most of the second half to pull away by as much as 23.
While the Wolverines ran offense through Cole in the first half, St. John's kept the Georgia Tech graduate transfer in check after the break. The 6-10, 230-pound post was held to just 3 points in the second half as Woodbury and Overton took the reins of the offense.
Utah Valley will return to WAC play — where the Wolverines are 3-0 — hosting a two-game series next Friday and Saturday with league newcomers Tarleton State. Tipoff is scheduled for 6 p.m. MT both nights on the WAC Digital Network.
×
Photos
Related Stories