Estimated read time: 4-5 minutes
This archived news story is available only for your personal, non-commercial use. Information in the story may be outdated or superseded by additional information. Reading or replaying the story in its archived form does not constitute a republication of the story.
SALT LAKE CITY — The Pac-12 announced Wednesday night that it has "mutually agreed" to terminate the contract of conference commissioner Larry Scott.
Scott, who will officially step down as commissioner on June 30, will conclude an 11-year career with the Pac-12. In his time as commissioner, Scott helped expand from a 10-member conference to 12 with the introduction of Colorado and Utah amid a whirlwind of conference realignment in 2010-11. At the onset of the Pac-12, Scott also introduced a new conference TV network, the Pac-12 Networks, that is owned by each member institution.
The 56-year-old former professional tennis player was set to be commissioner through 2022, but the conference's executive committee decided to terminate the contract ahead of a potentially lucrative long-term media rights deal that will be renegotiated soon. The conference's media rights expire in the 2023-24 season.
The conference said in a statement that the decision was made to "allow a new commissioner to be in place to negotiate and maximize the conference's next important long-term media rights agreement."
"We appreciate Larry's pioneering efforts in growing the conference by adding new competitive university programs and accelerating the Pac-12 to television network parity with the other conferences," said Oregon President Michael Schill, who served as chair of the Pac-12 executive committee. "At one point, our television agreement was the most lucrative in the nation and the debut of the Pac-12 Network helped deliver our championship brand to U.S. and global markets on traditional and digital platforms.
"That said, the intercollegiate athletics marketplace doesn't remain static and now is a good time to bring in a new leader who will help us develop our go-forward strategy."
In July 2011, ahead of Utah's first season in the Pac-12, Scott officially welcomed Utah to the conference and was seen by many in the state as a beloved figure in Utah's move from the Mountain West Conference to a Power Five conference.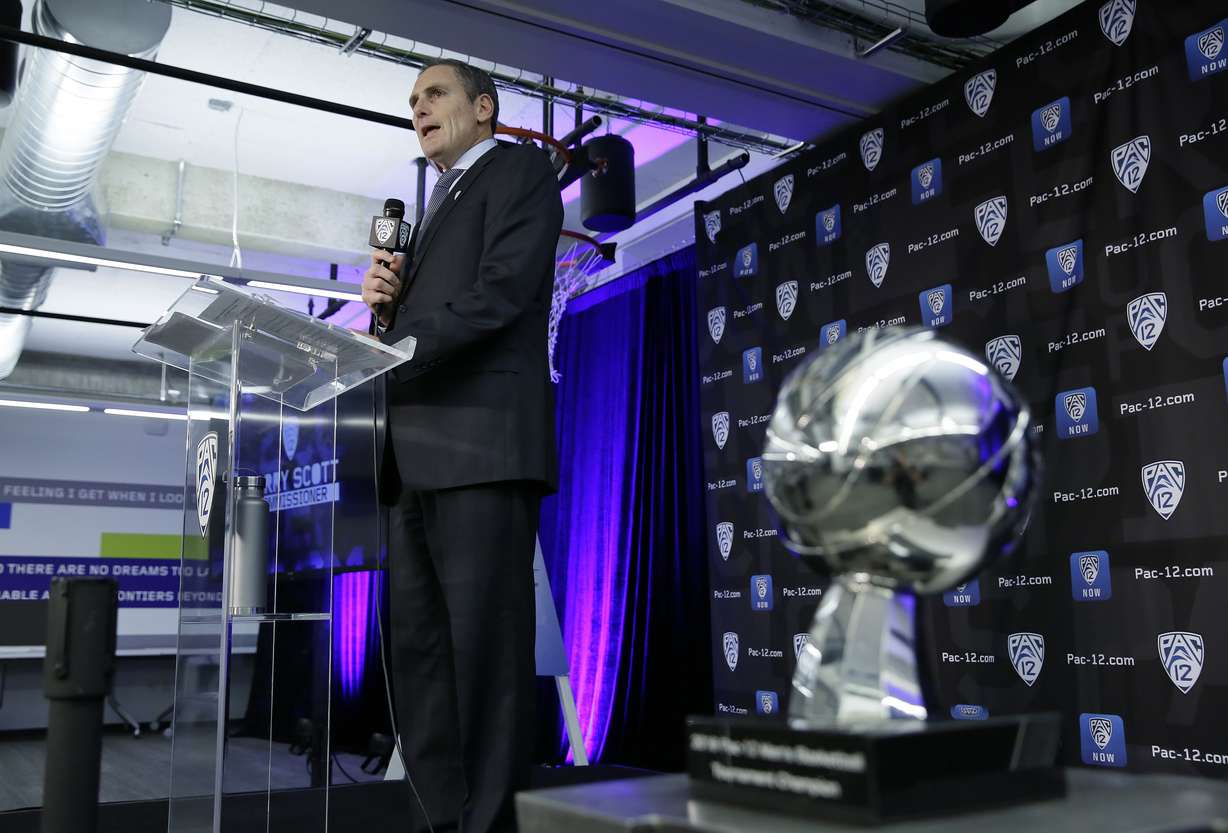 Scott came to the Pac-12 in 2009 with no experience as a college sports administrator after two decades working in professional tennis, including a stint as the chairman and CEO of the Women's Tennis Association. He replaced Tom Hansen in 2009.
Scott's tenure, particularly in his last years with the conference, was marred in controversy. Although Scott created a TV network that broadcast many of the conference's sporting events before laying off a majority of its staff in 2020 due to COVID-19, the conference failed to secure wide distribution, most notably on DirecTV — a common knock against his tenure that followed him to the end. The Pac-12 chose not to partner with an existing cable network the way the Big Ten did with Fox and the SEC later did with ESPN.
Scott hoped that with the conference having full ownership of the network, it would eventually position the schools to cash in big on a changing media landscape, less dependent on traditional TV networks.
That never panned out. While Pac-12 revenues have steadily risen in recent years — the conference distributed more than $32 million per school after the 2018-19 academic year — its members still lag behind the Big Ten ($55 million per school) and SEC ($45 million per school).
Scott has also been criticized for moving the Pac-12 offices out of Walnut Creek, California, to San Francisco, which drove up operating costs. He is currently the highest-paid conference commissioner at $5.4 million for 2019-20, according to USA Today. The conference, and most notably Scott, were criticized for their lavish spending, executive bonuses and for controversies surrounding in-game decisions with referees and those who could influence those decisions.
"I was in pro sports for 20 years, I've now been in college athletics for more than 10 years, and now is a great time in my life to pursue other exciting opportunities," Scott said in a statement. "This moment, when college athletics are moving in a new direction and with the conference soon commencing the next round of media negotiations, it seems the right time to make a change.
"It is important that the conference be able to put in place the person who will negotiate and carry out that next agreement. Based on the recent robust valuation and marketplace interest we've received from traditional and nontraditional media organizations, I am confident the conference is well-positioned for continued success. I appreciate the support of the Pac-12 member institutions and a very talented staff, with whom it has been my privilege to work."
Pac-12 Day
Scott made an estimated $40 million in his 11 years with the conference and will reportedly receive his full contract through 2022, according to the San Jose Mercury News' Jon Wilner.
The conference's executive committee, which includes Schill; Kirk Schulz, Washington State University president; and Ana Mari Cauce, University of Washington president, will "immediately commence a national search" for Scott's replacement.
Pete Thamel of Yahoo Sports tweeted shortly after the news broke that the "early read" to replace Scott is someone that needs to have "direct college experience, media experience and a relationship builder." He added that Oliver Luck, Bernard Muir, Gloria Nevarez, Burke Magnus, Dan Radakovich and Gene Smith are potential early candidates.
Sports Business Journal's Michael Smith first reported the news Wednesday night.
Contributing: Ralph D. Russo, Associated Press
×
Related stories
Most recent Utah Utes stories