Estimated read time: 5-6 minutes
This archived news story is available only for your personal, non-commercial use. Information in the story may be outdated or superseded by additional information. Reading or replaying the story in its archived form does not constitute a republication of the story.
PROVO — Cancel your plans for the largest college football rivalry in the state on Sept. 3.
Utah's home opener against BYU is no more.
Just one day after the Big Ten made the same move, the Pac-12 made official what has been reported as possible for a while, canceling all nonconference games in football, men's and women's soccer and women's volleyball this fall.
"The health and safety of our student-athletes and all those connected to Pac-12 sports continues to be our number one priority," Pac-12 Commissioner Larry Scott said in a statement released Friday. "Our decisions have and will be guided by science and data, and based upon the trends and indicators over the past days, it has become clear that we need to provide ourselves with maximum flexibility to schedule, and to delay any movement to the next phase of return-to-play activities."
The move doesn't just affect BYU's game against Utah; the Cougars were also scheduled to face Arizona State on Sept. 13 in Tempe, Arizona, and end the season Nov. 28 at Stanford.
In addition to BYU, Utah's nonconference schedule included FCS foe Montana State and a trip to Wyoming.
"While we support the Pac-12 conference's decision today to only play conference games this fall in football, volleyball and soccer, we are disappointed for our student-athletes, coaches and fans," Utah athletic director Mark Harlan said in a prepared statement. "We know it is particularly difficult to miss the rivalry matchups with BYU in these sports, and we look forward to continuing those as soon as we are able.
"These are truly unprecedented times, and we are working diligently to determine appropriate solutions while prioritizing the health and safety of everyone involved. Our conference and university leadership has provided great support and direction, informed by leading health experts and data. We will work with our colleagues at each of the nonconference institutions impacted by today's decision to reschedule those contests, and we will provide more information about our schedules and our home events when they become available."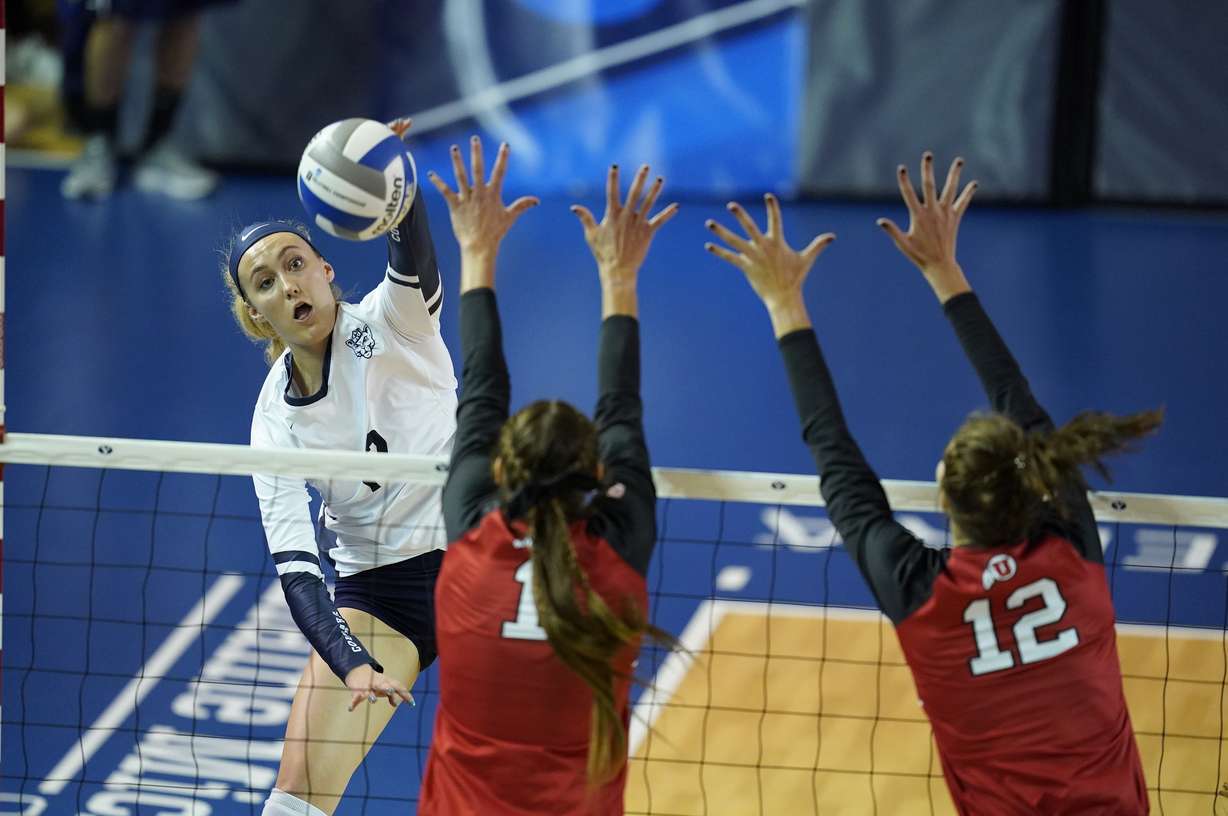 Utah State was originally scheduled to open the season Sept. 3 at home against Washington State. The Aggies also were to play at Washington on Sept. 19, just before the semiannual Latter-day Saint general conference weekend matchup at BYU.
The Pac-12 also gave athletes the option to not participate in fall sports — if they do play— while still retaining scholarships and academic standing at the university.
The conference classified its current strategy for fall sports as "developing," and said additional options could include a delayed start to the season. Additional details will be revealed by July 31.
After the announcement, the Pac-12 also said that Scott has tested positive for COVID-19.
"After experiencing mild flu-like symptoms late this week and out of an abundance of caution, Pac-12 commissioner Larry Scott was tested for COVID-19," a statement from the league office read. "The test for commissioner Scott came back positive, and as a result he is self-quarantining at the direction of his position. Commissioner Scott is continuing to carry on his duties remotely as normal."
With the decision, BYU's schedule loses three more opponents and is down to seven teams.
The Cougars, who have played as an FBS independent since 2011, currently have the following schedule:
Oct. 2 vs. Utah State
Oct. 10 vs. Missouri
Oct. 16 vs. Houston
Oct. 24 at Northern Illinois
Nov. 6 at Boise State
Nov. 14 vs. San Diego State
Nov. 21 vs. North Alabama
BYU's contest with the Aggies — the Cougars' other in-state rivalry game — remains safe (at least for now), according to a written statement from Mountain West commissioner Craig Thompson. The league has contracted three contracted games with BYU, which also has one game against the SEC (Missouri), one against the Mid-American Conference (Northern Illinois) and one against the American Athletic Conference (Houston).
"As has been the case since the onset of the pandemic, we are fully engaged with our membership and advisors on a nearly daily basis exploring the myriad of potential scenarios around returning to competition," Thompson said. "We were aware of this possibility and will continue to evaluate the appropriate decisions and the proper timing going forward.
"The safety, health, and wellness of our student-athletes, coaches, staff members and campuses remain our top priority."
BYU and Utah were also scheduled to meet in women's soccer and volleyball, as they do every fall. Those two dates, though they have yet to be announced, will obviously be shelved for the fall.
That's if schools play football — or any sports — at all.
The Ivy League announced Wednesday that it was suspending all fall competition until at least the end of the semester due to the novel coronavirus pandemic. Class will be in session — though for some schools like Harvard, it will be strictly online — but, for all intents and purposes, no teams will compete on Ivy League campuses for the rest of 2020.
Other conferences are expected to follow the same lead, largely because the Ivy League was the first to cancel its conference basketball tournament in March — a move that was heavily criticized for several days before other tournaments joined the move, including the NCAA men's and women's basketball tournament.
Non-Power Five schools are projected to collectively lose at least $110 million — possibly up to $150 million — in revenue from guaranteed payments by Power Five schools in a conference-only model, Dr. Patrick Rishe, director of the sports business program at Washington University in St. Louis, told the Associated Press.
"I expect every conference will at least move towards fewer games. ... and likely a conference-only model," Rishe said. "If you reduce beyond that, what's the point of conducting the sport in the fall? You'd be better off giving the spring a try and craft a conference-only spring schedule which can be contested in less time, less travel, etc."
From the moment Utah Jazz center Rudy Gobert tested positive for COVID-19 until the launch of the NWSL Challenge Cup in Utah, no major professional team sport was played in the United States.
College sports are still waiting for their formal restart
The wait may have gotten even longer.
×
Related links
Most recent Sports stories