Estimated read time: 14-15 minutes
This archived news story is available only for your personal, non-commercial use. Information in the story may be outdated or superseded by additional information. Reading or replaying the story in its archived form does not constitute a republication of the story.
SALT LAKE CITY — The COVID-19 pandemic disrupted years of economic growth during 2020; at the beginning of 2021, many industries have recovered while others are left struggling to stay afloat.
With COVID-19 being an issue 10 months later and a massive leadership change in Washington, D.C., on the horizon, economic leaders and experts say there are plenty of economic unknowns to begin the new year.
How the state moves forward from the unknowns dominated the discussions at the Salt Lake Chamber of Commerce and Kem C. Gardner Policy Institute's annual Economic Outlook & Public Policy Summit Tuesday.
The summit brought together various national, state and local leaders and economic experts to review the current state of the economy, what will be brought forward during the 2021 legislative session that begins next week, and what they expect might happen with the economy throughout the year.
All six of Utah's congressional representatives were slated to speak at the conference. All of them canceled in-person appearances to race back to the nation's capital to handle the fallout from last week's failed insurrection. Sen. Mitt Romney made a brief appearance via Zoom, while the state's four House representatives submitted pre-recorded messages.
Utah Gov. Spencer Cox, who revealed his budget plan Monday for the upcoming session, and Neil Bradley, executive vice president and chief policy officer for the U.S. Chamber of Commerce, were other notable speakers at the event.
A 'K-shaped' recovery
Since COVID-19 reached the U.S., some industries have completely recovered while others continue to suffer from economic downfalls. Economists call this a "K-shape."
Bradley explained that the U.S. has found itself in a K-shaped economic recovery, which is somewhere between the V-shaped recovery that was hoped for after the COVID-19 pandemic shutdowns ended and the U-shaped recovery that was feared because it means long-term stagnation.
"Some industries have bounced back and have recovered; in fact today, here, are a number of industries and businesses who are doing better than the path they were on pre-pandemic," he said, pointing to employment levels, profits and expansion opportunities.
"But as we know all too well, there are a lot of businesses that continue to struggle … particularly businesses that rely on getting people together," Bradley added, referring to restaurants, theaters and events businesses.
Natalie Gochnour, the associate dean for the David Eccles School of Business at the University of Utah, who was tasked to compile the Economic Report to the Governor, said these trends can be found in Utah.
For instance, construction employment (5.4%), financial activity (3.6%) and professional and business services (0.3%) all experienced job growth from 2019 to 2020. Industries like leisure and hospitality (-12.3%), mining (-7%) and information (-3%) all experienced noticeable declines in employment during the same time, according to data presented Tuesday.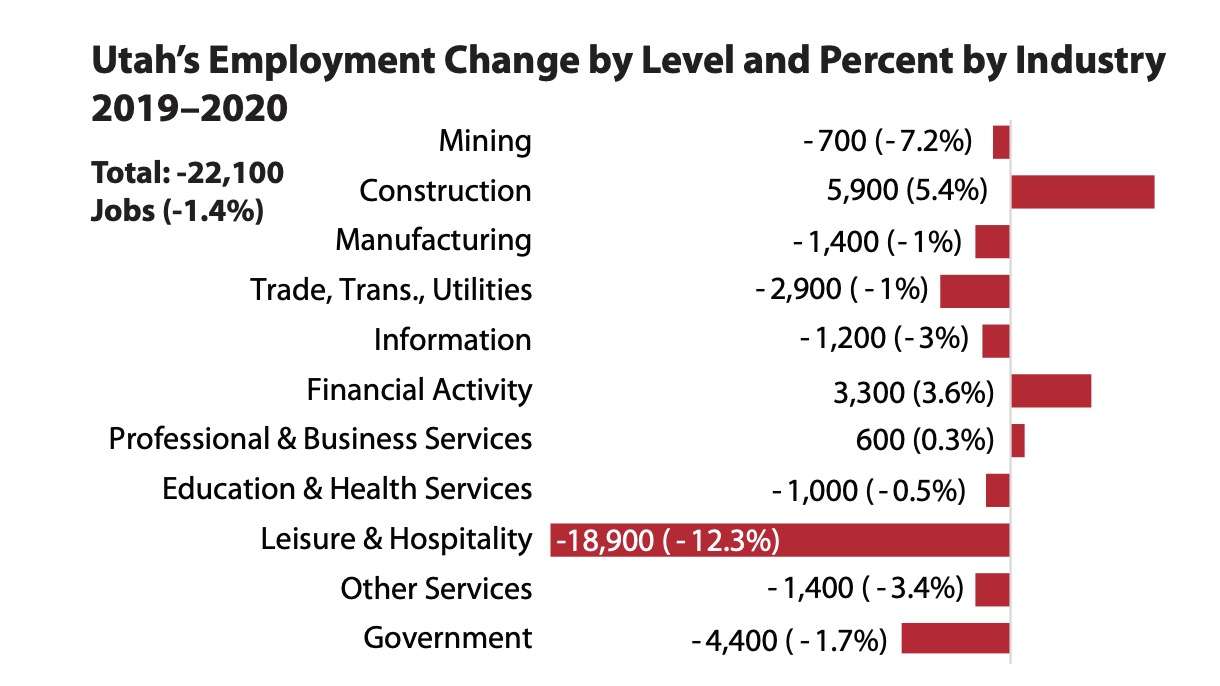 There are millions of jobs across the country that were lost and likely will never return, Bradley warned. At the same time, there were 6 million open jobs across "various industries," like health care and business services.
The focus, Bradley continued, is to train those who lost jobs to be retrained in industries hiring. That's something that takes time. That said, it's a focus that others who attended the conference, including the governor, echoed throughout the day.
Cox said that one of the top pre-pandemic business complaints in Utah is that expansion in some fields — especially skill positions — was hindered by a small talent pool. That was partly due to the state's low employment but also because not enough people were trained in the fields that are hiring.
"We've been in this mindset that education is the thing you do for the first 20-plus years of your life and then work is what you do after. That doesn't work in this new economy," Cox said. "Education and work have to come together at younger ages. This will help both the lives of the people here and it will help our businesses."
Again, 2020 wasn't all bad for business. Bradley said one lesser-reported positive is that there was an explosion of new businesses started during the year. New business formation grew over 40% nationwide throughout the year, according to Census Bureau statistics. It grew 22% in Utah.
2021 economic outlook? An unknown, but filled with optimism
The issues heading into 2020 seem completely different than they do now. As Bradley pointed out, the country was in the midst of one of its longest stretches of uninterrupted economic success in January 2020. That came to a crashing halt by March.
COVID-19's primary effect is that over 1,400 Utahns, over 370,000 Americans, and nearly 2 million people globally have died as a result of the coronavirus. Millions of others who survived have either dealt with or continue to deal with health issues tied to it.
But the COVID-19 pandemic's secondary effects were also devastating. Utah set records for unemployment claims at times in 2020. The state's unemployment rate spiked from 2.5% in January and February 2020 to 10.4% in April 2020.
Utah rebounded quicker than most states. Through November, Utah's rate was 4.1% while the nation's rate was 6.7% after December, according to Bureau of Labor Statistics data. The state also experienced the lowest job contraction between 2019 and 2020 at -1%. The national rate was -5.8%, according to the Gardner Policy Institute.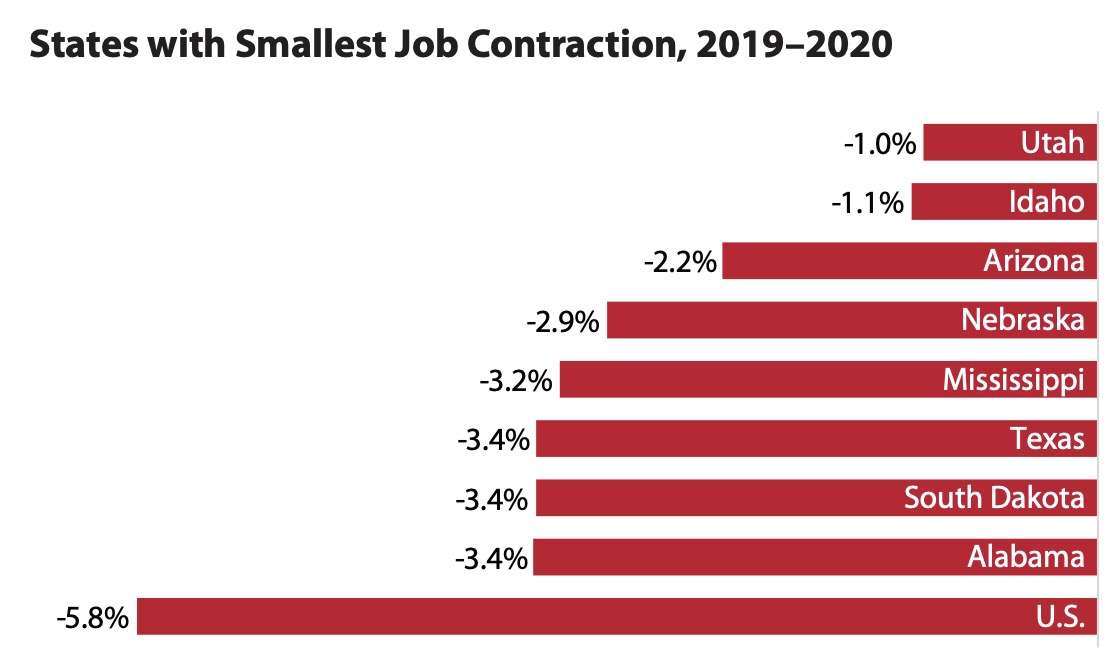 Economic advocates applauded the state's effort to reopen the economy and adjust to COVID-19 concerns throughout the year; on the other hand, critics argue the state jeopardized the health of Utahns to benefit the economy as the state remains near the top of the transmission rate in the country. A report this week even listed Utah fourth in new cases per capita.
Regardless of one's view on how COVID-19 was handled in 2020, the coronavirus and issues related to it appear to be key economic influences again in 2021.
In fact, COVID-19's continued impact on American businesses is why Romney said he believes it's difficult to project the economy in 2021. For instance, the COVID-19 vaccine will likely influence recovery; however, the timelines for most Americans to receive it has bounced around in the first month of the rollout.
"The most important thing that we can do for our economic recovery has very little to do with traditional economic principles. In fact, it has everything to do with combating the coronavirus," said Derek Miller, the president and CEO of the Salt Lake Chamber.
Cox said Tuesday that Utah will continue to receive 33,000 vaccine doses per week for the immediate future. He added that it could double by March if Johnson & Johnson and AstraZeneca's vaccines are approved by the federal government for emergency distribution. The faster people are vaccinated, the better for the economy, Romney asserted.
Then there's the upcoming change in the White House and U.S. Senate, which will shift from Republican to Democratic leadership. The two parties have offered different economic and COVID-19 priorities, but it's unclear what changes will be made and when they will be enacted. President-elect Joe Biden already released his plans for vaccine rollout expansion and has also supported more economic stimulus money, but there are also expectations for different business regulations and taxes that could factor in recovery.
"I guess if I were to characterize what I see for 2021 — it is a year of uncertainty," Romney said, adding that unknowns were the "worst kind of news" he experienced in his past as a businessman.
"At a time of uncertainty, I think some of the keys to success are, No. 1, attentiveness to watch for any signal as to what the direction might be going forward," he continued. "No. 2, a great deal of flexibility to be able to respond to different perspectives to the future. And then, No. 3, being able to exude a degree of confidence, a calm reassurance to one's team that we're going to weather the uncertainty."
Still, Utah's leaders believe the state is ahead of most of the economic impacts caused by COVID-19. Gochnour said Utah fared better economically than nearly any other state in the country during the pandemic.
There are indications that further recovery is on the horizon.
"We're now in a period where vaccines are being put in arms and we have a lot of pent-up demand in the travel industry and dining out," she said. "We have a lot of excess savings — that's an economic term to say 'how much would people normally saved and how much have they saved? We think that the nation had $1.3 trillion in excess savings as people who have uncertainty and risk have held that money and they will start to spend it in the mid-to-late part of 2021."
She added that there is a lot of inventory rebuilding happening and that federal stimulus packages — which may not be over — have played a "vital" role in recovery. Based on her calculations, there could be as much as $5.2 trillion in stimulus money that could be distributed from the start of the pandemic through mid-2021.
On top of that, the Paycheck Protection Program reopened Monday for U.S. businesses that suffered a 25% reduction in revenue in any of the 2020 quarters.
While the ensuing years will be filled with debates over debt, Gochnour argued stimulus packages set up 2021 to be a rebound year.
Other Utah leaders were equally optimistic about the year. Utah Senate President Stuart Adams said Utah's future "couldn't be brighter." During a panel discussion that Gochnour led, a few economy experts were asked to pick a word to describe how they view 2021. The panel selected words like "opportunity," "evolution," hope" and "rally."
"I think we're all hoping that 2021 will be our turning point," said Silvia Castro, executive director of the Suazo Business Center, pointing to the rollout of a COVID-19 vaccine that allows experts to begin to project a future beyond the pandemic.
What Biden's presidency might mean for the economy in 2021
Of course, COVID-19 isn't the only influence on the economy in 2021. Biden will be sworn in as the country's 46th president on Jan. 20, and his administration will replace one that rolled back many business regulations over the past four years in office.
Romney said he expects Biden will reverse several Trump executive orders and administrative decisions in his first 100 days, which may have more political impact than economic impact.
The quickest economic decision, he said, might be an additional stimulus payment. Both Trump and Biden agreed that a second economic stimulus should be $2,000 instead of the $600 that was paid out to Americans. The House of Representatives passed a bill to increase the amount but that bill was never voted on in the Senate.
It's very possible that Biden will attempt to push across a third stimulus payment. The incoming president called the $600 checks a "down payment" in a speech at the end of 2020. Romney said he expects that there will be a push for a third stimulus payment of $1,400, especially to those making $75,000 or less.
"That would be significantly stimulative," Romney said, adding that he believed it would still require 60 votes to pass in the Senate but some Senate Republicans have agreed with $2,000.
"Clearly, that would have an impact on the economy. But whether the economy needs it or not depends, again, on what's happening with COVID," he continued.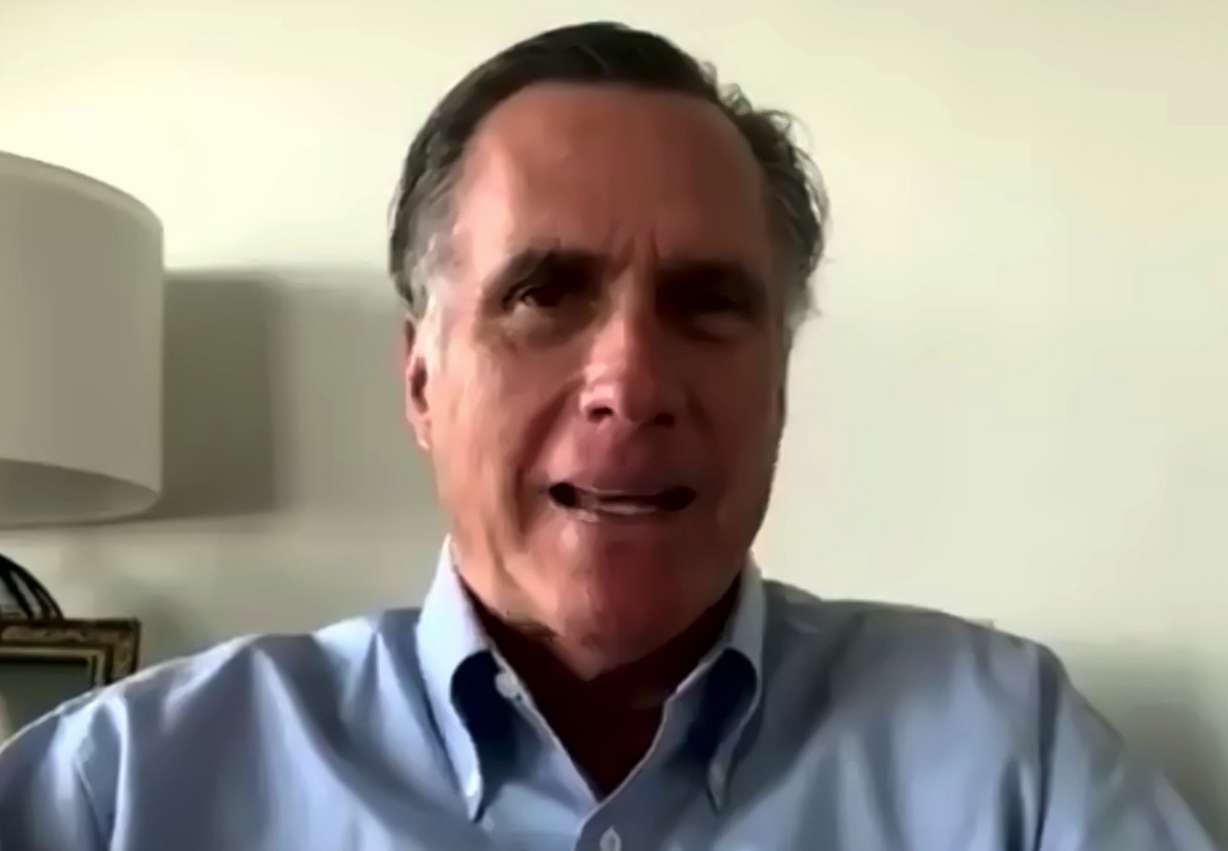 New Utah Congressman Blake Moore said during his pre-recorded message that he would work across the aisle for "targeted legislation" that would focus on people who need aid receiving it over those who don't. He and other Utah representatives said they planned to keep a close eye on how the Biden administration handles a growing federal deficit.
Romney said he also expected that Biden would overturn Trump's decisions to include categorizing gig workers as independent contractors and allow banks to lend to the oil and gas industry. He also anticipated for there to be a push for immigration reform, climate change amendments, and prescription drug price reductions during Biden's term. He added those pieces of legislation may require 60 votes to pass, so it's unclear if there would be enough votes to get through Congress.
That's on top of anticipated tax increases for corporations and high-income Americans.
Related:
As the nonprofit Tax Foundation pointed out, Biden's plan would increase the corporate tax rate to 28%. Trump slashed the rate from 35% to 21% during his presidency. Since the Democratic Party now has a majority in the Senate, Romney said Biden would be able to push across his tax proposal.
All of these changes, Romney explained, likely wouldn't happen on day one. "I would expect that to occur — perhaps not immediately — but by the end of the year," he said, referring to taxes specifically.
Trump was lauded by many in the economic industry for his pro-business approach. Tariffs might be the biggest issue economic experts didn't agree with Trump on during his tenure in the Oval Office. Bradley said he's hopeful Biden will work to reverse decisions Trump made throughout his presidency following trade disputes with China. Traditional trade allies like Canada, Mexico and the European Union wound up with higher tariffs, too.
"The tariffs we've seen over the last several years had significant damage to the economy, holding back economic growth has been really punishing for, in many cases, American manufacturers," Bradley said. "We're hoping to set the reset button on many of those tariffs — particularly when we talk tariffs with U.S. allies."
He added that Trump was right to challenge China in trading, but that the U.S. should instead work with allies to pressure China on its "ill-practices." Bradley also said that 2021 "could surprise people" as a productive year for the economy.
What's proposed locally in 2021
Tuesday's summit wasn't just about the state of Utah's economy or a discussion about how a new presidential administration will change the economic landscape; it also provided local leaders an opportunity to showcase issues they will push for during the 2021 legislative session.
The Salt Lake Chamber released its 40-page 2021 legislative priorities report Tuesday. Miller briefly went over highlights from the report during the event. The goal, he said, is that Utah's economy emerges from the pandemic "as strong as possible."
It's why the organization pushes for short-term solutions to move past the pandemic and long-term goals for the other issues that continue to impact Utah. The pandemic doesn't change the growing population, rising home prices, traffic congestion, or air quality that continued in 2020. In fact, housing prices even went up in the Wasatch Front during the year.
Some of the measures were brought up during Cox's budget proposal Monday and throughout Tuesday's summit. Those include the short-term goal to retrain unemployed workers and students to join workforces in industries suffering from workforce shortages, and improving partnerships between employers and K-12 and higher education systems to train students in fields suffering workforce shortages.
Other long-term items include:
Ongoing funding for the "Build to Success" program that helps high school students find opportunities in the construction industry
Improving access to STEM education
Employer-led policies to remove discriminatory hiring and employment practices
Immigration laws that comply with the Utah Compact and promote education availability and expertise in the workforce
Continued development of "key" energy infrastructure, including electricity transmission
Data-driven and employer-led policies to close gender wage gaps
Support public and private partnerships to address affordable housing issues
Policies that encourage "best practices" for mental health issues and suicide prevention in the workforce
Policies to create more telework practices to reduce commute times and improve air quality
Policies that protect Utah's supply chain and transportation methods to "ensure Utah's businesses have access to needed supplies, products and personal protective equipment."
Family and personal leave policies that provide employers and employees with "flexibility in addressing the beads if family and life outside of the workplace."
Policies that address costs, access and quality of child care options for Utah families in the workforce
Policies that "encourage innovation" regarding transportation methods and access
The full document can be found online here.
×
Related stories