Estimated read time: 7-8 minutes
This archived news story is available only for your personal, non-commercial use. Information in the story may be outdated or superseded by additional information. Reading or replaying the story in its archived form does not constitute a republication of the story.
PROVO — The more things change, the more they stay the same.
When new BYU offensive coordinator Aaron Roderick met with local media Tuesday for the first time since he was promoted following Jeff Grimes' departure to Baylor, there was no need for introductions, name tags, or even an opening statement from the veteran coordinator.
Truth is, Roderick already knew most of the faces on Tuesday's video call, and those faces were plenty well acquainted with him, as well.
BYU head coach Kalani Sitake's promotion of Roderick to offensive coordinator and wide receivers coach Fesi Sitake to take on the added role of passing game coordinator was quick and efficient in both hiring and announcement.
Truthfully, it's been years in the making — perhaps even as far back as when Grimes was hired three years ago to revitalize an offense that ranked in the bottom 10 nationally in most statistical categories.
By all accounts, Grimes' tenure with the Cougars — his second stint in BYU blue, following a run as offensive line coach from 2004-06 — was a success. Now he passes on the baton to Roderick, a Bountiful native and former Utah co-offensive coordinator who has scarcely considered leaving the state, for a variety of reasons.
That continuity will serve him well as he looks to build on Grimes' RVO offense — "reliable violent offense," that is — with a yet-unnamed brand of multiple formations that produce similar plays and schemes.
"We have a system in place now," Roderick said. "Many of our players are two- to three-year starters, and the idea is to keep rolling, to keep improving, and not have to reinvent everything."
Grimes' hire three years ago was a house-cleaning following the disappointing production under Heisman Trophy winner Ty Detmer. But Roderick was as much a part of that rebuild as the former LSU offensive line coach and future BYU opponent on Oct. 16.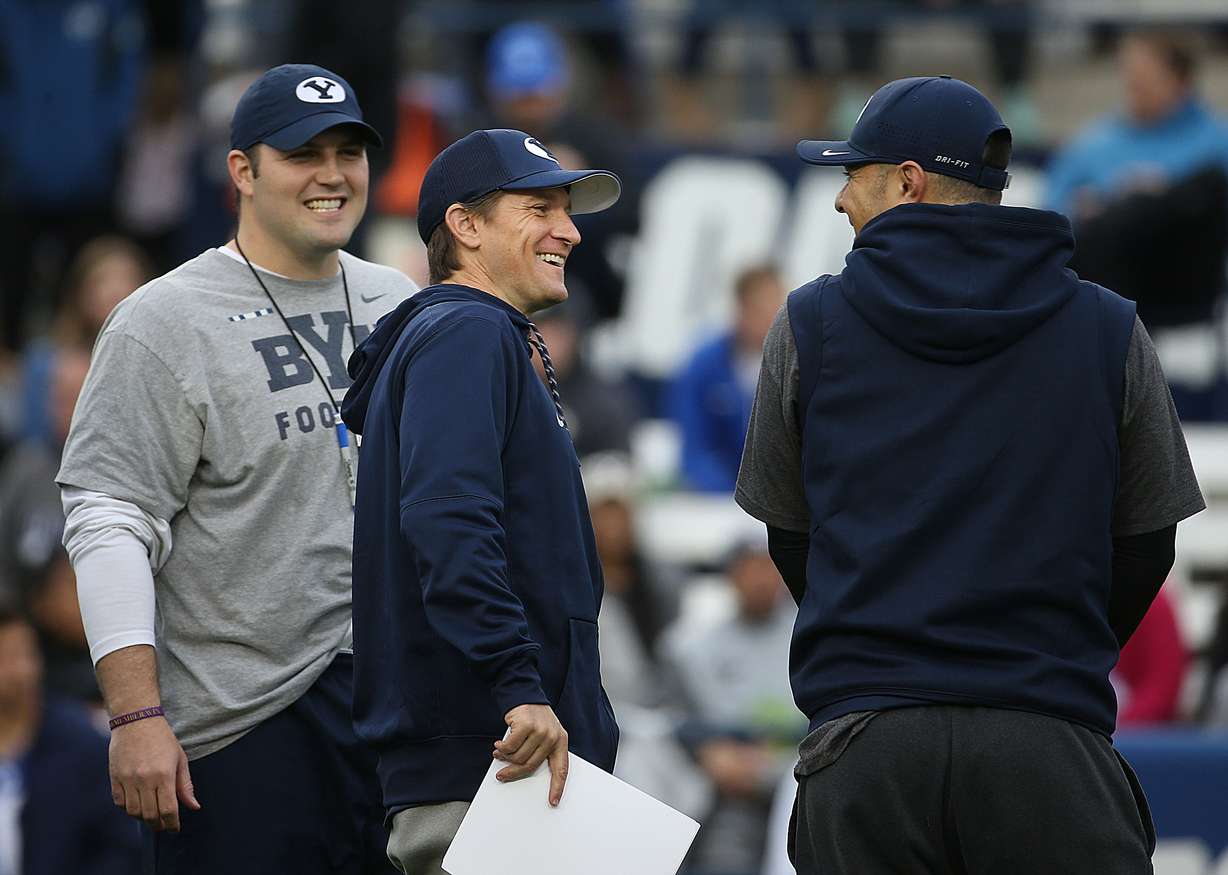 Roderick has been through a lot since the former BYU wide receiver was a graduate assistant over linebackers in 1999. In 18 years as a full-time coach — including nearly a dozen seasons as a coordinator at the FCS, Power Five and Group of Five levels — Roderick has learned from each of his stops, from Snow College to Southern Utah to Utah and back to the school which he helped lead to a 29-11 record in three years as a BYU player.
"You learn 100 new things every year," Roderick said. "It's too many to count, really. It's hard to put my finger on just one or two things, but I think the important thing is I take responsibility to improve as a coach every year, just as we ask our players to do.
"Sometimes that's schematics, and sometimes that's finding a new way to connect with a player that needs it."
Sure, there will be turnover; quarterback Zach Wilson, wide receiver Dax Milne and offensive tackle Brady Christensen have already declared for the NFL, leaving a season of collegiate eligibility on the table in hopes of professional opportunities.
But the place to start with continuity is never in the locker room, where names and plates change more often than the four-year scholarship limits of Division I universities.
It's with the coaching staff, which is why the biggest question after Grimes accepted the job at Baylor wasn't who would succeed him as offensive coordinator but which offensive assistants would be at Roderick's disposal.
To that extent, the Cougars answered a lot of questions by retaining Fesi Sitake (wide receivers), Steve Clark (tight ends), Harvey Unga (running backs) and Eric Mateos (offensive line). The last one is, perhaps, the biggest name to consider: a year after breakout seasons by Tyler Allgeier and Lopini Katoa in following their big linemen, Mateos was sure to have interest in moving on.
Keeping the soon-to-be-married rising assistant in Provo was a priority. Some feared that Mateos could follow Grimes to his next stop, but the new Baylor coach tapped former BYU offensive line coach (and Troy offensive coordinator) Ryan Pugh for the O-line vacancy in Waco, instead.
"We have a good system in place right now that doesn't need a lot of tweaking," Roderick said.
The same could be said of Fesi Sitake, who steps into a role where he's learned and grown plenty under Roderick. Sitake, the former Weber State offensive coordinator, had plenty of input in BYU's offense the past three seasons — Grimes gave him an unofficial title of "third-down coordinator" last year, for example — and he was heavily involved in play-calling during BYU's 49-23 win over UCF in the Boca Raton Bowl, when the Cougars piled up 655 yards of offense, including 425 through Wilson's arm, in the absence of Grimes and Mateos.
Full titles and responsibilities haven't been divvied out, but it seems to be a safe bet that Clark, who was also an offensive coordinator at Weber State and Southern Utah, will remain involved, as will Unga and Mateos.
"I think it'll be a pretty seamless transition," Sitake said. "I would love to come up with a magical answer of what this title means, but truthfully, I think it's just a more active role in the passing game. And because I worked with A-Rod, it may not be too different.
"I don't think there's much of a beat skipped. I have more of an active role."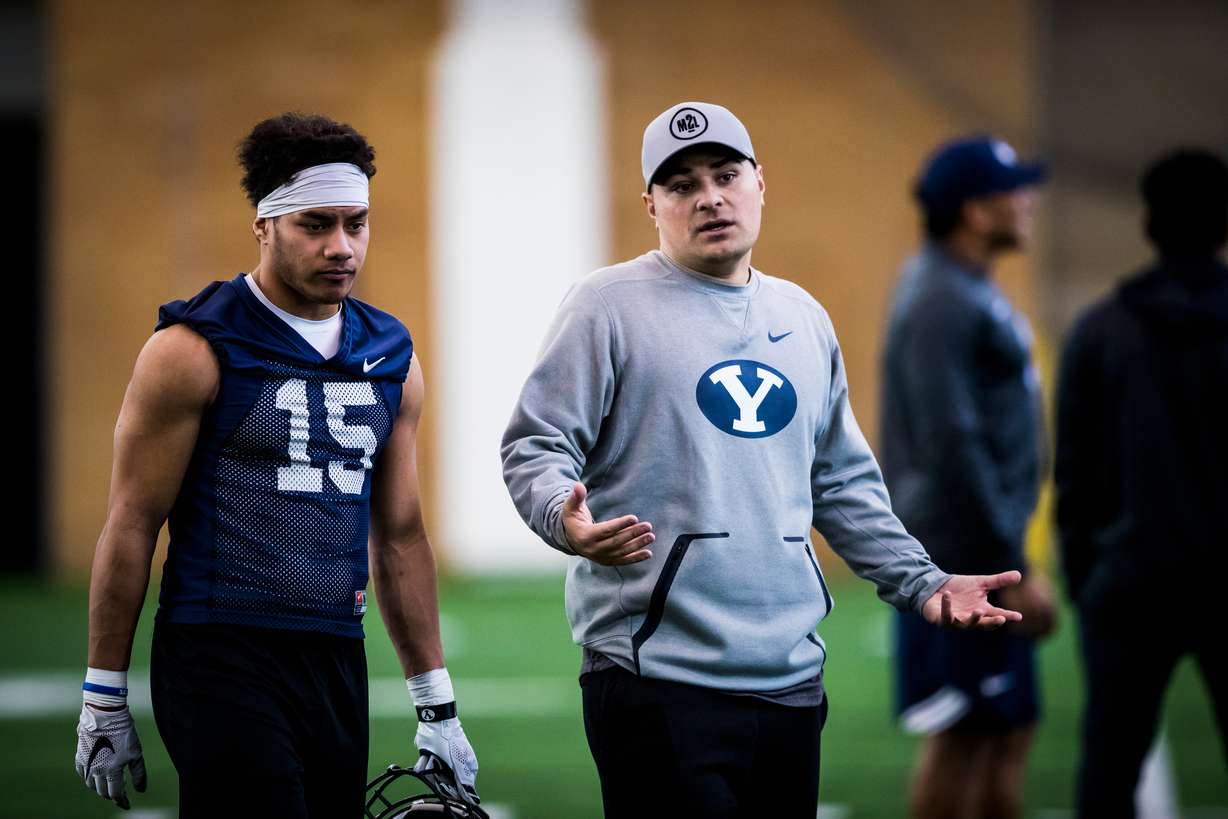 Perhaps more unknown is who will be joining the Cougars' coaching staff as Kalani Sitake heads into his fifth year as head coach.
BYU can add another assistant coach under NCAA bylaws, but the exact position is to-be-determined, thanks to Grimes' sole responsibility as offensive coordinator with a positional responsibility.
Roderick could find use of another offensive assistant — he made mention of offensive analyst Blair Peterson and graduate assistants Spencer Patterson and Matt Mitchell being crucial to the operation recently. But that job could just as easily — maybe more so — go to the defensive side of the line of scrimmage, where defensive coordinator Ilaisa Tuiaki moonlights as defensive line coach.
"That's ultimately a Kalani decision, but I will say this: six on offense, four on defense is not super common," Roderick said. "I think the hire will go either way. If we get a sixth coach, great. If not, we've more than got it covered.
"If Kalani decides that position is better suited for defense, I'm fine with that, too. It's about what's better as a team."
The Cougars could add noted experience to the defense — former Utah State defensive coordinator and interim head coach Frank Maile has been a popular name brandied about as a defensive line coach. But Maile is currently in the middle of a dispute with his former employer involving his candidacy for the position that ultimately went to Blake Anderson.
Former BYU pass rusher Jan Jorgensen, who is currently the defensive coordinator at Snow College, could also move north to fill a spot under Tuiaki, as could Justin Ena, who worked with Sitake and Tuiaki at Utah and was let go as part of Anderson's assimilation at Utah State, and Vince Feula, the former BYU standout who has been a defensive analyst with the team since 2015.
Less of a mystery will be positioning. Throughout his career at Utah and BYU, Roderick slid into the coaching box on game day, the team's "eye-in-the-sky" in running the offense and calling plays.
Fesi Sitake will join him if needed. But he's more than content coaching from the field.
"If he wants me to join him, I'll be happy to," Fesi Sitake said, before laughing. "But if he wants me to stay on the field and get some unsportsmanlike (conduct penalties) by yelling at the refs, I'm happy to do that, as well."
×
Related stories
Most recent BYU Cougars stories