PROVO — As West Coast Conference teams wrapped up nonconference play on the final week of the 2020 calendar year, one team looked like a national title contender, another looked like it could offer resistance to a conference championship, and several others didn't look like much because they haven't played.
Such is the enigma of playing during the COVID-19 pandemic, when the conference's 10 teams have played anywhere from four to 11 games so far this season.
No matter the number, though, one team still stands head and shoulders above the rest: Gonzaga, the team that has made every NCAA Tournament field since 1999. Only twice in that span have they not won a league title.
Will this year be more of the same?
Here's a look at how each team fared during nonconference play before WCC hoops tips off this afternoon.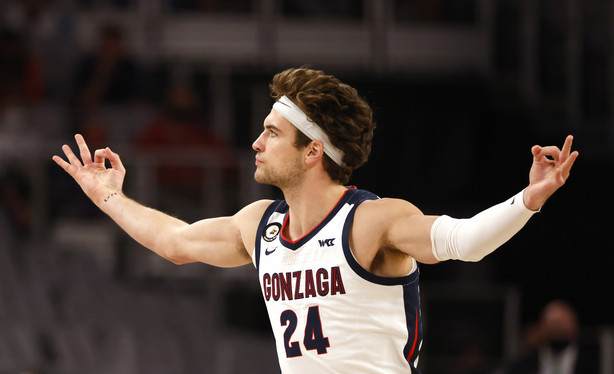 1. Gonzaga (9-0)
It's not just that the No. 1 Zags are undefeated and the top team in the nation. Mark Few may have his best team in 20 years.
Despite canceling four games and postponing another against No. 2 Baylor indefinitely, the Zags' undefeated nonconference schedule features four wins over Top-25 opponents, including last Saturday's 98-75 win over No. 16 Virginia.
Yes, you read that right; a 23-point win over the most recent national champions.
Gonzaga has had just one game decided by single digits, an 87-82 win over No. 11 West Virginia, when Jalen Suggs was briefly sidelined with a left ankle injury. He finished that game, but was clearly limited.
The Zags' average a margin of victory of 19.7 points per game, including a margin of 12.75 points in games against ranked opponents. Gonzaga ranks first in the country with 96.2 points per game, second in field-goal percentage at 55.67%, and fifth in assist-to-turnover ratio at 1.85 (192:104).
Next game: Saturday vs. USF
2. BYU (9-2)
The Zags are having a historically great season nationally, but the Cougars are right behind them in the conference.
Despite losing seven seniors from last year's team that split the regular season with Gonzaga — including top scorers Yoeli Childs, Jake Toolson and TJ Haws — BYU still looks like the second-best team in the league in playing the most nonconference games.
Nothing will top Gonzaga's four Top-25 victories, but the Cougars' win at San Diego State is the league's best non-Zags victory this season.
No other team outside the top-two has a win like that (though one school has a pretty good one), just like no other school has a guard quite like Alex Barcello, who is averaging 16.9 points and 4.8 assists per game while shooting 60.9% in 31.4 minutes.
Next game: Saturday at San Diego
3. San Francisco (6-4)
The Dons were nearly written off after a 76-68 season-opening loss to UMass-Lowell — but USF bounced back in a big way via a 61-60 victory over Virginia, when the Cavs were ranked No. 4 nationally on Nov. 27.
Jamaree Bouyea is averaging 17.4 points and 4.1 assists per game, and USF can carry a 68-65 win over WAC contender Grand Canyon in Las Vegas in its most recent game prior to conference play.
Next game: Thursday vs. San Diego
4. Saint Mary's (9-2)
The Gaels could be good, but how good is still a bit of a question mark.
After being blown out by Memphis, 73-56 in the season opener in South Dakota, Saint Mary's rattled off eight wins in a row prior to another blowout loss, 74-49 to San Diego State on Dec. 22. Tommy Kuhse is averaging 14.8 points and 5.7 assists per game for the Gaels, who ran past Sacramento State 63-45 in Wednesday's nonconference finale.
They'll face a big WCC test early when they host BYU on Jan. 14, followed by league-leaders Gonzaga two nights later.
Next game: Jan. 7 vs. San Diego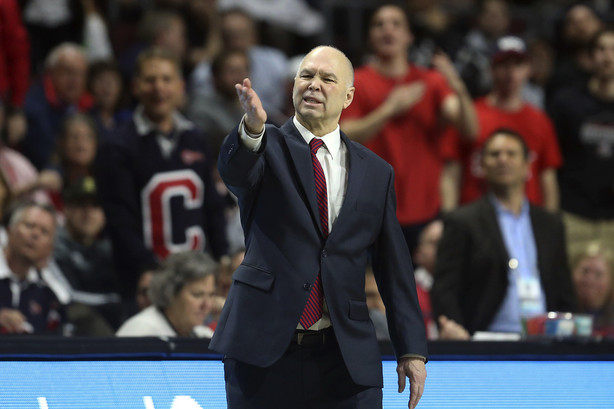 5. Portland (6-3)
One year after a 9-23 season that included a 1-15 mark in conference play, head coach Terry Porter has the Pilots stabilized prior to league play.
After opening the season with an 84-72 loss to Seattle, senior Ahmed Ali averaged 19 points per game in pacing a five-game winning streak, capped by an 87-86 overtime win over Oregon State.
The Pilots have won five of their last seven — the losses coming at Oregon and Seattle — before Friday's WCC opener was postponed.
Next game: Thursday vs. Loyola Marymount
6. Santa Clara (6-2)
The Broncos have been living under the same COVID-19 conditions and restrictions that forced the San Francisco 49ers to relocate to Glendale, Arizona, and San Jose State's football team to move to Las Vegas during a Mountain West title-clinching season, but still won six of their first eight games.
Still, Santa Clara's two losses came to the best opponents on their schedule — 86-63 at USC and a 70-57 "home" loss to Colorado State in Santa Cruz, so plenty of questions remain about former Wasatch Academy star Josip Vrankic and the Broncos.
Next game: Jan. 7 at Gonzaga
7. Pepperdine (4-5)
Yes, the Waves are under .500 after nonconference play, but look closer at the record and the quality quickly becomes apparent.
Led by all-conference senior guard Colbey Ross (19.0 ppg, 7.2 apg, 3.7 rpg), the Waves have thoroughly tested themselves in nonleague play with losses to UCLA and San Diego State. Pepperdine even led the Aztecs until the final five minutes of the second half before falling, 65-60 at Viejas Arena.
Losses to UC Santa Barbara and Cal State Bakersfield aren't great, but should be viewed under the prism of the program's pause in activities due to a COVID-19 case that postponed its first two league games against BYU and Saint Mary's.
Next game: Jan. 7 at USF
8. Pacific (3-1)
The Tigers are hard to measure, having played just four games, including a 74-70 win over Montana State and a 70-58 loss to Nevada. Eight contests have been canceled or postponed, including the WCC opener against Portland.
Next game: Jan. 7 at BYU
9. Loyola Marymount (5-3)
The Lions were seconds away from opening the season 0-3 but for freshman Jalin Anderson's short baseline jumper as time expired to escape with an 85-83 win over Southern Utah in the season opener — the Thunderbirds' only loss of the year.
LMU also hasn't played since Dec. 19, a 76-52 win over Cal Poly, canceling or postponing games against Cal Baptist, Boise State and Santa Clara.
Next game: Jan. 7 at Portland
10. San Diego (1-3)
The Toreros had their first three games of the season canceled by the coronavirus, then lost to UCLA 83-56 and have just one win — a 70-61 victory over Cal Poly — since returning from the first of two hiatuses Dec. 14.
Next game: Thursday at USF
×
Related Stories