ANNABELLA, Sevier County — Kylee Keele-Blackburn knew her family's holiday celebration was going to be different. But just how different, how painful, how beautiful, how terrifying and how blessed, no one had any way to predict.
When she arrived at her mother's home in Annabella, she saw the same decorations adorning the house where the Hall family gathered, as they do every year, to celebrate Christmas.
The smell of familiar favorite dishes wafted through the air as the sound of cousins laughing provided the perfect soundtrack for the holiday festivities. And then there was the look of love exchanged between relatives as they shared the details of their lives with people they loved but didn't see nearly enough, especially this year.
Everything looked, smelled and sounded the same on Christmas Day. But it felt different, according to Keele-Blackburn, for one very significant reason. Robert Brent Hall, known as Popsie 11 months out of the year and Papa Santa every December, had been unexpectedly snatched from the family on Dec. 12 after a two-week battle with COVID-19.
"My grandma described it as being alone in a crowd," Keele-Blackburn said of Hall's widow, Alberta Hall. "We all didn't know quite what to do. He was always really quiet, but it was just so comforting to know he was there."
And in addition to the ache that permeated even their most joyful moments, there was the question of whether Santa would make an appearance at the party as he'd done every year to the delight of the family's youngest children.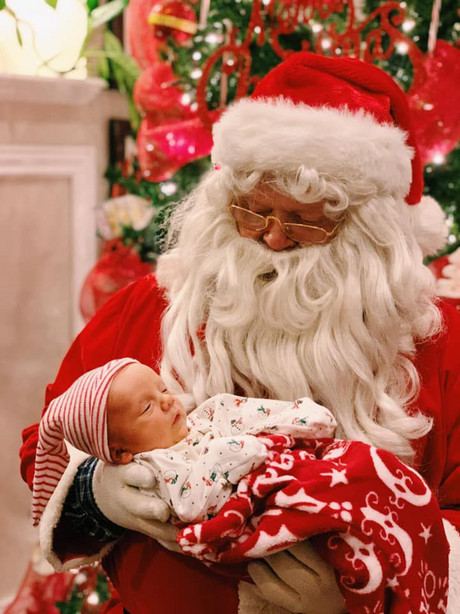 Keele-Blackburn's youngest sister, 10, and her 8-year-old cousin asked two of their uncles — Popsie's brothers — as delicately as children could whether Santa might be stopping by to hear their final Christmas wishes and deliver their holiday pajamas.
"My Uncle Joe said, 'I have a red suit if that's what you're asking,'" Keele-Blackburn said laughing. "The tradition was being passed down through my grandfather's children. He was still around us in a way; the tradition could still continue."
The familiarity of the gathering soothed her aching heart, and it became something of a tribute to Hall, who reveled in playing Santa.
"When I was at UVU, I was in charge of the Breakfast with Santa event," Keele-Blackburn said. "He was 78 and he'd come and play Santa for me. He was such a good one. Thinking of him not being at the party was really weird and really hard. At the same time, I'm kind of grateful that it happened (his death) during one of his favorite times of the year. We will always remember Papa Santa."
Keele-Blackburn felt her grandfather's spirit throughout the party, but in retrospect, she now believes he was there, watching over them, because without their grandpa "guardian angel," she may not be alive to tell the story of Christmas 2020.
A month before the Christmas party, Keele-Blackburn and her husband Slate Blackburn were the live-in caretakers for her grandparents. Hall, 81, and his wife of 61 years, Alberta, relied on Keele-Blackburn for nearly everything, especially as her grandpa became less and less mobile. Shortly after Thanksgiving, Keele-Blackburn said she started feeling sick and immediately went to the free testing offered to her as a Utah Valley University employee.
"I tested negative," she said. "Then my sister started feeling sick, and she got tested a couple of days after me. She tested positive. So I went and got tested again, and I was positive."
Keele-Blackburn moved to her father's home to quarantine away from her grandparents and husband.
"I was hoping they wouldn't get it," she said. "As a caretaker, you have to choose between two impossible decisions. Do I take care of my grandparents? Or leave and hope they can take care of themselves?"
On Nov. 27 — Keele-Blackburn's birthday — her grandfather tested positive. He went to the hospital just a few days later and ended up on a ventilator.
"His body just wasn't recovering," she said.
Even the decision to call an ambulance was difficult.
"We called an ambulance because his oxygen levels were extremely low," she said. "But my grandmother didn't want him to die at the hospital. She wanted to be with him, to hold him and love him. ... We wanted to fight, but we wished we could be with him."
When it came time to turn off the machine that was helping him breathe, only his wife and children were allowed to be with him.
Keele-Blackburn, who'd cared for him for 2 1/2 years, said goodbye from a hospital waiting room through FaceTime. None of his beloved 27 grandchildren got to touch or hug him in those final days.
"He'd say, 'Hey, don't wipe off my kiss!'" she laughed. "And then he'd give me another one. I'd wait until I got outside to wipe it off. What I wouldn't give for one more kiss, for one more hug. Not being able to be with him in the last few weeks of his life was really difficult. It's kind of hard to get closure when you couldn't be physically there."
They buried him in an Orem cemetery on Dec. 19. Only family could attend, and it was not the celebration of Hall's life that anyone who loved him envisioned.
"My mom, when she describes him, she says she never remembers a time when he yelled as a parent," Keele-Blackburn said. "He was a very loving, kind, accepting kind of guy. ... He was always there for you when you needed him. He had the strongest testimony of the LDS Church, and you just felt his Christlike presence."
In her years of caring for him, she said he never complained.
"He was just super happy," she said.
On Christmas Eve, Keele-Blackburn discussed with her mother, Jennifer Keele, the fact that her younger sisters had gotten sick a week earlier. They thought it might be COVID-19, as they had headaches and some nausea.
"I asked her, 'Do you have carbon monoxide monitors?'" Keele-Blackburn recalled. "And she said no. It's not really something you think about."
They agreed they make a trip to the hardware store to buy some the day after Christmas. The Christmas celebration went off perfectly, albeit with a touch of sadness for the man they all longed to hug. And then her three youngest sisters left to stay with their dad at his Utah County home, and Keele-Blackburn, Blackburn, a friend who has been "adopted" by the family, as well as her sister and her boyfriend all stayed at her mother's home in Annabella.
"I had this weird feeling going to bed that night," she recalled, and it made her question whether or not she should turn on the furnace. But the nights were so frigid, her mother told her to turn it on as they were heading to bed in the wee hours of the morning on Dec. 26.
"I woke up around 5:55 a.m. and I heard my sister falling upstairs," she said. "I thought it was the dog playing. ... Then I heard my mom calling me, and she said Bailey (her sister) couldn't walk. She was going to take her to the emergency room. She wanted my husband and (friend) to give her a blessing."
As Keele-Blackburn walked upstairs, she felt lightheaded, short of breath.
"I had to go outside to catch my breath," she said. "I felt very weak, like I was going to pass out. I felt this heavy weight on my chest thinking, 'Is she going to make it? Are we going to be OK?'"
Her husband is a police officer, and he decided they should call 911 as it was becoming clear they were all sick. Her friend had a terrible headache, and he was vomiting.
"We called 911 and the fire department came," she said. "They said it's definitely carbon monoxide."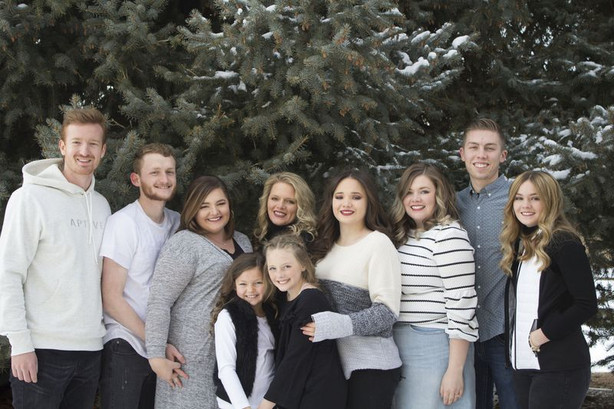 At the hospital, they began to learn just how close they'd come to never waking up. The carbon monoxide levels in the house were at a deadly level. Most people couldn't survive a few hours with levels that high. She said her sister waking up and falling saved them.
"We were in the hospital for nine hours on oxygen trying to get the carbon monoxide out of our systems," she said. "All I could think about was how grateful I was that my three little sisters — all small, petite girls — were not there."
She said as medical personnel attended to them, she overheard one say to the other, "How did these people even make it to the emergency room?"
Keele-Blackburn said she is normally a very heavy sleeper, and so for her to wake up when her sister fell "was very out of the ordinary. I felt like that was my grandpa saying, 'Get up.' ... It was quite a miracle we were all able to make it out alive."
Jennifer Keele is a teacher and a single mother to five girls, and there was some discussion about how they were going to be able to pay for the medical care when someone said, "You must have an amazing guardian angel."
"She just started bawling," Keele-Blackburn said, acknowledging her mother thought it was her father and Keele-Blackburn's grandfather, Popsie, who was watching over them that night.
"I know for sure it was him. That's the kind of guy he was."
Keele-Blackburn said there were other instances where he relied on inspiration and faith to guide his family. "This was just another experience to add to that one," she said.
The pain of losing Popsie hasn't dulled, but she is trying to do what he would when life gives you a wonderful and difficult mess to unravel.
It was in loving and observing him that she learned "to always look on the bright side of things, to always rely on your testimony of the Savior Jesus Christ. When something happened, he relied on faith. That got ingrained in me."
×
Photos