OREM — When Utah Valley head coach Mark Madsen looks out from his office window, which overlooks the court at the Nuvi Basketball Center on the campus of Utah Valley University, he sees a lot of new faces.
With 16 newcomers from last year's squad that went 11-19 and 5-10 in Western Athletic Conference play before the COVID-19 pandemic prematurely ended the season, the Wolverines face a near-total revamp in the former Lakers center's second season as a collegiate head coach.
The new faces include six brand new Division I transfers, like Georgia Tech center Evan Cole, Mercer transfer Fardaws Aimaq, UAB's Jordan Brinson, Weber State's Tim Fuller and former BYU teammates Blaze Nield and Colby Leifson.
It's a new cast of characters eager to build — or even rebuild — on last year's team that doesn't return a single starter, just two letter winners in Trey Woodbury and J.J. Overton, and has been hard at work since the summer trying to mesh together into one cohesive unit.
Pass out the name tags, coach.
"We have a few familiar faces, but it's definitely something that takes time," Madsen said Wednesday during the WAC hoops preview teleconference. "Players need to learn from each other on the court, but they also need to get to know each other off the court.
"Our guys have done a great job of spending as much time as possible together, in the right context," Madsen said. "Every day, I think they learn each other's tendencies better and better."
The Wolverines were picked to finish sixth in the conference by the WAC's media, just one spot ahead of newcomers and former Scenic West Athletic Conference rival Dixie State. But there's still a fair amount of talent on the revamped roster.
BYU fans are well aware of what Nield, a former Lehi star who also played at USU-Eastern, and Georgia native Leifson are capable of doing. Wildcat fans in Ogden are well acquainted with Fuller, as well.
But perhaps the most intriguing newcomer is Cole, the 6-foot-10, 230-pound center from the Atlanta area who moved to Orem as a graduate transfer following three seasons with the Yellow Jackets. Cole, who shot 47.1% from the field and averaged 4.4 points and 3.6 rebounds per game last year for Georgia Tech, was the lone UVU representative on the All-WAC preseason team, a second-team selection by the media.
Don't tell him that, though.
"I haven't done anything yet," Cole said with a shrug. "It's preseason All-WAC. If I'm there at the end of the year, it's where I want to be. But I guess it means people have some pretty high hopes for me."
The fact that the Wolverines are able to practice each day is exciting enough for Cole. Madsen revealed Wednesday that UVU had workouts shut down "a couple of times" in August due to positive tests for COVID-19 within the program.
Fortunately, a full slate of negative tests this week among the players, coaches and staff show nothing is currently affecting the Wolverines. But the experience taught UVU just how quickly the game can be taken away in the new reality of 2020.
"I'm really happy," Madsen said. "The energy has been fantastic, the players have been able to pick up the system, and we're just grateful that we are able to have practice because earlier in the summer we weren't allowed that opportunity."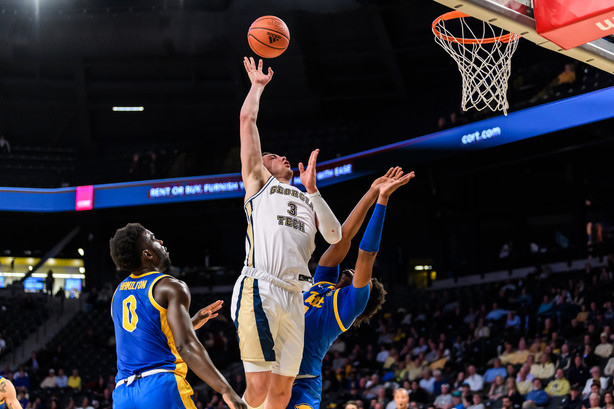 UVU has two nonconference games finalized in 2020 — the program's Nov. 25 season opener at Stanford (Madsen's alma mater) and a Nov. 28 bus trip along University Parkway to face BYU. Beyond that, only the WAC schedule remains, which starts with back-to-back home games Jan. 8-9 against Cal Baptist in Orem in a round-robin conference portion of the schedule that will include doubleheaders against every team in the nine-team league.
It's unlikely the Wolverines won't schedule any games in the month of December, though contracts remain up in the air even as late as Wednesday. But whenever the schedule is finalized, Madsen and his players insist they'll be ready for it — newcomers, returners and all.
"Having that many new guys, it's going to take leadership. I think we have a lot of great leaders on the team," Cole said. "But we've all been around here since the summer and have really learned each other's tendencies. We meshed real quick, honestly, and we have a lot of young guys with experienced guys; and I think that combo is going to mesh really well."
×
Related Links