SALT LAKE CITY — JoEllen Ashworth has been reading the Deseret News since she was 8 years old.
"I started with the Sunday comics," Ashworth said. "Then I went to Ann Landers" — the advice columnist — "then I think I went to the op-ed section, moved to the local news and finally ended up on the front page."
Ashworth said she was "despondent" when the newspaper announced in October that it will no longer offer a daily print edition. "This is why we had this party, to commemorate this historic event."
The leaders of Deseret News, however, see the future as a time of growth for the news organization and hope readers like Ashworth continue to read their weekly edition in addition to their expanded offerings online.
"We are building on our position as the premier news source from the Intermountain West," said Deseret News editor Doug Wilks, "with trusted, in-depth perspectives and points of view that provide a window into the principles, policies and values that create thriving communities."
Ashworth was surrounded by family and church friends who had come to her Bountiful home Thursday morning for a ceremonial walk down the driveway as she picked up her daily Deseret News for the final time. Some were old enough to remember a time when newspapers were Americans' main source of information; many were little children who've never known a world without smartphones and news apps.
Standing at the top of the driveway, Ashworth thanked her assembled friends for attending. "This is my little funeral for my Deseret News," she said. "I'll miss the pleasure of reading the newspaper every morning." She then walked down the drive while a nearby speaker played the iconic music from "2001: A Space Odyssey," picked up the paper and held up the front page.
"Embracing changes," the headline blared.
While understanding her remorse, Deseret News officials would challenge Ashworth's description of Thursday as a "funeral." Like all newspapers, the Deseret News' print subscriptions dwindled at faster rates year after year as online readership continued to climb. The brand is betting on an online future, supplemented by print, that aims to keep Utah's oldest continuously operating business around for years to come.
Expanding online
The Deseret News and The Salt Lake Tribune announced in October that they would not renew the 68-year-old joint operating agreement that had seen them printed at the same location for decades. On Oct. 26, The Tribune said it would cease daily print publication at the end of the year; Deseret News made the same announcement one day later.
Wilks wrote that day the daily print newspaper would be "discontinued in favor of expanded daily digital offerings and the newly announced print newspapers and magazine."
"Additionally, we will continue to innovate as we grow our email newsletters with news, perspectives and our unique content coming directly to your inbox every day," Wilks said.
Rather than deliver a newspaper every day, the Deseret News is shifting to a weekly print edition along with a monthly magazine and continuous coverage on Deseret.com and the Deseret News app. The Tribune will also have a weekly print offering.
Ashworth said Thursday she's "interested to see what the weekly Deseret News does," but will continue to subscribe to the Standard-Examiner and a national newspaper to get her daily print news fix. "And I'll probably go online," she said. "I wish, online, it was going to look like the newspaper that I get in my driveway."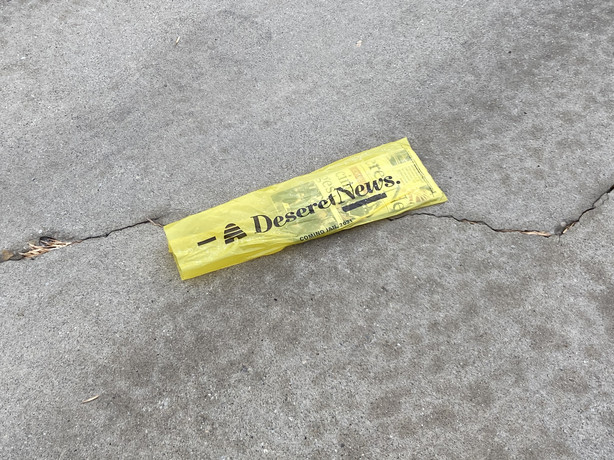 A storied past
Thursday's delivery ends 153 years of a daily printed Deseret News but also, interestingly, brings the paper back to its roots. When the newspaper was founded in June 1850, by pioneers of The Church of Jesus Christ of Latter-day Saints, it was also in a weekly print edition because news from around the country traveled slowly in those days. The daily edition began in 1867, according to a Deseret News column by Lee Benson.
Named after the provisional State of Deseret proposed by Latter-day Saint pioneers before the territory was called Utah, the original Deseret News intended to "promote the best interest, welfare, pleasure and amusement of our fellow citizens," as the paper's first publisher Willard Richards put it. Dennis L. Lythgoe wrote that the paper was largely "free from journalistic scandal-mongering and obscenity," standing as a wholesome counterbalance to more salacious prominent dailies like the New York Herald.
Classified ads were introduced in 1900; by 1922, the paper had entered the news radio business with a license for the station KZN, which became KSL. KSL.com, KSL NewsRadio, KSL TV and the Deseret News still share common ownership.
The Deseret News and Tribune first entered a joint operating agreement in 1952; the Newspaper Preservation Act of 1970, passed by Congress and signed by President Richard Nixon, exempted newspapers from some anti-monopoly laws and formally affirmed that newspapers could use joint operating agreements to remain competitive. The longstanding JOA allowed the rival papers to cooperate on advertising, printing and delivery services.
But 2020 brought the expiration of the agreement and the end of daily print in Salt Lake City, one of the few American cities that still had multiple operating daily print newspapers.
Two months ago, @DWilksnews wrote a story announcing the future of the Deseret News.

We are now a week away from that new future. https://t.co/H1qBQ63sJp

— Deseret News (@DeseretNews) December 28, 2020
Far from over
And so begins a new future for the Deseret News, which inaugurates its 171st year with major changes.
"We are in a unique position because for years now our digital readership has dwarfed our print readership and the great majority of the remaining print readers have become digital first," said Jeff Simpson, president and publisher of the Deseret News, in Benson's column.
Benson said the Deseret News now gets 500 times more online users than print subscribers.
"Change is never easy, particularly when you're changing a readership habit," Wilks said. "But our commitment to providing a strong news report with fresh commentary, analysis and opinion remains constant. We hope those who have yet to discover the Deseret News online will join us every day, and take a few minutes on the weekend to grab that print edition and spend some time with it."
After all these years, the Deseret News maintains its affiliation with The Church of Jesus Christ of Latter-day Saints and is a leading voice in American religion reporting. Ashworth said the Deseret News "represents my values," a big reason why she remained a subscriber over the years.
W. Bradford Wilcox, senior fellow at the Institute for Family Studies, called the Deseret News a "clear national leader when it comes to coverage of family issues in America."
"Between its sponsorship of the American Family Survey and its thorough coverage of family scholarship and family policy, no newspaper in America compares to the Deseret News," he told the paper in October.
The Deseret News editorial board invited readers to "pioneer with us" as it continues its digital journey.
"What some might see as an end, we see as a beginning," it wrote. "After 170 years, the Deseret News sees today as a hinge point in news media history. The Deseret News is prepared and positioned to serve the state and the nation as a bold, noble and independent voice."
But for longtime readers like Ashworth, Thursday is still bittersweet.
"Someone brought a sign here that says, 'The end of an era,'" Ashworth said. "And it is the end of an era, and I'm very sorry about that."
×
Photos
Related Links
Related Stories