PROVO — Utah handled its rivalry pressure at BYU by limiting the Cougars' leading scorer to 5 points and star big man Matt Haarms to 7.
But the Utes could scarcely contain the bench.
Richard Harward had a season-high 15 points and seven rebounds, and Connor Harding added 17 points on 6-of-8 shooting as BYU handed Utah its first loss of the year, 82-64, Saturday afternoon in the Marriott Center.
The Cougars have won three of the last four against their in-state rivals, and haven't lost in Provo since Dec. 10, 2014, a 65-61 loss in the Marriott Center. BYU leads the all-time series 132-129.
Spencer Johnson supplied 16 points, five rebounds and two assists, including four 3-pointers, off the bench for the Cougars, who out-scored the Ute reserves 41-16. On a night when Alex Barcello had a season-low five points — but a season-high eight assists — the Cougars found more than enough ammo to pull away for their biggest win of the shortened nonconference season, just three days after a 74-70 loss to Boise State.
BYU has yet to lose back-to-back games under second-year coach Mark Pope. But Saturday's rebound came from an unlikely source, at least as far as the first seven games of the season are concerned.
"The only opinion that matters is the coaches' on the team," Harward said. "The second group knows what they need to do.
"When I go in, I need to get rebounds and stops. If I get a bucket, it comes. It really helps all the second unit to have this one job to do and then execute."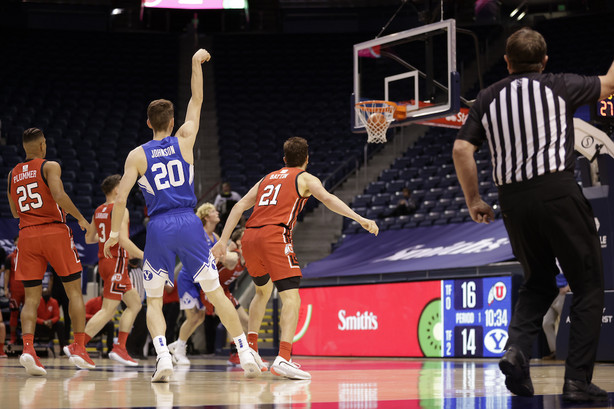 Harward's 15 points are the most since he scored 19 while playing for Utah Valley against Chicago State on Feb. 21, 2019. He also had 16 rebounds that day.
"This is the Richard Harward I know," said Pope of the star big from Orem High who followed his coach from Utah Valley. "This is who he is, and it's probably mostly my fault he's finally rounding in. People are going to love watching Rich; he's such a monster and a handful down there."
Caleb Lohner added 8 points and 10 rebounds for the Cougars (6-2), who outrebounded Utah on the glass. Alex Barcello added 5 points and eight assists for the home side that assisted on 19 of 29 made field goals.
Alfonso Plummer had 19 points and five rebounds, and Riley Battin added 14 to lead Utah, which shot just 36.4% from the field and 9-of-28 from 3-point range and was outrebounded 44-28 and 36-11 on the Utes' offensive glass.
"We took a couple of guys away, and made it really hard on their leading scorers," Utah coach Larry Krystkowiak said. "That's what college basketball players do; there are plenty of capable guys. But we're playing guys, and those guys got open looks because of trappings and different things — and those guys stepped up and made plays.
"If we had been a lot better defensively, a lot of those points came after their bigs got the rebound and we're in scramble mode. And Harward killed us in the post. That's all part of it."
Barcello had four assists in the first 10 minutes as BYU spread the floor early en route to a tie game, 14-14. On the defensive end, the Cougars also held Timmy Allen without a field goal until the 18:49 mark of the second half, paced by Gideon George's lengthy defense.
The Cougars used a 15-2 run over six minutes to sprint to a 24-16 advantage with 6:52 left in the first half, paced by a pair of threes by Brandon Averette and Johnson. More impressive, BYU made the run without Haarms and Barcello, the Cougars' leading scorers through the first seven games of the season.
BYU's bench out-scored the Utes 16-2 en route to a 40-27 halftime advantage, led by six points from Johnson and five each from Harward and Lohner.
Johnson, who went to high school at American Fork and spent time at Weber State, UVU and Salt Lake Community College before enrolling at BYU ahead of this season, nearly doubled his five 3-pointers in the Cougars' first seven games of the season prior to his first taste of the state's premier in-state rivalry.
"This is something you dream about as a player, especially as people hype it up," Johnson said. "It felt so good to be on the floor, and to be able to come out with a win."
The Utes pulled within single digits during the first 10 minutes of the second half, but could barely stop BYU's offense before stalling with about nine minutes remaining. That's when the Cougars went on a 10-0 run, capped by Harding's easy lay-in from Haarms to go up 66-48 with just over eight minutes remaining.
The Pocatello, Idaho native was the most productive starter in BYU's rotation, finishing 6-of-8 from the field, 1-of-3 from 3-point range and four free throws, along with four rebounds and two assists.
"The biggest thing is just trying to find different things to score," Harding said. "I had some cuts, some post-ups, and not relying on the three to get me going. It helped to get a couple of easy ones around the hoop.
"I found my rhythm, and hopefully I can maintain it and keep it going."
Utah used a 7-0 run to pull within 71-58 with 1:58 remaining, including a lethal 3-pointer from Plummer as the Utes used a trap defense to force a pair of turnovers during the late run.
But the Utes could get no closer.
"I couldn't be more proud of my guys," Pope said. "They just answer the bell so many times. It's not easy to do this, eight games against 18 days and five top-100 teams. But they found a way to battle, knowing this is a huge game and the last chance to breathe.
"Larry has owned me, personally, from my time at UVU and last year. I couldn't be more happy for my guys and more proud of them for the resilience and toughness."
Next up
BYU has a week off until traveling to San Diego State on Friday, Dec. 18. Tipoff is scheduled for 3 p.m. MT on CBS Sports Network.
Utah hosts Utah Valley on Tuesday at 5 p.m. MT on the Pac-12 Network.
×
Photos