SALT LAKE CITY — Just weeks into the NFL season, several former Utah defensive standouts have made an early name for themselves as rookies at the highest level — instant impact defenders continuing with their sustained success at the collegiate level.
In 2019, those same athletes made up a defensive unit ranked one of the best in the country — second in total defense and just behind a Chase Young-led Ohio State. It was Texas transfer Cameron Rising's job to test the defense each week in practice — sharpen the saw, figuratively speaking — as the scout team's quarterback.
To Rising's credit, he did well in his role — "I've been doing a great job and, in some cases, even better than some of the teams that we went against earlier in the week," he said in December — as he waited for his NCAA eligibility restrictions to be lifted following his transfer to Utah. Head coach Kyle Whittingham at the time praised his young quarterback and said: "He's looked good, I can say that for certain. He's looked really good."
To supplement his scout team work, Rising also got some experience in the press box as one of offensive coordinator Andy Ludwig's proteges — a valuable resource for a quarterback ready to compete for the starting job in 2020. Rising, along with wide receiver Britain Covey, who took a redshirt season in 2019 to fully heal from an ACL injury the year prior, got a first-hand look at how their coach scripted everything and all that translated on the field with a different vantage point.
"That time that I spent in that press box was very valuable," Rising said Monday. "I got to see a whole different side of football that I've never really been able to see. And hopefully I'm just able to continue to think how coach Lud thinks to make sure that this team can keep moving forward."
All that work set Rising up with a competitive advantage over South Carolina transfer Jake Bentley, who joined the team in December for his senior season.
"I'd say those reps that I got against the one defense with the scout team were valuable, and they have been serving me well up to this point just because I got to go against a lot of guys that are playing and doing some really good stuff on Sunday," Rising said. "I try to make sure that those reps were taken advantage of, but now it's just applying those to what we got going on right now."
But to Bentley's credit, he's the only one in the quarterback room that has been named a starter at a Division I program, and at a high level in the SEC. Bentley came to Utah as a four-year starter at South Carolina where he threw for over 7,500 passing yards and completed 62.5% of his passes. But a foot injury in the first game of the 2019 season derailed his final year with the Gamecocks.
That experience gives Bentley an edge in a different way — a way that Rising still can't compete with since he's only had practice reps at the collegiate level.
"In the SEC, it really prepared me to kind of figure out a way to get through any situation," Bentley said. "But I think it's a totally different offense for me. I mean, obviously, a lot of people run the same concepts but this offense is complex, so it takes a lot of learning, a lot of film work, and that's what I've been having to do.
"I think on-the-field experience in the SEC has helped a lot, but as far as learning the offense, it's something that I've really had to rely on coach (Ludwig) and rely on Drew (Lisk) and Cam, and all the other guys, to really try to soak up their knowledge as well, as well as my own personal film study with that."
Whittingham said he hopes to have a starter at QB named in 2 weeks or so. Who do you expect to win the job?

— Josh Furlong (@JFurKSL) October 13, 2020
The differences serve as a defining characteristic for the two guys expected to compete for the starting role, though Lisk is also another quarterback with experience under Ludwig and one who has seen live action in a game. Lisk seemingly fell out of the conversation for the starting job after Rising jumped him as the backup quarterback for the bowl game last season. But Lisk said he remains focused on the task at hand.
"I try not to pay attention to too much that goes on outside of in between my head," Lisk said. "I'll let the talking go on out there, but I just try to do what I do — show up and be myself every day. I just do what I can and I'll worry about showing up and being prepared for myself every day and trying to make everyone around me better, as an offense, as a team. So that's just where my focus is at."
Instead of holding back from each other, the quarterbacks competing for the starting job share their strengths with the others in the room in an effort to make the team better, regardless of who is named starter in roughly two weeks.
"I think we just build off each other," Rising said. "He (Bentley) has that valuable playing experience in the SEC, which is very valuable and goes a long way, and just having my knowledge of the offense, we kind of build off each other and just make sure that we were getting better in every practice.
"Iron sharpens iron," he added. "It's making me better and I'm trying to push them as well just to make sure that we are all competing, to make sure that we give the team the best quarterback, to make sure that this team can win as many games as we can win. We've got a great room. I think I'm speaking for those two, but I think we all love each other, and I think it's a good room."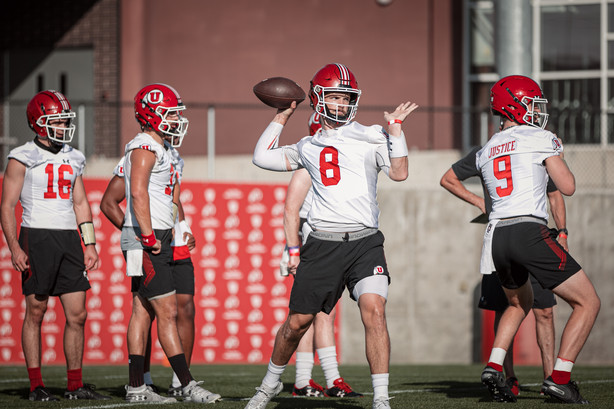 The extended "break" of an offseason, though unconventional and somewhat disruptive, has been beneficial for the quarterbacks, who continue to breakdown film and digest the offense that Ludwig plans to implement this season — an offense that could be much different than what was utilized in 2019. And though it will take how the players execute on the field more than their knowledge of the playbook, Whittingham believes there are "a lot of positive things going on." But, he adds, there is little separation between the quarterbacks.
"As far as their knowledge of the playbook and grasping the scheme, it's outstanding," Whittingham said. "They're all three exceptionally smart individuals. Cam Rising and Jake and Drew are all cerebral— they're studiers of film, they're in there constantly. And so that is not an issue whatsoever, the mental part of it. It's all boiling down now to execution."
Ludwig, who schemes around his personnel rather than setting a style of play to force his players to adapt to that offense, will have an offense ready for whomever comes out on top as the leader of the offense. Bentley and Lisk are more "pocket guys," as Whittingham said Monday, whereas Rising is a dual-threat quarterback.
"Cam is definitely the guy that has more ability for the QB-run game, and so we'll see what happens," Whittingham said. "We're not going to force a guy that is a pocket guy to be a runner or vice versa, we're going to go ahead and tailor the offense to whoever wins the job, and that's one of Andy's strengths."
"Every single day has been a competition in college. And I don't think that you ever go into a day of practice thinking: 'Ah, I'm not competing today, I can just do whatever I want to and not have negative implications,'" Bentley said. "You've got to come in and compete every day. And then if you get named the starter, you then compete with yourself every day — to be better — and that's what we all plan to do, what I plan to do, and I'm looking forward to it."
Regardless of the quarterback, the offense will feature several experienced receivers and tight ends, and a host of running backs hungry to score points. Add to that an experienced and deep offensive line unit and Utah has the making for another successful season on offense.
"You guys can see the roster that we have — it is very deep," Rising said. "We have guys across the board that can make plays — the running back room, receivers, tight ends, our O-line is good. The sky's the limit with this offense, honestly. Just having all those weapons and having a great offensive coordinator like coach Lud, I feel like we'll be put in positions to make sure that we'll be in situations to win games."
×