SALT LAKE CITY — BYU basketball bounced back in the bubble.
Alex Barcello had 20 points and five assists, and Trevin Knell added a career-high 11 points to help BYU rally back from its first loss of the season to hand St. John's its own first loss of 2020-21, 74-68 in the Roman Legends Classic at Mohegan Sun Arena in Uncasville, Connecticut.
Gideon George had 13 points and a game-high 15 rebounds for the Cougars (4-1), who got 11 points from Connor Harding and seven rebounds from Caleb Lohner. BYU outrebounded the Johnnies 44-34, including a 33-10 margin on BYU's defensive glass.
Brandon Averette scored 12 points for BYU, including a 3-pointer with just over two minutes left that gave BYU a brief, game-high lead of 10 points.
"I couldn't be more proud of these guys in terms of their focus," BYU coach Mark Pope said. "They really came to compete against a St. John's team that ran Boston College out of the gym the other night."
Julian Champagnie led St. John's (3-1) with 25 points, and Isaih Moore added 11 points for the Red Storm.
The game was the second for the Cougars in "Bubbleville," following a 79-53 blowout loss to USC on Tuesday.
But the game was also a breakout performance for George, who followed up on his 11-point, six-rebound performance against the Trojans and saved his team when it mattered most.
"I'm loving it out here at BYU. I'm having fun, I'm playing the game I love, and for the coaching staff to trust in me is big-time to me," George said. "Having confidence in me has helped me all this time."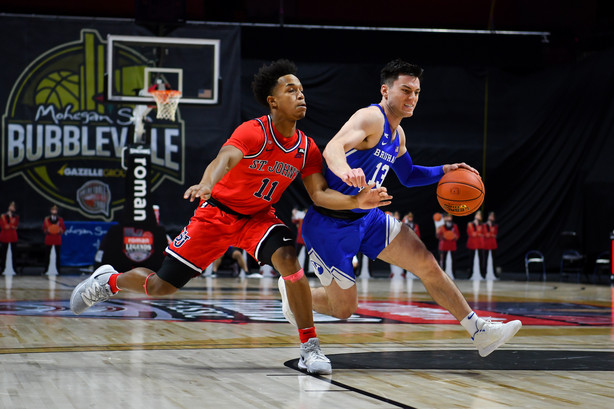 In the first game between the two teams since the final game of the 1990 Cougar Classic (which St. John's won 67-62 to improve 7-1 against BYU), the Cougars started freshman Lohner alongside Haarms for the first time in the Wasatch Academy product's career.
But it paid off, as Lohner pulled down a team-high seven of BYU's 22 rebounds in the first half en route to a 29-23 advantage — when neither team shot particularly well from the field.
The Cougars scored just 3 points off second chances — 3 more than a day earlier against USC — but the offensive rebound helped set up the scheme set up by Pope, who admitted to an "uncomfortable" night as he, his assistants and his players stewed on Tuesday's loss.
"Clearly, we have a lot of room for growth. Can you imagine when we actually start converting those offensive rebounds?" Pope said. "But it gives us life. It gives us rhythm.
"Our guys have put in an unbelievable effort to go to the glass … being on the offensive glass is important for us, for a number of different reasons."
Those rebounds helped Barcello find his shot, too. The senior from Chandler, Arizona, shot 8 of 11 from the field with three 3-pointers and added five assists and three rebounds.
"Alex has got such a leadership role on our team," Pope said. "Like the rest of the team, he was devastated from yesterday. It was just a brutal hit from all of us. Gideon told me he woke up at 3 o'clock in the morning.
"For (Barcello) to lead the charge to come back and have the big game … he just made every big play. He was 8-for-11, but the game wasn't about him being 8-for-11; he just set out to play the game the right way, in an aggressive, intelligent fashion — come what may."
The Red Storm pulled as close as a point twice in the first seven minutes of the half, but never overtook BYU's lead. They even pulled within four on 6-straight points in the final two minutes, but the Cougars made 2 of 7 free throws late to hold on.
Were it not for George and the fanaticism of the 6-foot-6 junior college transfer from Minna, Nigeria, on the boards, things might've been different. George shot 5 of 6 from the free-throw line, knocking down half of the Cougars' foul shots and taking one-third of them.
But his biggest impact was on the glass — and he was just following instructions.
"It was my teammate Connor Harding who was talking to me all throughout the play, and he was just telling me to go get the rebound. That was it," George said succinctly. "I've been doing it since JUCO. It's not a new thing for me."
The Cougars also outscored the Red Storm 24-14 off the bench, led by George's 13 and 11 from Knell.
"We're a much better shooting team than that," St. John's coach Mike Anderson said. "But when it's a 4-point game, you've got to make a 3-pointer at the one end, or get a rebound. We'll learn from it; I thought it was maturity vs. immaturity, so let's give them some credit."
Next up
The Cougars return home for an in-state rivalry game with Utah State at 7 p.m. MT Saturday in Logan. The game, which will be played with around 1,600 fans in attendance, will also not include Aggie coach Craig Smith on the sidelines after the third-year USU head coach tested positive for COVID-19.
"Craig is a terrific coach, and he's done an incredible job at Utah State," Pope said of Smith, who is asymptomatic. "If he's not available, it'll certainly make things more difficult. But he's also a coach who teaches his guys how to play."
×
Photos
Related Links