MORGAN — Many people have been sharing messages of gratitude all over social media this week. Experts say expressing thanks goes beyond just feeling good — it turns out there are actual health benefits that come from being grateful.
'Tis the season to be thankful, but for Kami Christensen, this daily habit started more than a year ago. She writes down 10 things she's grateful for every day, focusing on the little things.
"It's part of like my morning routine that I do," she said.
She turns on soft piano music and reflects on what happened the day before.
"I try and look back on the day — what I'm grateful for that happened in that day and I try not to repeat myself," Christensen said. "It really makes you dig deep."
She lists simple things like the fact that most of the laundry was done, or that her 3-year-old son started singing in the car to help his little sister stop crying, or that her husband can stay warm at work.
At the beginning of the pandemic, Christensen was overwhelmed.
"Holy Smokes! I was panicked. I was scared. I was thinking 'How the crap are we gonna make it through?'" she admitted.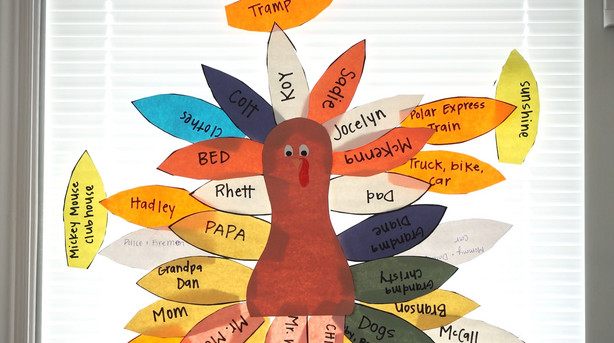 But she said focusing on what she has makes a difference.
"It makes me set those feelings aside, because I have to focus on what I'm grateful for," Christiansen said.
She is also trying to teach her kids to also be grateful. This month she is making a 'Thankful Turkey' with her son Jed. Every day she asks him what he is grateful for and they write it on a turkey feather made out of construction paper and hang it on the window.
Intermountain Healthcare's Dr. Travis Mickelson, a psychiatrist and associate medical director of mental health integration, said studies show being grateful can have a positive impact on our physical and mental well-being.
"It has actual physiological effects on our health," he explained. "It directly counters some of what our body and brain tend to do when we're experiencing a lot of stress."
He said stress increases our heart rate and blood flow, affects our immune system and the body's ability to metabolize sugar, makes us feel flushed, sweaty and nauseous, and causes us to think irrationally.
"We notice headaches, we notice stomach aches, we notice that we don't sleep as well," he added.
But the opposite happens when we are grateful.
---
Even with all of this uncertainty, one thing's for certain — we can always identify things to be grateful for.
–Dr. Travis Mickelson, Intermountain Healthcare psychiatrist and associate medical director of mental health integration
---
"We can actually lower our heart rate," he said.
Mickelson said expressing thanks for three things every day for at least two weeks pays off.
"[We] will continue to get the benefit, the actual physical benefit to our health for up to six months," he said.
He encourages people to engage in this type of practice a few times a year. However, Mickeslon said, it's not a natural habit for most.
"Unfortunately, our brains aren't wired to notice positive situations … Our brains aren't necessarily wired to notice examples of love and friendship and kindness that would bring us that sense of gratitude and joy and pride," he explained.
He said making an intentional practice of reflecting on good things that happened during the day trains people to think differently.
"It makes our brains more focused on being able to notice those positive things,"
Mickelson said this is something we can do every day, not just on Thanksgiving.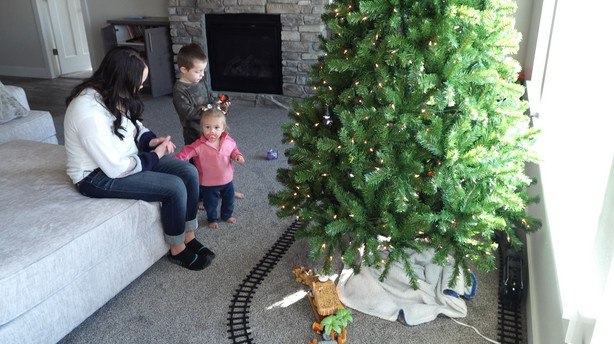 "It really only takes a couple minutes every day," he said.
A gratitude practice can be especially healing and therapeutic during the COIVD-19 pandemic.
"What we're dealing with this pandemic is nine months of chronic stress," he said. "We have all experienced loss, we've all experienced disappointment. ... Just to have something that not only reminds us that this feels good, but it actually can help me and my family get through this challenging time until it's all over."
It doesn't matter how you do it, he said, whether you express gratitude in a journal, document it in your phone, or even just think about it.
"So find the way that you think is going to work best for you," he said. "It doesn't matter whether you write it down. What matters is you just take the time and acknowledge it. ... Even with all of this uncertainty, one thing's for certain — we can always identify things to be grateful for," Mickelson added.
It's gotten easier for Christensen the longer she's made a habit of it. She encouraged people to put the journal somewhere where they won't forget about it.
"Set it out somewhere where you're going to see it," she suggested.
Mickelson said you might be surprised to find what's right in front of you.
For Christensen, it's her husband, Brayden, and her kids.
"You're gonna make me cry. He sacrifices so much for our family. He's my rock," she said.
×
Photos
Related Stories