PROVO — When Alex Barcello stepped on the Marriott Center court for Wednesday night's season opener with BYU basketball against Division II Westminster, it was like he had been transported to Orlando.
From the locker room on the east side of the building, Barcello saw a wall of video boards with faces of BYU fans, season ticket holders and donors to the program. To his left saw families of the players and coaches, athletic administrators and a few former players, like recent Washington Wizards signee Yoeli Childs and Zac Seljaas. And overhead, he heard a buzz of crowd noise — mostly a white noise reminiscent of basketball crows, that cheered and screamed and offered a simulation of a home crowd.
Chairs were spaced six feet apart on each bench, coaches and players wore masks when not actively playing, and only essential staff and personnel were allowed courtside, with radio broadcasters moved to the opposite side of the court and print media nestled on the concourse level high above the playing surface.
With no fans allowed in the building, the Cougars had to figure out a way to take the atmosphere of 10,000 screaming students and put it inside an empty building during the coronavirus pandemic.
So they took a page out of the only basketball book they knew: the NBA.
In front of friends and family, a giant video board with fans on a Zoom video conference call, and a backdrop of simulated crowd noise and chants from the Roar of Cougars student section, BYU blew past the Griffins, 108-59 to open the 2020-21 college basketball season.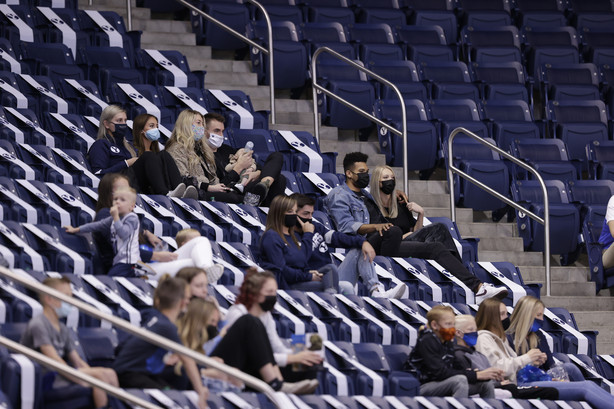 "It was different, for sure. We were just glad it wasn't practice," said a sheepish Barcello, who had a career-high 25 points, five rebounds and two assists in 21 minutes. "That screen was pretty big-time. It kind of mimicked the NBA bubble. We had to bring a lot of energy from the bench. Guys were really into it, and I think that helps us come closer as a team."
The group of players that boldly proclaimed themselves "the best locker room in America" during a magical first season under head coach Mark Pope that finished 24-8 and ranked No. 18 nationally was clear in a secret weapon they held in 2019-20: a visceral home-court advantage, one that led them to a 13-3 edge in Provo with wins that included then-No. 1 Gonzaga.
So how do you keep the same advantage without an arena full of fans, even if BYU coaches and players knew a small army would be watching each game around the country, mostly on BYUtv?
It took a small army of employees, from the athletic department to the Marriott Center staff to the office of information technology, and a lot of planning.
"We challenged ourselves to have the best team atmosphere in the country with no fans," Pope said, "and I thought it was awesome.
"I loved the sound system. They had a soundtrack of the ROC doing regular ROC cheers — and a guy in the control booth pushing buttons. We're incredibly grateful that everyone here is doing the very best they can."
Of course, nothing beats the real thing. Players at every level of basketball — from high school gyms to college arenas to multimillion dollar NBA facilities — play for the crowd, and many even use the energy of their supporters to push them during a game.
BYU didn't have that Wednesday night. But they had the next best thing.
"It's definitely not like playing in front of ROC nation, the best fans in the country," said Barcello, one of three seniors on the team and the only one who played at BYU a year ago. "I know a lot of schools don't have that across the country right now. It's a huge blessing for us."
The Cougars are also hoping the faux-home court advantage can give them a similar advantage through next year. Six of the Cougars' first nine games will be played at home under similar conditions due to Utah's statewide coronavirus restriction levels, including Thursday's Thanksgiving day game against New Orleans, a crosstown showdown with UVU on Saturday, and the currently scheduled Dec. 12 rivalry game with Utah.
But if it's anything like Wednesday, the home-court advantage is still there. Just in a different (virtual) format.
"Honestly, it was pretty cool to see," said graduate senior Brandon Averette, who had 15 points and four assists in the opener. "There were a few times I forgot the gym was empty. We brought our own energy tonight really well."
BYU vs. New Orleans
Thurs., Nov. 26
Tipoff: 7 p.m. MT
TV: BYUtv
Streaming: BYUtv.org
Radio: BYU radio, KSL radio 1160 AM/102.7 FM
Series: BYU leads, 1-0 (last meeting: 1987)
×
Photos
Related Links