PROVO — Geometry says that the shortest distance from two points is a straight line — A to B.
The shortest distance between BYU basketball and a win is either A to B, or B to A.
As long as it adds up to three.
Behind the 'ABBA' backcourt duo of Alex Barcello's career-high 25 points and Brandon Averette's BYU debut of 15 points and four assists, the Cougars canned a school-record 18 3-pointers in rolling to victory over Division II Westminster, 108-59, in front of a small crowd of family members and former players from both teams inside the Marriott Center.
"They have a chance to be really good as a tandem in the back court," said newly-re-signed BYU coach Mark Pope of AB and BA. "I thought they really shared the ball today."
Gavin Baxter added 11 points and six rebounds for the Cougars (1-0), and Kolby Lee supplied 5 points, three rebounds and a career-best seven assists for a BYU team that emptied the bench save for Matt Haarms, who was sidelined with an ankle injury.
But in that depth was a reserve side that saw plenty of opportunities. BYU's bench scored 44 points, led by 10 points on a perfect 3-for-3 shooting night from SLCC transfer Spencer Johnson and eight more from Woods Cross product Trevin Knell.
.@AlexBarcello23 was electric in the first half of @BYUBasketball's 2020 debut ⚡ #BYUHoops#GoCougspic.twitter.com/5wWDHUNgjN

— BYUtv Sports (@byutvsports) November 26, 2020
"It was fun. It's a lot of energy," Barcello said of the squad that played 14 players and saw 10 make at least one 3-pointer. "Everybody's ready to come in; we were all sick of two-a-days and wanted to play in an actual game. These guys are ready to go. There's a lot of young talent. … The energy these guys bring day-in and day-out is unbelievable."
Reme Torbert led the Griffins with 16 points, and teammate Jarrett Jordan added 14 points.
Barcello knocked down 10-of-14 from the field, and his backcourt teammate Averette tied him with a game-high three of the Cougars' record-tying 18 3-pointers as last year's NCAA-leading triple-shooting team picked up where it left off — despite the turnover of a seven-player senior class.
At this point, shooting threes is just built into the DNA of Mark Pope's teams.
"Honestly, we were just doing what we do," said Averette, who was previously recruited to Utah Valley University by Pope, as well. "We have this thing coach Pope says to finish every shot. It keeps us consistent. Even when we miss shots, we do the same thing.
"The way we move the ball and get each other open shots, it makes it so much easier."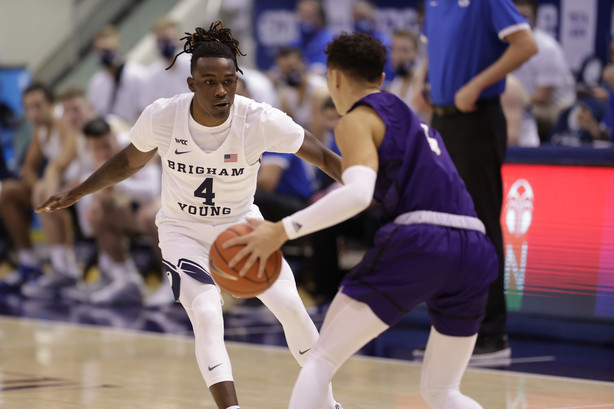 Averette hit two of the Cougars' five 3-pointers in the first five minutes of the game, helping the Cougars build up a 20-7 advantage against the Griffins' zone defense. Just a few months after transferring from Utah Valley as a graduate transfer, the one-time Oklahoma State sharpshooter is already fitting in with his teammates — especially his backcourt mate.
"He's such a great teammate, such high character off the court. But he puts in the work," Barcello said of Averette. "He lives in this gym, and it's fun to play with a teammate who loves the game as much as he does.
"We both love the game, and we both can push the speed of the game."
BYU was hot from three, and not just because they were playing a Division II school, or because of the Griffins' zone defense (though that probably helped).
Eight different players hit 3-pointers in the first half, from Averette to Barcello to Lee, Knell, Barcello and Connor Harding. Even newcomer Gideon George, the 6-foot-6 wing from Minna, Nigeria, by way of New Mexico Junior College, drained a triple less than a minute after checking into the game.
. @GideonOmohkudu checks in and drains a three.

Cougs on an 8-0 run, lead 28-12.#BYUhoops#MACU3pic.twitter.com/e0ElZGJPOj

— BYU Basketball (@BYUbasketball) November 26, 2020
The Cougars assisted on 27 of 41 field goals, with most of the putbacks coming later in the second half after the starters were pulled.
"We hit the open man. We swung the ball, made the extra pass," Barcello said. "This is a very unselfish team. We had 10 guys make threes tonight, and that's a big deal for us."
That even included Wyatt Lowell, the UVU transfer who sat out last season due to NCAA transfer rules and missed much of the preseason after offseason shoulder surgery.
BYU shot 50% from the field in the first half, with 10 3-pointers, while holding the Griffins to 39% from the field and assisting on 15-of-19 made field goals. Barcello had 16 points in the first half en route to the hosts' 54-31 lead, and Kolby Lee added five points, five assists and three rebounds for the Cougars.
Perhaps more importantly, they only committed six turnovers while forcing 17 from the Griffins.
"I didn't feel like the ball ever got sticky, and that's a real tribute to them," Pope said. "I'm so accustomed to playing with four playmakers, and for them to make the ball not feel sticky is a real tribute to them."
Notes:
Yoeli Childs, the former BYU star who recently agreed to a free-agent deal with the Washington Wizards, was among the small crowd of mostly players' and coaches' families in attendance at the socially distanced Marriott Center. Fellow BYU alum Zac Seljaas, who recently played at BC Prievidza in Slovakia, was also among the crowd.
Wednesday night's 49-point win is the eighth-largest margin of victory in BYU basketball history, and the largest since 2010.
Next up:
BYU will host New Orleans on Thursday at 7 p.m. MT (BYUtv). The Privateers were initially scheduled to play at Utah on a two-game swing through the Beehive State before the Utes temporarily shuttered the program due to COVID-19 concerns.
×
Photos
Related Links