This archived news story is available only for your personal, non-commercial use. Information in the story may be outdated or superseded by additional information. Reading or replaying the story in its archived form does not constitute a republication of the story.
John Hollenhorst ReportingFor years, developers and city officials in Eagle Mountain have been keeping a secret. Today they took off the wraps and led reporters to a treasured piece of ancient rock art, which they hope to protect from a whirlwind of development.
The secret is not far from a paved road, a short walk through wide open spaces that won't stay that way for long. Eagle Mountain didn't exist ten years ago and now has 14,000 people.
Brian B. Olsen, Eagle Mountain Mayor: "The build-out for this city is expected to reach over 300,000."
Right in the middle of it, a relic from the days when no one lived here except Native Americans, rock art dating back perhaps 2,000 years.
Steven Manning, Utah Rock Art Research Assoc.: "This one is a rectangular head with eyes and a line coming up from both sides."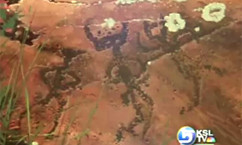 The figures pecked into stone by an unknown artist are unlike any others in Utah. They're easier to make out in an idealized painting made by a city employee -- three people with sashes and headdresses dancing, possibly for fun, perhaps in ceremony.
Nina Bowen, Utah Rock Art Research Assoc.: "There's action in it, and that doesn't happen in rock art normally."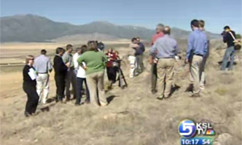 Developers have already figured the rock into their plan.
Larry Franciose, Eagle Mountain Ranch, LLC: "We were aware of the petroglyph before we designed the project."
The art will be surrounded by a city park, on a walking path, marked by signs. The rock art's significance is unknown; archaeologists simply don't know much about the ancient culture.
Steven Manning: "The best thing to say is that all of this is very significant until we really know the meaning. If you lose it, then it's gone and you'll never know whether it's significant or not."
There's a big unknown. By protecting it and drawing people to it, could that endanger it even more? Some say vandalism is a far greater threat than development.
Mayor Olsen: "That will be the great experiment, to see if that actually is preserved. And I for one hope that it is."
It survived a millennium or two. Will it make it another decade or two?
The Eagle Mountain Ranch subdivision is expected to include nearly 500 homes. 35 percent of the acreage will be left as open-space, including the area surrounding the rock art.
×