Estimated read time: 5-6 minutes
This archived news story is available only for your personal, non-commercial use. Information in the story may be outdated or superseded by additional information. Reading or replaying the story in its archived form does not constitute a republication of the story.
SALT LAKE CITY — Utah's number of COVID-19 cases continued to rise Thursday with a record 2,807 new cases reported — over 500 more than the state's previous single-day record.
Seven more deaths were also reported Thursday, according to the Utah Department of Health. A total of 389 COVID-19 patients are currently hospitalized in Utah, another record-high number.
"It's grim news, and it's discouraging," Utah Gov. Gary Herbert said at an afternoon news conference.
The rolling seven-day average number of positive cases per day is now at 1,943, according to the health department. The positive test rate per day for that time period is now 19.5%.
The new numbers indicate a 2.3% increase in positive cases since Wednesday. Of the 1,125,606 people tested for COVID-19 in Utah so far, 11% have tested positive for the disease. The health department reported an increase of 13,620 tests conducted as of Thursday.
---
Utah Gov. Gary Herbert provided his weekly COVID-19 update at a news conference Thursday afternoon. The event began shortly after 12:10 p.m., and a replay can be watched below. Utah Department of Health state epidemiologist Dr. Angela Dunn also spoke at the event.
---
New COVID-19 cases
The health department now estimates there are 33,823 active cases of COVID-19 in Utah.
Of the 389 COVID-19 patients hospitalized Thursday, 158 are in intensive care unit beds. About 78% of all ICU beds in Utah are occupied, while about 55% of non-ICU beds are filled, state data shows.
The seven deaths reported Thursday include:
A Davis County woman who was between the ages of 65 and 84 and was hospitalized when she died
Two Salt Lake County men who were over the age of 85 and residents of a long-term care facility
A Salt Lake County woman who was over the age of 85 and a resident of a long-term care facility
A Tooele County man who was between the ages of 65 and 84 and was hospitalized when he died
A Utah County man who was between the ages of 65 and 84 and was not hospitalized when he died
A Utah County man who was between the ages of 65 and 84 and was hospitalized when he died
The death of a Utah County woman who was between the ages of 45 and 64 and was a long-term care facility resident has been removed from Utah's COVID-19 death count for further investigation, the health department said.
Thursday's totals give Utah 124,292 total confirmed cases, with 5,830 total hospitalizations and 632 total deaths from the disease since the pandemic began. A total of 89,837 Utah COVID-19 cases are now considered recovered, according to the health department.
Thursday brought at least one good news item, though: Millard County has moved from the high transmission level under Utah's new index system down to the moderate transmission level. That means Millard County's seven-day percent positivity rate and 14-day case rate per 100,000 people have decreased from last week.
There was no movement between transmission levels for any other Utah county besides Millard this week. Twenty-two counties are still rated at the high transmission level, two counties are at the moderate level, and the five remaining counties are at the low transmission level.
The health department typically assesses transmission index data for each county on Wednesdays and announces any changes in transmission levels on Thursdays. More information about Utah's transmission index system is available at coronavirus.utah.gov/utah-health-guidance-levels.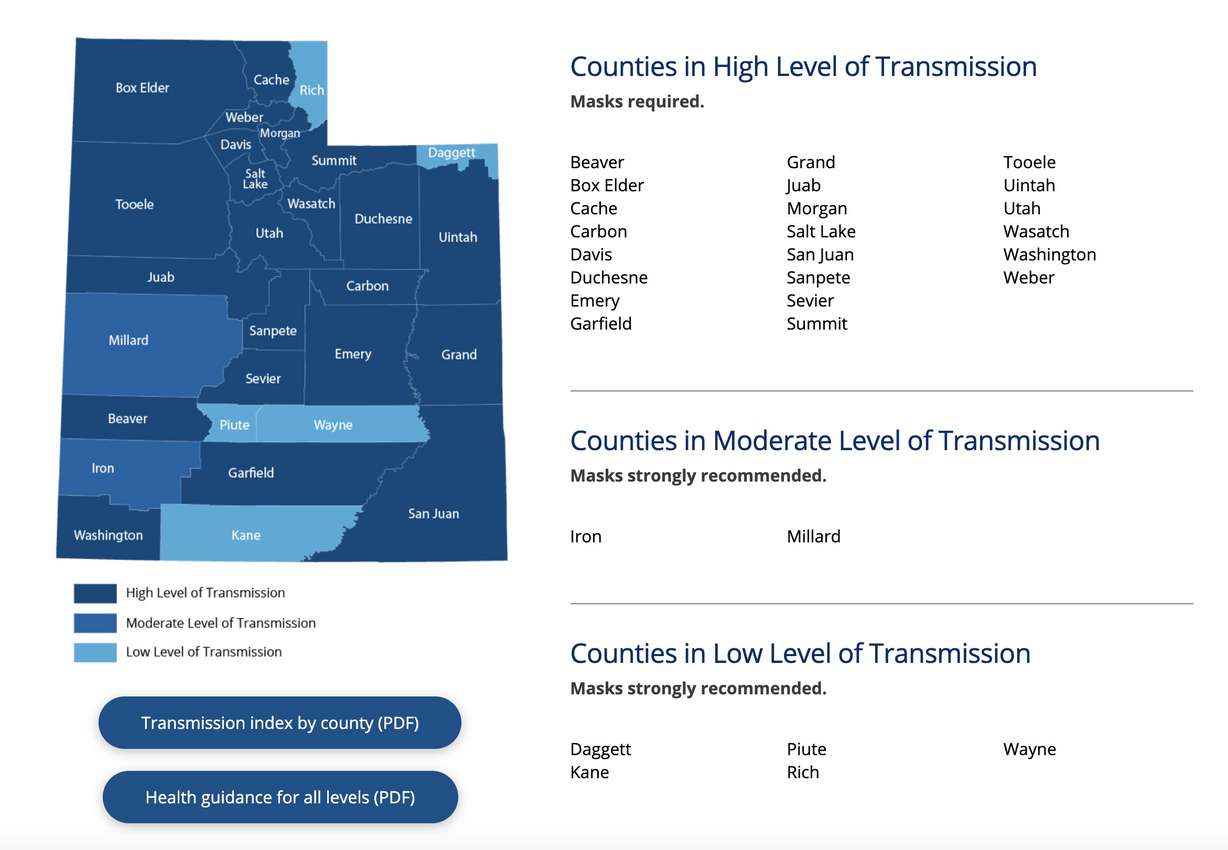 Utah leaders emphasize need to modify behavior
Herbert said he had attended emergency meetings this week with Utah legislative leaders and other officials. They have been discussing if there are any potential policy modifications that need to be made in education, business or other areas of Utah's infrastructure to prevent the state's healthcare systems from being strained any further, the governor said.
There may be some announcements coming next week about changes in policy, Herbert said.
"Unless we change what we're doing and do something different, we're going to get the same results," he said.
The governor said he also met this week with federal health officials from the U.S. Centers for Disease Control and Prevention and will be working with them in the coming weeks to increase testing in Utah. State officials have discussed the need to increase testing for months, but Utah's daily testing totals have been inconsistent and have stagnated far below the state's capacity this fall.
But rather than major policy changes from a state level, Herbert reiterated that stopping the spread of COVID-19 all boils down to individuals changing their behavior.
People need to be more cautious when getting together with friends or family members outside their immediate households, the governor said. Those casual social gatherings have become a major source of spread of the disease in Utah. People should remember to physically distance, wear masks and keep those gatherings small.
He said state leaders are looking at multiple options for enforcing behavioral changes, but enforcement at private events at people's homes is difficult.
Businesses have been doing a good job of limiting the spread of COVID-19 by enacting policies such as requiring customers to wear masks while in their businesses, Herbert said. Business owners are motivated to keep the spread down so their establishments can remain open, and they have mostly been successful in that effort, he added.
Post-Halloween spike may be imminent
Mass gatherings, such as the large Halloween party in Utah County last weekend, aren't appropriate right now, said Herbert and Utah Department of Health state epidemiologist Dr. Angela Dunn.
It's likely that Utah will soon see a spike in cases from Halloween parties such as the Utah County event, Dunn said. Typically, spikes become apparent within 14 days of such an event.
People need to make sure they are wearing masks and physically distancing while gathering at any event, but mass gatherings with thousands of people simply can't happen while Utah is in this current situation, Dunn said.
"We just can't have these mass gatherings anymore right now," she said.
Despite the record-high numbers Thursday, Herbert remained in relatively good spirits.
"I'm hopeful, I'm optimistic," he said. "I think we need to not fear the virus, not fear the pandemic. Let's respect it. We know what it's like."
×
Most recent Coronavirus stories